Honouring our volunteers for their selfless service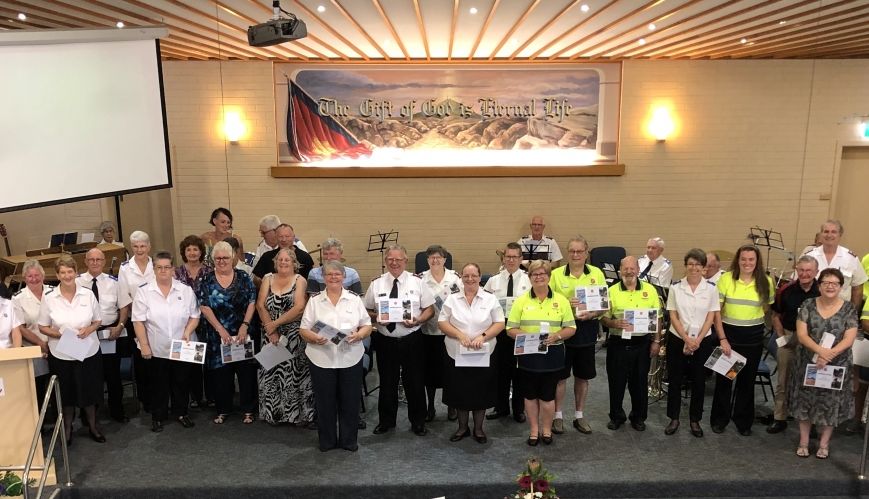 Honouring our volunteers for their selfless service
7 February 2020
The Salvation Army Emergency Services Appreciation Service in Taree, on the NSW Mid-North Coast.
By Lauren Martin
A number of thank-you events have taken place across fire-affected areas of New South Wales to honour those who volunteered during the 2019-2020 bushfire crisis.
While The Salvation Army remains active in supporting firefighters, emergency services personnel and evacuees at various disaster recovery hubs, it has taken the time to celebrate Salvos and community members for their selfless service over the summer.
Appreciation services and morning teas have been held at Coffs Harbour, Lismore, Tenterfield and Taree where bushfires raged in the state's north late last year. Services will be held in various towns in the south of the state in the coming weeks.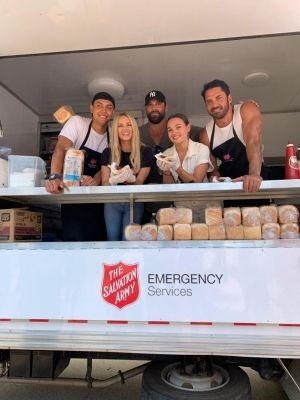 Celebrities from Channel 7's Home and Away and singer Samantha Jade (second from left) served dinner at a community concert in Batemans Bay in late January.
Colonel Miriam Gluyas, NSW/ACT Divisional Commander, attended some of the services and said the effort of Salvos and other community volunteers had been phenomenal.
"The stories are amazing, the sacrifice of time has been exceptional, the attitude beautiful, and they continue to stand beside folk in each of our communities," she said.
Celebrities call into Batemans Bay
Several Australian celebrities have visited bushfire-affected areas to say thank-you to Salvation Army volunteers, emergency services personnel and to offer support to those affected by bushfires.
Singer Samantha Jade and a number of Channel 7 Home and Away stars travelled to the NSW South Coast township of Batemans Bay, where bushfires swept through on New Year's Eve and surrounded the town over the following weeks.
"There's so many layers that we don't know about," Samantha told Channel 7's Sunrise program as she visited the burnt-out homes of locals in the area.
The tour included a visit to the Batemans Bay Salvation Army centre to thank personnel and volunteers, which was followed by a concert and sausage sizzle for the community.