Merretts begin chief secretary 'partnership'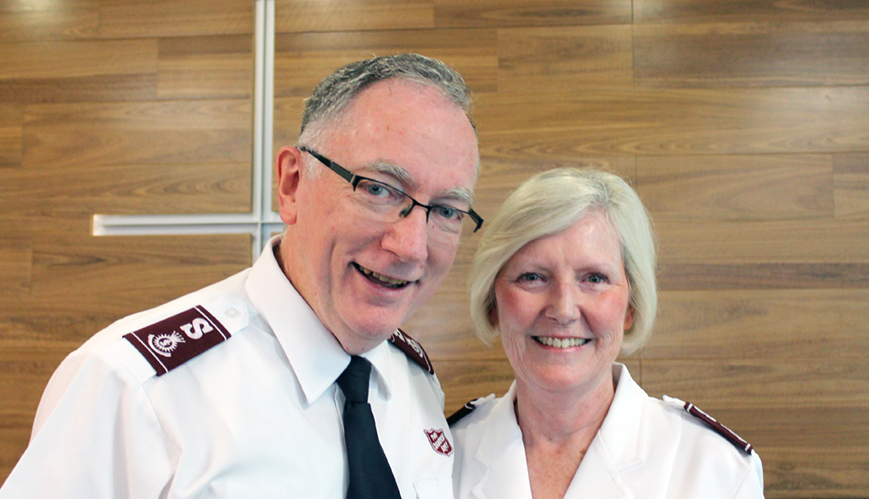 Merretts begin chief secretary 'partnership'
7 February 2020
Colonels Kelvin and Winsome Merrett have been appointed to senior leadership in The Salvation Army Australia Territory.
By Jessica Morris
Colonel Winsome Merrett has been installed as Chief Secretary of The Salvation Army Australia Territory and Colonel Kelvin Merrett as Assistant Chief Secretary in a ceremony at Territorial Headquarters in Melbourne.
During the ceremony on Thursday, Commissioner Janine Donaldson, Territorial President of Women's Ministries, called on the Merretts to "set a high example of genuine spiritual experience".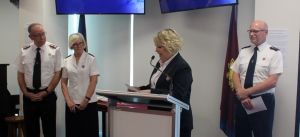 Commissioners Janine and Robert Donaldson (right) publicly recognise Colonels Kelvin and Winsome Merrett in their new positions.
Winsome highlighted the significance of her leadership role in relation to her husband's, more than 30 years after they were commissioned as Salvation Army officers.
"Kelvin is my partner in life, my partner in ministry, and it is a privilege to share today in a way we haven't for some time, [through this] ministry that is closely intertwined as a partnership," she said.
Kelvin highlighted the importance of fulfilling the Army's vision statement in modern Australian society.
"When we talk about The Salvation Army 'transforming Australia with the love of Jesus one life at a time', it's having a relationship with one another ... honouring and respecting one another," he said.
Winsome encouraged Salvationists to engage with this mission in their everyday lives and renewed her commitment to the mission of The Salvation Army in her new role.
"It will take seekers after God's heart in order to bring that [vision] to fruition – a heart to see the whosoever brought hope, transformation, healing, love and wholeness," she said.
"I must have a heart for the whosoever. A heart to see this vision increasingly become a reality in the places I interact, and in my role as chief secretary to facilitate this, encourage this to occur across this amazing nation we call Australia. It's a journey today that I am committed to and I trust you will join me in that commitment."
As the chief secretary, Winsome is responsible for the operational management of the Australia Territory, including the implementation of the strategic plan and using approved measurement tools to increase mission efficiency and effectiveness.
Kelvin's role requires him to provide strategic and collaborative leadership to divisional commanders and the secretary for mission.