You are here:
Home › News › 2020 › 02 › 09 › Wind Not Howling But Screaming When Tropical Cyclone Damien Hit
'Screaming' wind welcomes Pam to Karratha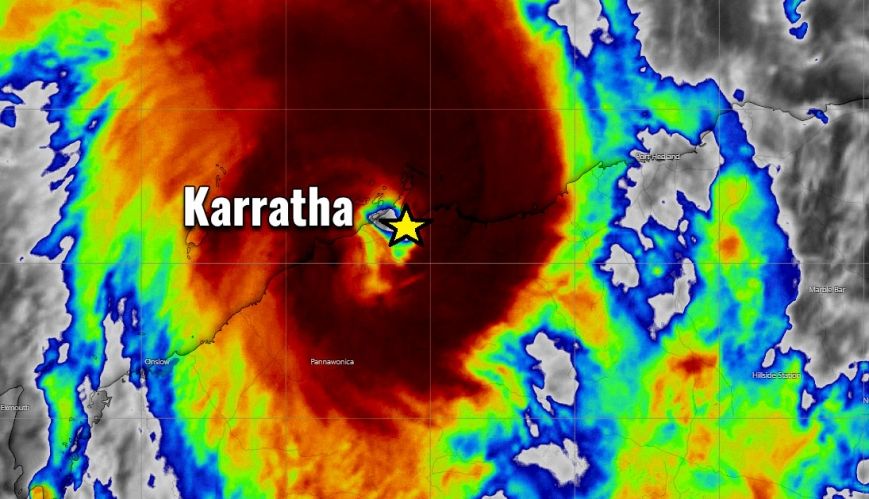 'Screaming' wind welcomes Pam to Karratha
9 February 2020
Tropical Cyclone Damien crossed the Western Australia coast as a category three storm. Image courtesy Severe Weather Europe website.
By Lauren Martin
Major Pam Marshall has described the wind of Tropical Cyclone Damien as "screaming ... literally screaming" when it hit Karratha in Western Australia, where she is serving as a Salvation Army officer.
Pam said the entire town, located in the Pilbara region, "hunkered down" as the category three storm crossed the state's north-west coast on Saturday afternoon.
It's been a dramatic start to Pam's appointment in Karratha, having been installed as the corps officer there only a few weeks ago.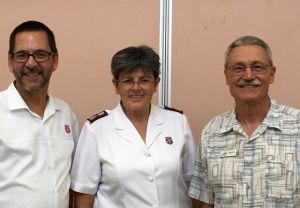 Major Pam Marshall (centre) was installed as Karratha Corps Officer in northern Western Australia only last month.
"I've experienced something like this but not as bad as that one," she said this morning while the town was still in a Code Red lockdown. "The winds reached over 200km/hr at stages from what I can understand. I have limited power... it's been massive.
"The howling of the wind ... it was screaming, literally screaming as it howled past under the eaves. We have no guttering either so it's just like a waterfall flowing off the roof."
The Salvation Army quarters were Pam took shelter didn't sustain any damage and, from what she understands, there is just one smashed window at the corps building.
"I prayed for a covering over this house," she said. "For my life, for the church and our Salvation Army buildings here, and I think that 'dome of protection' and the prayers from the people around the country have been brilliant.
"I just walk with a faith that's deep. If I don't feed my own soul, then I am responsible. When you walk with a faith that trusts God, you just trust in the process."
Pam said during the eye of the storm, residents in her street had a short window of opportunity to go outside, check the damage and secure anything that had become dislodged.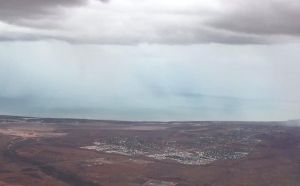 Karratha is a remote coastal community located in the Western Australia Pilbara region with a population of 16,700. 
She met with neighbours whom she'd only just started to get to know and said being able to share the experience was, ironically, uplifting.
"When you meet your neighbours in that eye [of the storm], you look at them and you realise you are in the same boat. It adds to the camaraderie."
Even though many residents have experienced cyclones before, Pam said there would be a long journey of recovery ahead. She said she was looking forward to standing alongside families and individuals who needed assistance.
"Some people have lost rooves, there are people still in the evacuation centre," she said. "I'll be doing the long-term support – standing alongside people. For some, it's going to be a long journey."