Launch of a new era for women's ministries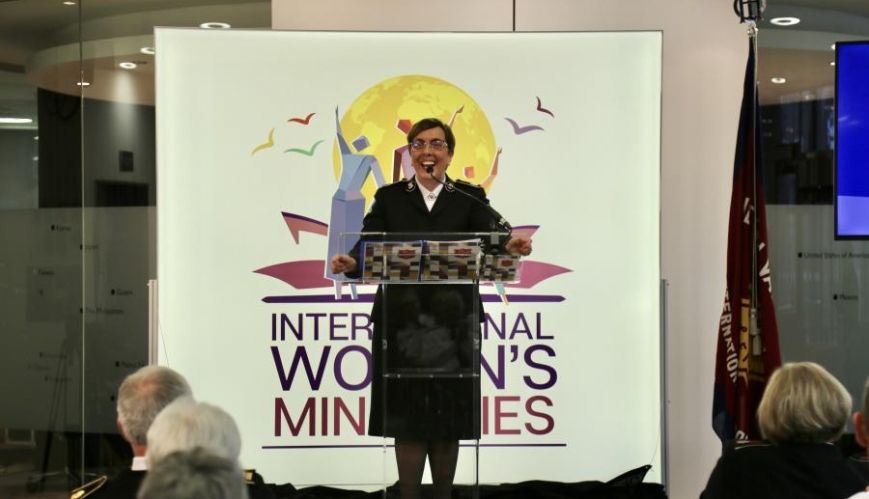 Launch of a new era for women's ministries
13 February 2020
Commissioner Rosalie Peddle unveils the new International Women's Ministries logo at a live-streamed event.
By Lauren Martin
The Salvation Army World President of Women's Ministries, Commissioner Rosalie Peddle, has launched a new vision statement and logo for Army's ministry to women around the world and urged Salvos to "reimagine" what ministry to women should look like in their local contexts.
At the launch event on Wednesday 12 February, which was live-streamed through YouTube and Facebook and watched by Salvos around the world, Commissioner Peddle said: "We have to stop doing what's not working and start doing new things.
"I want to challenge all women leaders of The Salvation Army – and that includes officers and soldiers and friends – to reimagine women's ministry in their own context, to discover what new things we can be doing to speak into and overcome the challenges that women and girls are facing in our world today."
The event featured an art and photographic exhibition and a series of videos from around the world of women engaging with women in unique, culturally appropriate ways that have opened up pathways to faith, hope and transformed lives.
As part of the launch, a new vision statement was released, read and explained by a panel of women from around the world, including Australian Salvation Army officer Colonel Robyn Maxwell (Secretary for Women's Ministries – South Pacific and East Asia Zone). The statement reads:
We envision women who are:
• Transformed and empowered by the Gospel to lead a Christ-like life
• Enriched mutually through local and global connections and support
• Equipped to fulfil their potential through lifelong learning and development
• Engaged in social justice and action to positively impact the world
A new logo (pictured above right) was also launched to represent International Women's Ministries, but Commissioner Peddle stressed that the new logo did not replace the Home League logo: "Let me reassure those in our Home Leagues that the house on the Bible still stands and will remain the symbol of the Home League that is very active in many parts of our world today.
"But just as this logo represented the ministry and the mission of the Home League, it is out of the same thread that we wanted to create a logo that would represent the identity of a reimagined women's ministry.
"We are asking women to join in the conversation on social media platforms to let us know what you are doing in your space around the world."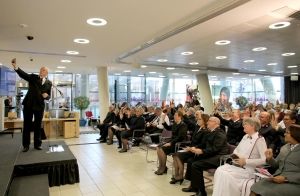 General Brian Peddle takes a 'selfie' with those gathered at the re-launch of International Women's Ministries at IHQ.
Women can connect via:
Facebook here:
💻 Salvation Army Women
Twitter here:
🐦 twitter.com/SalvArmyWomen
Instagram here:
📸 instagram.com/salvarmywomen
The new international logo features a Bible at its base, with three women standing in front of a large sun, which represents both the sun and the world. Five different coloured birds represent the five international Salvation Army zones.
"The aim of the logo is to bring light, life and freedom of spirit to all women around the world," Commissioner Peddle said.
Also launched at the event were different ways that Salvation Army women are being encouraged to share an open dialogue with each other around the world.
General Brian Peddle took a 'selfie' with those present in the room and posted it to his Twitter account, with the hashtag #WMreimagining
In closing, Commissioner Peddle said she didn't want women's ministries to be confined by the celebration of history or traditions, or beliefs that the ministry must fit a certain 'mould' or look a certain way.
"Women's ministries is not just a Home League program or a 'Junior Miss' meeting or crafting clubs or tea parties – and I can go on and on – and thank God for them, we need them all!
"But let me say this – the breadth and reach of women's ministry is limited only by our vision and our willingness to step out in faith to make a difference in the lives of women and girls today."