South Australians have a thirst for bushfire relief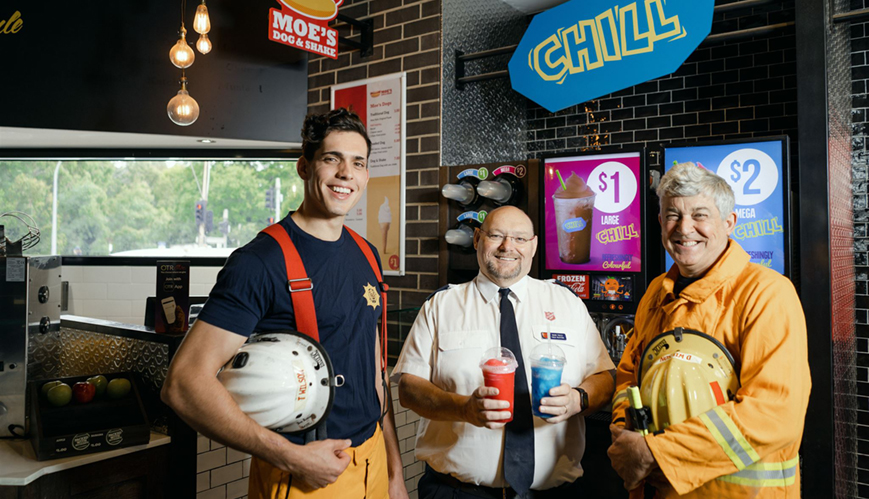 South Australians have a thirst for bushfire relief
17 February 2020
The Salvation Army's Mark Foyle (centre) and members of the Country Fire Service visit an OTR outlet to thank them for running the CHILL campaign to aid bushfire relief.
By Jessica Morris
It's been a blazing hot summer, but South Australians have kept their cool by slurping $43,642 worth of frozen slushies in aid of bushfire relief.
Statewide convenience store/petrol station chain OTR (On The Run) literally poured out their support in January by announcing that 100 per cent of sales from CHILL slushies would go to The Salvation Army and the South Australia Country Fire Service (CFS) Foundation.
Joann Skene, OTR Head of Community Partnerships, said the CHILL fundraising total had been achieved within a week and was part of OTR's overall contribution of $105,000 to bushfire relief since mid-December.
"The Salvos and the CFS Foundation provide essential support services for communities, and we are so proud to work with these charities every day through our OTRGive program. During this time of bushfire crisis, they take on even more important roles and it is critical that we support them," Joann said.  
A portion of these funds will go directly to The Salvation Army's work on Kangaroo Island and in the Cudlee Creek district of the Adelaide Hills, where Salvo relief teams continue to work with fire-affected communities.
"The Salvation Army thanks the South Australian community for supporting OTR and its donation to help those affected by the devastating fires," said Mark Foyle, Salvation Army Public Relations Secretary for South Australian and the Northern Territory.
Bike fundraiser
It's not just businesses throwing their support behind the Salvos' work – everyday heroes are doing it too.
Over the New Year period, 23-year-old Matt Maloney cycled across South Australia, raising funds for The Salvation Army and The Rescue Collective, a domestic and wildlife animal rescue service.
Covering 450km to represent the 450,000 hectares burned during the Black Saturday fires of 2009, the Adelaide local partnered with friends, family and businesses to make a difference, raising $2000.
"I just wanted to find something that I could do to help other people. I wanted to find something achievable that was also going to make a difference," he said to 7 News.
The support of the South Australian public is directly benefiting the work of Salvos on the front lines as Cudlee Creek and Kangaroo Island rebuilds.
"Our Community Engagement and Emergency Services teams are continuing to work with state and local partners in disaster response and recovery plans, to map out the steps ahead as people begin to rebuild their properties and lives over the next few months and years," said Mark.
"It is a long road ahead and the Salvos will be there every step of the way."