Townsville still in recovery mode a year after floods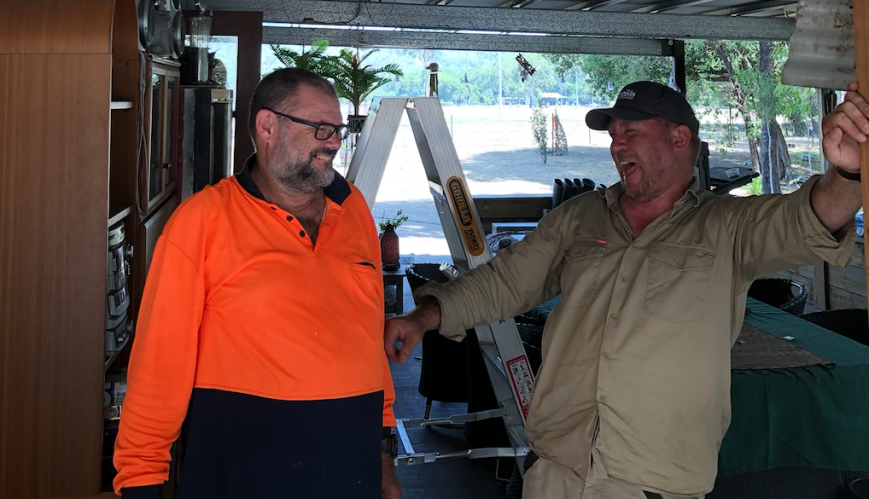 Townsville still in recovery mode a year after floods
18 February 2020
The Oasis Townsville volunteers Stephen Moore and Craig Smith enjoy a lighter moment during Operation Townsville Assist.
By Lauren Martin
A year after devastating floods hit Townsville in North Queensland, The Salvation Army continues to partner with other churches and agencies in the recovery work.
This month marks a year since a monsoonal rain event hit Townsville that left around 3000 homes damaged by floodwaters. Driving through the city today, the damage is still evident. Skip-bins and 'portaloos' line the streets in some of the worst-hit suburbs, with some residents still unable to move back into their damaged homes.
The Salvation Army has been assisting affected residents since the beginning of the disaster when its Salvation Army Emergency Services (SAES) volunteers and personnel served hundreds of meals to people at evacuation centres. From there, Salvos moved into the recovery phase, providing financial assistance to those affected, from several recovery hubs in the city. It also partnered with the combined churches and other agencies in Townsville to launch the 'Community Rebuild Project' to help affected residents who were unable to repair their damaged properties to a safe, habitable and pre-disaster condition.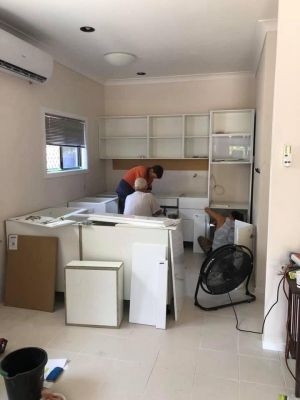 Members of The Oasis Townsville install a kitchen during 'Operation Townsville Assist', a joint venture with The Salvation Army to repair homes in the North Queensland city damaged by the 2019 floods.
Last October, the Community Rebuild Project sourced a government grant and The Salvation Army partnered with The Oasis Townsville, a referral and support hub for military veterans, to run 'Operation Townsville Assist'.
Floss Foster is the director of The Oasis Townsville and the project manager for Operation Townsville Assist. She said five houses were chosen for repair during the pilot project, which finished just before Christmas. 
"When we kicked off Operation Townsville Assist late last year, we really wanted to get at least two or three families back in their homes before Christmas," she said."We repaired five houses in five weeks, a total of 1339 hours in volunteer labour, saving property owners over $55,000 in labour costs."
Teams of veterans installed kitchens, gyprock, vanities and wardrobes, painted and did whatever minor works were needed to allow families and individuals of the five affected houses to move back in.
Floss said the project was a perfect alignment for The Oasis Townsville, which aims to provide community engagement opportunities for local defence force veterans.
"There's nothing better than giving back to your community and serving your community, particularly for military people," she said. "It's a great opportunity for them to use the skills, knowledge and experience they have from their previous service.
"The [military] veteran suicide stats are quite high in Australia so they really do need to find things to do once they get out of uniform. [They've] come out of serving their country and this [Operation Townsville Assist] is the same thing, they're in small teams serving their community. So, it resonates with us being able to help."
The Salvation Army's Associate State Emergency Disaster Management Coordinator for Queensland, Captain Leanne Stevens, said she's been blown away by the support of The Oasis and the veteran defence force volunteers involved.
"The statistics of how much time they have provided is astronomical," she said. "The savings of dollars because people didn't have to pay labour is incredible.
The Oasis Townsville helped to repair five flood-damaged homes in the North Queensland city as part of Operation Townsville Assist, a joint pilot project with The Salvation Army.
"There's another 40 houses that we have identified that need help, some sort of assistance in rebuilding. And there are still lots of people in the community that haven't connected with any services. There are a few starting to come out now that have had no flood relief or assistance, and they're just starting to come out now."
With the anniversary of the floods this month, both Leanne and Floss say many people in the city are suffering emotionally.
"Mental health is huge at the moment," said Leanne. "It's 12 months on and we had lots of rain recently and there was potential for flooding ... so lots of people are on edge."
Floss added: "When we had rain a few days ago, I spoke to so many people and they've gone into meltdown. One lady said she had to pull over to the side of the road and cry."
The Salvation Army has a Community Rebuild Project community worker in Townsville who is continuing to connect with people affected by the flooding, advocating for them and providing assistance.