Self Denial Appeal set for 2020 launch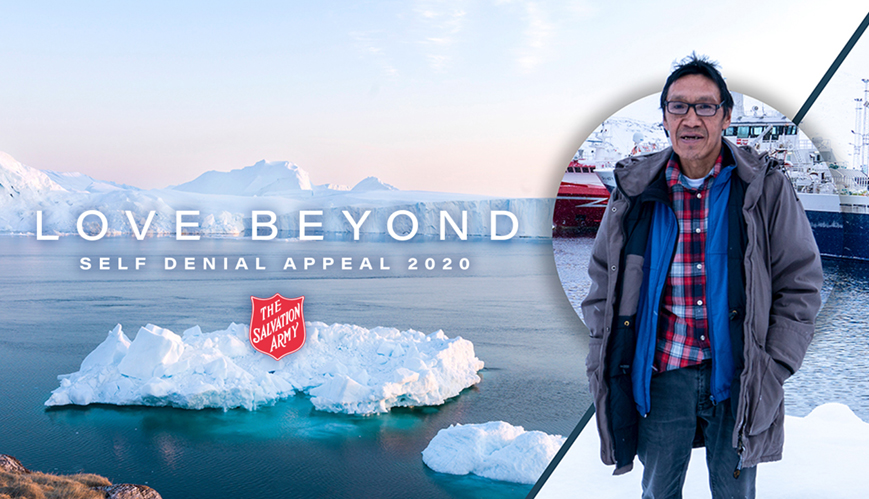 Self Denial Appeal set for 2020 launch
19 February 2020
Stirring Self Denial Appeal videos tell the stories of people around the world, including Malakias from Greenland.
By Jessica Morris
Commissioners Janine and Robert Donaldson will launch the 2020 Australia Territory Self Denial Appeal on Sunday 23 February, which will once again feature an inspiring series of videos showing The Salvation Army's work around the world.
This year's theme is Love Beyond, with videos focusing on the countries of eSwatini, Papua New Guinea, Myanmar and Greenland.
"The Self Denial Appeal takes place in every territory across the world. Rich and poor Salvationists side by side, generously supporting the Army's missions around the world," said Janine.
"This series will demonstrate how The Salvation Army is showing the love of Jesus."
A video will be shown each week leading up to Altar Sunday on 29 March when Salvationists and supporters are asked to prayerfully consider giving one week's salary to The Self Denial Appeal. 
Each video shares the story of the far-reaching impact of Self Denial funds on the Army's work. Week One will feature an introduction and launch by our Territorial Leaders, Janine and Robert.
Week Two will focus on Thema from eSwatini in Africa, who is a volunteer community carer at a Salvation Army HIV/AIDS clinic.
Week Three will highlight the Army's work in the highlands of Papua New Guinea, following Major Iveme Yanderave as she visits disadvantaged people in her community.
Next stop is Myanmar, where The Salvation Army partners with community groups to host a blood donor service under the guidance of Zaw Moe.
In Week Five, the video series heads to Greenland where Malakias tells his story of being homeless in one of the coldest places on earth and finding a new life as a volunteer at the local Salvation Army centre.
Michelle Watts, Senior Producer of the Self Denial Appeal video series, and the Salvos Studio team spent two and a half weeks last year filming the series. Michelle said she found the experience refreshed her passion for the Self Denial Appeal.
"As a Christian, I feel like it's a huge honour to see what The Salvation Army is doing around the world. We are always so welcomed. They invite us into their houses. They are generous with their time and what they have," she said.
"What always surprises me is the reach of The Salvation Army. We are in more than 130 countries now; we're so well connected. Everything is so well run so that you're not fragmented between church and charities."
Michelle said while her team captured some amazing footage, there was something they couldn't capture – the dedication of each local church to worshipping God; something that transcended language and culture.
"We sang 'How Great Thou Art' in Greenlandic, in Burmese (Myanmar) and in Pidgen English (PNG)," she said. "The people are wonderful, and it [helps me] realise what we have and what's important."
Salvationists are asked to prayerfully consider giving one week's salary to The Self Denial Appeal. The 'altar appeal', where corps members and friends bring their gifts to the altar, will be held on Sunday 29 March. Funds can be donated online here at any time.
Last year, $3.2 million was raised, which went towards community development projects in Malawi, eSwatini, Kenya, Northern India and Tanzania. Mission support projects were also funded in Tanzania, Northern and Western India, Papua New Guinea, Indonesia and Kenya West.
To find out more about the Self Denial Appeal, go to selfdenial.info