New anti-slavery program launched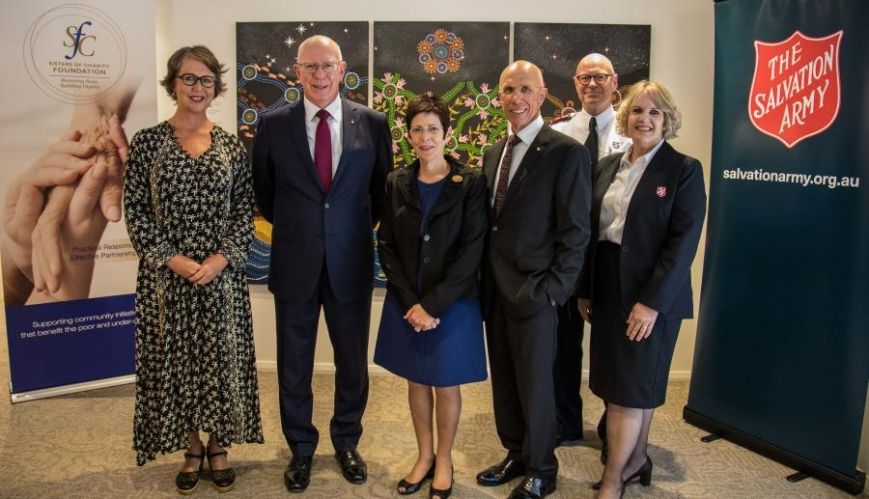 New anti-slavery program launched
20 February 2020
The Governor-General of Australia, David Hurley AD DSC (Retd) was special guest at the launch of a new anti-slavery service partnership between the Sisters of Charity and The Salvation Army. Photo: Tim Thatcher
By Lauren Martin
The Salvation Army will partner with the Sisters of Charity Foundation to operate an innovative housing program for survivors of modern-day slavery in Australia.
The program was launched on 20 February in the presence of Australia Governor-General David Hurley, who is also the Sisters of Charity Foundation patron.
A first for Australia, the program will see the Sisters of Charity Foundation and Salvos Housing deliver transitional housing for survivors of modern slavery based on a new model aimed at transitioning people to independent living.
The Global Slavery Index 2018 estimated that on any given day (based on research done in 2016), around 15,000 people were living in slavery-like conditions in Australia. Precise figures are difficult to obtain because of the secretive nature of the problem.
"They might be migrant workers being paid minimal wages and working long hours, a child bride being forced to marry by her father, fruit pickers isolated and underpaid on rural farms or child labour in its worst forms – but there is growing evidence that modern slavery is alive and well," a joint statement released by the two organisations said.
The Sisters of Charity Foundation has provided seed funding for the program, as well as brokerage to help clients set up a home. Salvos Housing will work with people impacted by modern-day slavery to find suitable accommodation that is affordable as well as accessible for work and transport, and The Salvation Army will provide ongoing case management and support.
Eventually, the lease will be transitioned to the resident, so that they can live independently. Sisters of Charity Foundation CEO Reba Meagher said the model had the advantage of providing accommodation that is tailored to the individual's needs and overcomes the barrier of entering the rental market experienced by people who have no previous rental or employment history.
"This approach also eliminates the need for the resident to move again when they exit the program," Reba said. "Rather, from the very beginning of their entry to the program, they are setting up their own home and life with targeted support."
Modern slavery practices, often considered to be hidden crimes, are receiving greater attention thanks to the efforts of anti-slavery advocates like Grace Forrest, who co-founded modern slavery foundation Walk Free with her father, Australian billionaire Andrew Forrest.
Federal Parliament passed a Modern Slavery Act in late 2018, requiring Australian companies with annual revenue of more than $100 million to report annually on the risk of modern slavery in their supply chains.