Recovery grants bringing relief to bushfire victims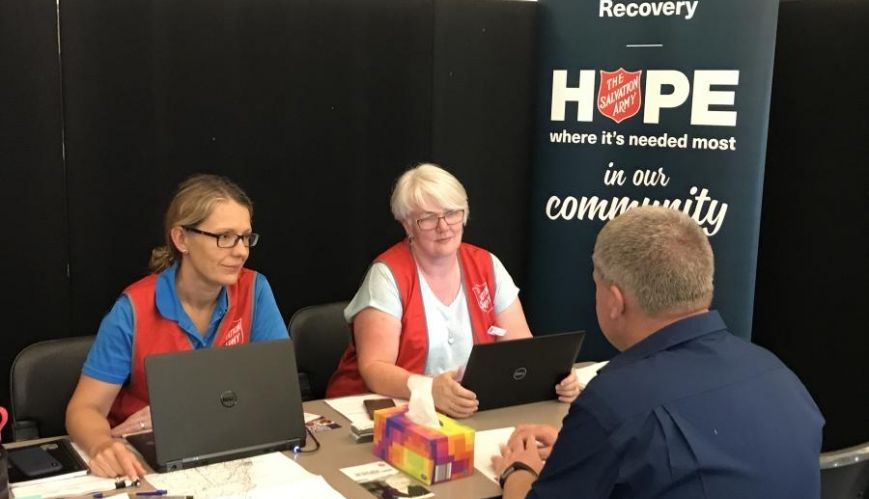 Recovery grants bringing relief to bushfire victims
21 February 2020
Jo Popplestone (left) volunteered for The Salvation Army at a bushfire recovery centre on the NSW South Coast in January.
By Lauren Martin
The Salvation Army has released details of its latest bushfire recovery grants as it continues to stand alongside those impacted by the devastating 2019-20 bushfires.
As at 19 February, The Salvation Army had distributed $13.3 million of the $20.1 million in funds that have been received and banked. More than $7.2 million has gone towards immediate emergency and relief efforts since Salvation Army Emergency Services (SAES) teams were activated in September 2019.
More than $6 million has been distributed directly to more than 5000 individuals and families in the form of hardship payments, including petrol, essential supplies, food or emergency accommodation.
A variety of recovery grants are now being offered to people impacted by the fires.
The Hardship Recovery Grant provides assistance to individuals and families experiencing ongoing extreme hardship as a result of the bushfire disaster.
The Significant Loss Grant provides assistance to individuals and families in bushfire-impacted areas who have suffered extended evacuation from their place of residence, extended loss of essential services (water/power); other significant property damage or income loss due to their place of work being damaged or destroyed.
And the Total Loss of Residence Grant provides assistance to individuals and families in bushfire-impacted areas whose primary place of residence has been destroyed or rendered permanently uninhabitable.
Caseworker at the coalface
Jo Popplestone, a Salvation Army Doorways casework practice manager, spent a week at a recovery centre on the NSW South Coast in January. She said after 25 years as a front-line social worker, she's come alongside people who have suffered various forms of trauma.
"What I experienced in the first four days of a bushfire recovery centre opening as a volunteer with The Salvation Army will remain with me for a very long time," she said.
Jo said her recovery centre opened just weeks after the New Year's Eve bushfires ripped through that particular area, destroying many homes. She said many homes were still without essential amenities, including electricity and clean drinking water.
"One couple who lived on a property told me they'd been informed the electricity might never be repaired in the area and they may have to go off-grid," she said. "Another family in the town informed me it was costing a minimum of $50 a day to run a generator for a just few hours a day, causing additional financial stress on top of not being able to run their own business as the internet was down."
Jo dealt with 83 households in just four days – 34 of the cases had lost homes completely, all their possessions and some had lost the ability to work. Jo was not only able to give them immediate monetary assistance in the form of initial hardship grants, but she also referred people to mental health practitioners, listened as they recounted their trauma and assured them that the Salvos would be there long after the media vans and TV crews had left town.
"To be present with another human being as they relive their trauma, less than two weeks on and hold that space for them, to listen, to be, for them to feel, to grieve, to acknowledge what could have been, is an incredibly humbling experience," Jo said.
"It's going to take many years for their community to recover, to heal from the trauma, to rebuild lives, homes and businesses. However, I am assured that we are stronger together. Together we can demonstrate The Salvation Army's values of 'Caring for Others and Building Healthy Communities'."
Jo said she volunteered to assist in order to live out the vision of The Salvation Army that Wherever there is hardship or injustice, Salvos will live, love and fight alongside others to transform Australia one life at a time with the love of Jesus.
"I try to do that, with every person I meet and, in doing so, I have returned blessed with an unexpected gift – an inner peace, a deeper level of understanding that when tragedy occurs, sometimes en-mass, that you are not alone," she said.
"There is a richness that comes from seeing a community pull together, digging deep into the well of strength and resilience that is in each of us, and sharing it with others."