Glenorchy in a state of loving their neighbour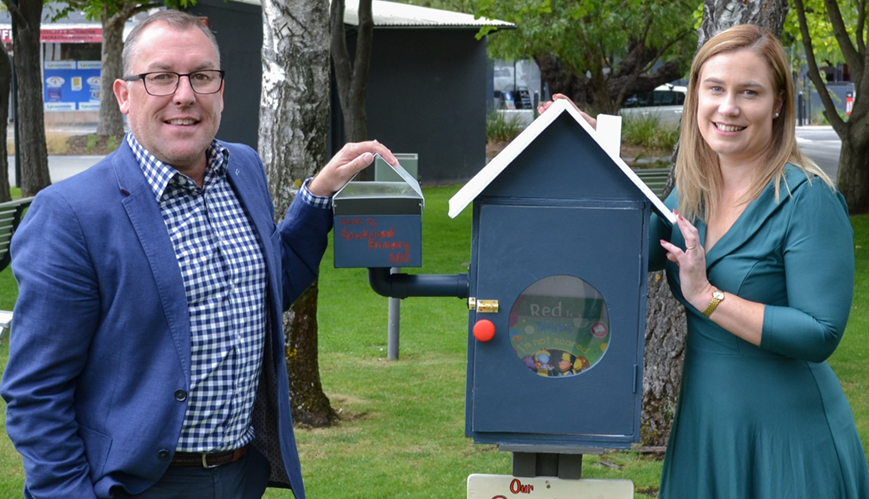 Glenorchy in a state of loving their neighbour
25 February 2020
Relationships Australia Tasmania CEO Mat Rowell and Glenorchy City Mayor Kristie Johnston presenting one of their Little Street Libraries to The Salvation Army. Image courtesy of Relationships Australia Tasmania.
By Jessica Morris
The state of Tasmania is challenging locals to love their neighbour, and Glenorchy City Salvation Army is leading the way.
Last weekend, the Salvos hosted the launch of Neighbour Day, a month-long initiative being run by the State of Tasmania and Relationships Australia to create rapport in the community.
With responsibility for this year's festivities being handed to Glenorchy City Council, it wasn't long before they called in a favour from their friends at the Glenorchy Salvos.
"The council needed a venue to launch Neighbour Day and often launch events and initiatives are held out of our new site," said Captain Jeff Milkins, Glenorchy City Corps Officer. "So when they called about two weeks out it was just logical. It aligns perfectly with what we are trying to do here at the site. 
"Neighbour Day agrees with what we are about in terms of building community, making friends and being cared for. Loneliness is a big issue in this part of the community.
"Any good friendship often starts around a meal, so when the Glenorchy City Council brought in the food for our regular community lunch, the event had a flying start."
Mayor Kristie Johnston and Relationships Australia Tasmania CEO Mat Rowell, who both attended the launch, challenged locals to host a barbeque, party or a similar event to increase community connection.
Glenorchy Salvos has continued to build a partnership with the local council since relocating last year. The new corps building is next door to the Glenorchy City Council offices.
Jeff said this put them right in the heart of the Glenorchy community and in prime position for Neighbour Day activities, including use of the new Little Street Library that was donated to the corps by the council in conjunction with Neighbour Day.
"People are encouraged to take a book and leave a book and connect with others in the community while they do so," said Jeff. "We want people to get to know their neighbour and have a chat – even around a library!"
The challenge has now been thrown out to the rest of Australia. Tasmanian or not, how can we love our neighbour today?
For more details about Neighbour Day or to host an event, visit the official website here.