Hope and a Future program off and running for 2020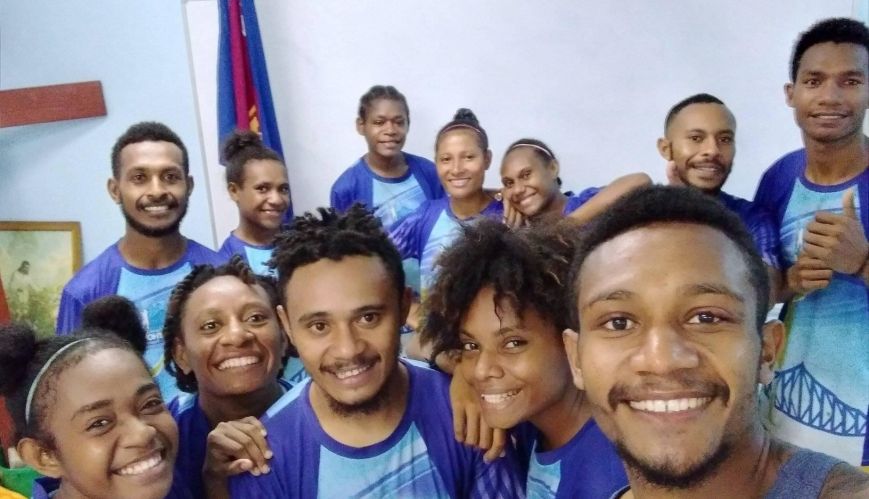 Hope and a Future program off and running for 2020
26 February 2020
The 2020 Hope and a Future team consists of six female and five male Papua New Guinea Salvationists who have been identified as future leaders. 
By Lauren Martin
The Salvation Army Hope and a Future program has kicked off for 2020 with 11 future leaders from Papua New Guinea chosen for mentoring and education support.
The program is a partnership between the Australia Territory and the Papua New Guinea and Solomon Islands Territory. It was established in 2014 to address the challenges faced by young people growing up in Papua New Guinea, where it's estimated that only 22 per cent of teenagers reach upper secondary school.
Papua New Guinea and Solomon Islands Territorial Commander Colonel Kelvin Alley (right) visited the 2020 Hope and a Future team to encourage and support their marathon training after an early-morning cycle.
Colonel Kelvin Alley, Papua New Guinea and Solomon Islands Territorial Commander, said while the most noticeable thing about the program is the aspect that involves participants training for and running in the Gold Coast Marathon, it is much broader in scope and impact.
"This is not a marathon training program – this is about character development, persistence, commitment to something that stretches and is hard, but can be achieved."
As part of the program, each participant receives mentoring, support, marathon training and – after the completion of the Gold Coast Marathon – an education scholarship to better themselves, and therefore, better the mission.
"Many of the young people involved in Hope and a Future are part of the leadership of our local corps/fellowships as music, youth leaders, worship leaders, musicians," said Kelvin. "They have all gone on to do studies supported by The Salvation Army as part of the program. I have just signed off on two participants from last year doing aircraft engineering studies, supported under Hope and a Future. I am a strong and passionate supporter, and very appreciative as the territorial leader, of the difference it clearly makes in these young people's lives."
Each year, two participants from the previous year's program are chosen as young adult mentors for the team to work alongside local Salvation Army officers Captains Kila and Pouna Komu. This year, Rebecca Negere and Darby Kevin have been chosen as mentors.
Rebecca said she was thrilled when she found out she had been selected. "Apart from the actual mentoring on running, I would like to instil in them positive behaviour and characters, self-discipline and good Christian values and standard."
Rebecca was the fastest female in the 2019 team and crossed the finish line wearing a Gold Coast Marathon bib bearing the name of her brother, Josh, who was promoted to glory earlier that year.
"The Hope and a Future program changed me tremendously," she said. "I realised that my heart, my mind and my body and my spirit is strong. I am able to make strong decisions in my life and deal with the consequences confidently. It had made me believe in myself that I can be better and different and be more and never settle for less despite whatever.
"In fact, the project didn't actually change my life, but it made me realise who I am."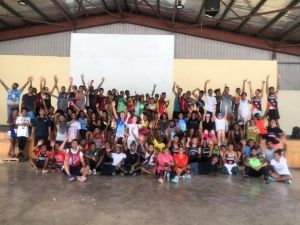 A record number of people applied to be part of the 2020 Hope and a Future program.
Bill Hunter, Head Coach of the program, said the level of spirituality and maturity in the candidates has deepened significantly over the years. Bill, who leads God's Sports Arena Corps in Brisbane, said a record number of 50 young people applied to be part of the program this year.
"The standout comment from many of those who applied was: 'We've seen all our friends go before us from our corps and from Papua New Guinea go through the program, do the marathon, and come back new people. We want what they've got'," said Bill.
He said Hope and a Future graduates were not only stepping into leadership roles within The Salvation Army in Papua New Guinea, but they were also impacting other young people by being positive role models and sharing the love of Jesus: "The way they've grown mentally, emotionally and spiritually in their leadership roles and in their studies – everything about them has changed."
Bill said the selection process this year was difficult, but in the end six women and five men were chosen, along with two local mentors.
The 2020 team: Kila Gwareva (Kwaipo Corps), Jessy Kevin (Hohola Corps), Inisi Roy (Koki Corps), Talu Kila (Boroko Corps), Reginald Henari (Koki Corps), Mohe Mavia (Kaugere Corps), Pokana Roka (Boroko Corps), Alison Thomas (Kaugere Corps), Nahbi Nathan (Boroko Corps), Peninah Mano (Boroko Corps) and Ugava Yameng (Hohola Corps). 
They are supported by Captains Kila and Pouna Komu, Papua New Guinea Youth Secretaries. Local mentors are Darby Kevin and Rebecca Negere. Mentors from Australia include Adrian Kistan (Auburn Corps, NSW), Alison Hawley (2508 Salvos), Captain Brad McIver (Hurstville Corps, NSW), Major Clayton Spence (Campsie Corps, NSW), Michelle Zammit (2508 Salvos), Sarah-Jane Alley (Manly Corps, NSW) and Sharon Callister, founder of the program.
Captain Kila Komu said the 2020 team looked like the strongest so far: "The team name is 'Favour' in English, but spelled 'Feiva'. The Hope and a Future program is really important for the youth of PNG, because it gives the young people an opportunity for leadership in life."