Canadian officer brings message of Shalom to Australia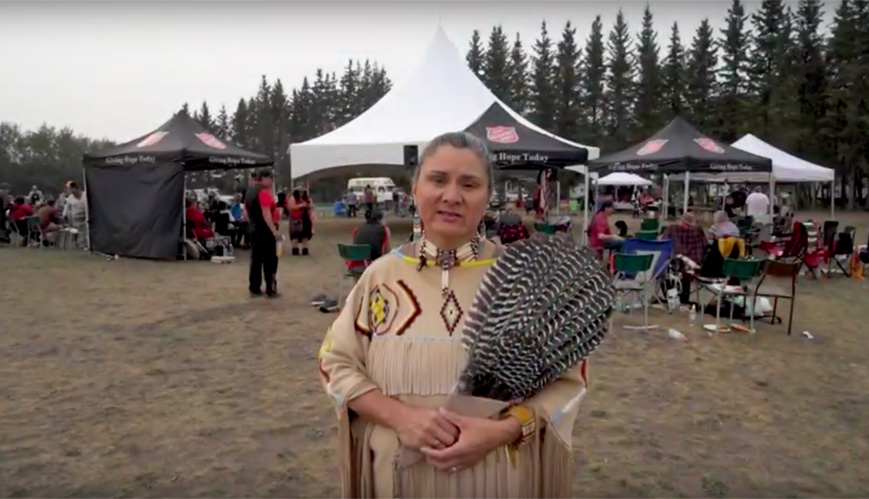 Canadian officer brings message of Shalom to Australia
27 February 2020
Major Shari Russell is the Indigenous Ministries Consultant for the Canada and Bermuda Territory, pictured here at the Celebration of Culture in Alberta, Canada, in 2018.
By Jessica Morris
In a world of heightened chaos, 'Shalom' between people, land and spirit can feel farther away than ever. But Canadian Salvation Army officer Major Shari Russell believes the key to restoring this active peace comes when we look to the Indigenous community.
In March, Shari will share her message of reconciliation at the Surrender Conference in Melbourne, and she's ready to bring her expertise as the Canada and Bermuda Territory Indigenous Ministries Consultant.
"For too long the strengths and gifts of Indigenous peoples have been overlooked within the Church and yet they are so vital to our health and well-being within the community of faith," she said.
"To flourish as people, we must also acknowledge our interconnection to all creation, which many of our Indigenous teachings provide insight."
Shari is a member of the Saulteaux First Nations people in Saskatchewan and has been involved in Indigenous ministry since reuniting with her birth family in 2002.
As a Salvation Army officer, she has played a key role in Canada's Truth and Reconciliation Commission, allowing her to enact the United Nations Declaration on the Rights of Indigenous Peoples in The Salvation Army. This means Indigenous peoples are now better integrated into the Church and play a pivotal role in reconciliation.
Shari will appear at Surrender Conference – an annual event to inspire Christians to respond to the radical call of Jesus to the margins – as a keynote speaker for The Salvation Army, which is a key hosting partner of the conference.
Surrender is the only conference in Australia that gives Australian Aboriginal Christians a leadership platform. This year's theme is 'Shalom: The Flourishing of All Creation', and features other speakers Brooke Prentis, CEO of Common Grace, and Jarrod McKenna of Love Makes a Way.
Last year, 30 Salvos from across Australia attended the conference, uniting with Aboriginal and Torres Strait Islander Peoples and the wider Church to live out the radical call of Jesus among the margins.
"2 Corinthians 5:19 reminds us we have been given the ministry of reconciliation and as people of faith we should be leading the way in the journey of reconciliation with Indigenous peoples," said Shari.
"I am looking forward to learning from other followers of Jesus as they seek God's justice in the world."
Surrender Conference is being held on 19-22 March at Belgrave Heights Convention Centre. Register now at Surrender.org.au.