Ten years of kicking goals for Christ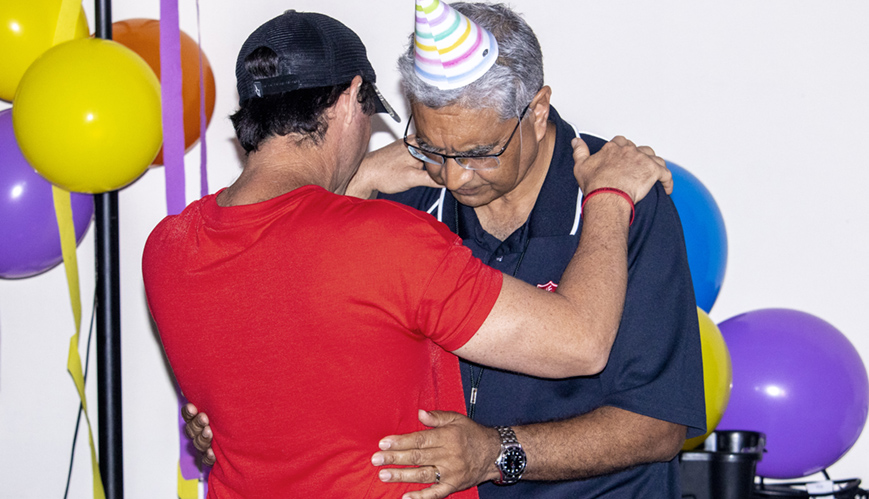 Ten years of kicking goals for Christ
4 March 2020
Built on prayer – Greg Dhnaram (right) prays with a member of God's Sports Arena at the church's 10th-anniversary celebrations on Sunday night. Photos: Kian Worthing
By Jessica Morris
God's Sports Arena in Brisbane has celebrated a decade of recovery, community and salvation from the sin bin.
The church held its 10-year anniversary celebrations on Sunday night at Brisbane City Temple Corps, where it is now based.
Former Brisbane Broncos chaplain Bill Hunter founded God's Sports Arena (GSA) as a counter-cultural mission expression of The Salvation Army in 2010, meeting in a small church in the shadow of Suncorp Stadium.
The church adopted a sports theme, with services filled with sports metaphors, whistle-blowing and half-time oranges. Today the congregation is 200-strong with 70 adherents.
Bill said members and friends celebrated the anniversary with gusto.
Bill Hunter holds up the post-it note that he says inspired him to start God's Sports Arena.
"We cheered, we clapped, we sang happy birthday and we recalled how God's goodness has come through," he said.
"It was emotional because you realise it's not about me, it's about what God can do in so many people's lives. It doesn't matter what rock bottom you hit – there's hope for everybody."
As part of his message, Bill related the story of how God inspired him to start God's Sports Arena through a post-it note that he found in his Bible, which had two words written on it – "history maker".
"I was really searching God's will at the time and I knew he wanted me to do something big in sports ministry – so he challenged me to be a history maker for him and that led to starting GSA."
Over the past month, God's Sports Arena has enrolled 15 new adherents. 
"Our church is full of recovering addicts. A lot of our people have been to prison, have prostituted themselves, some are gay, some are transgender, 85 per cent of our congregation are these people," said Bill.
"Our mantra is to 'Love, encourage and don't judge'. We see people come to faith all the time because we love them."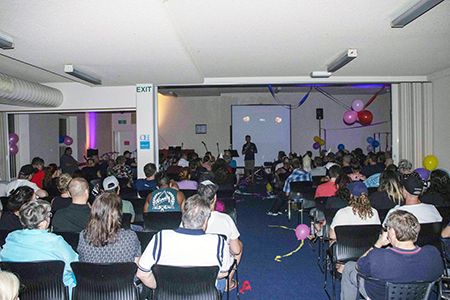 Bill Hunter leads the GSA anniversary service at Brisbane City Temple Corps.
Proving that the GSA community reaches far and wide, special video messages were shared throughout the anniversary service from friends of the church, including NRL players Justin Hodges and Brad Thorn, author Bronwen Healey and NSW/ACT Divisional Commander Lieutenant-Colonel Miriam Gluyas.
But it was the words of Queensland Divisional Commander Lieutenant-Colonel David Godkin that summed up the spirit of the night perfectly.
"We love you because you love other people," he said. "You're so accepting, you're so honest, you're so full of unconditional love to one another. You give each other third and fourth chances. [GSA is] just a wonderful community of God's people."
The church planted their first international location in Papua New Guinea last year, and they're taking their alternative style of church on the road to six locations in 2020. 
View videos from the 10th anniversary on the God's Sports Arena Facebook page.