Benji the wonder dog a hit with Doorways clients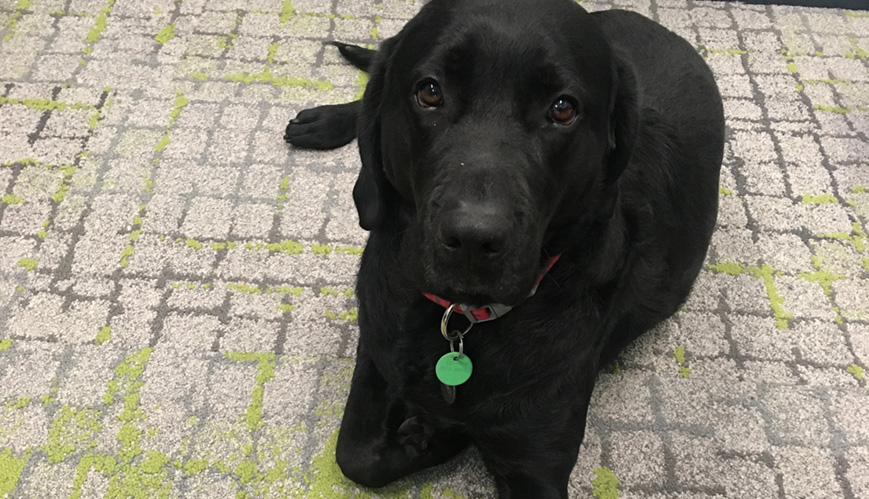 Benji the wonder dog a hit with Doorways clients
10 March 2020
Benji is enhancing people's lives at Glenorchy City Corps' Doorways program.
By Simone Worthing and Jessica Morris
Not all superheroes wear capes – some have four paws and are named Benji.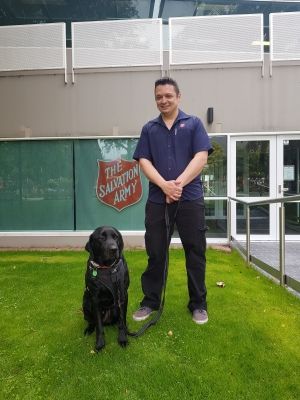 Benji with Glenorchy City Corps Officer Captain Jeff Milkins.
And while he's no Clark Kent, the therapy dog may as well be for the people who drop in for assistance at Glenorchy City Salvos in Tasmania.
The three-year-old black Labrador 'failed' Guide Dog school because he liked interacting with other dogs too much. But he soon found his purpose – helping struggling Tasmanians find their feet again.
Benji 'works' at Glenorchy City Corps, north of Hobart, greeting and mixing with community members who come in for emergency relief and case management through the Doorways* program.
"Often people who come in to see us are traumatised and their emotions are heightened, so Benji picks up on that and can help ground people," said Glenorchy Corps Officer Captain Jacqui Milkins.
"He is a gentle and loving presence and can just calm people, or be there for them before they're ready to talk, or as they are talking as well."
Aided by his sidekick (or human handler) Shelley, who is a Doorways facilitator, Benji comes into work each day wearing a special harness that lets him, and others, know that he is officially 'at work'.
Benji mixing with Doorways clients during a group session at Glenorchy City Salvos. He is a fun and calming influence for people.
"Benji works with all the challenging cases," said Jacqui. "He's already had quite a few clients, including one lady with mental and physical health difficulties who had so much going on she wasn't able to concentrate on anything. She spent 20 minutes playing with Benji during an interview, and he helped her to slow down, make sense of what was happening around her, and calmly focus on things. He is also really good with children."
Any therapist (or superhero) needs a break, and Benji has his own little bed set up as an office, ready for whenever he needs it.
"He also gets time to play," said Jacqui. "He's a real 'goofball' when we take his harness off!'"
'Everyday Salvos' often wear epaulettes, but at other times they wear a harness and have four paws. Thank God for Benji.
* Doorways is an innovative, best-practice model to run and manage Salvation Army emergency relief and financial counselling services.