Bellarine students on track with Olympian Nova Peris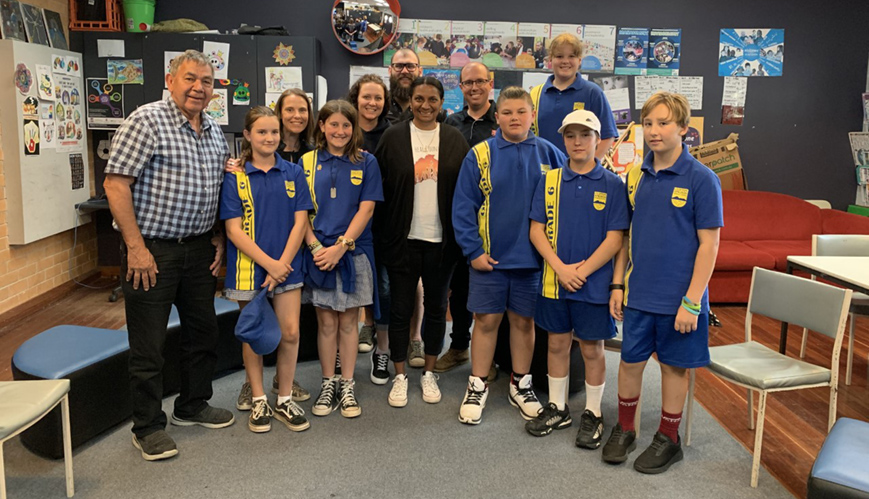 Bellarine students on track with Olympian Nova Peris
18 March 2020
Uncle Vince Ross (far left) and Nova Peris (centre) are supporting student ambassadors from Clifton Springs Primary School. Also supporting the program are (across the back) Captain Diane Hobbs, team members CJ Teuma and Cadet BJ Baillie, and Captain Peter Hobbs.
By Jessica Morris
Some of the Bellarine Peninsula's youngest Salvos are engaged in a new partnership with Olympic gold medallist Nova Peris.
Nova is supporting seven student ambassadors from Clifton Springs Primary School as they create a more inclusive and educational space about Indigenous culture on Victoria's Bellarine Peninsula.
The program stems from the Bellarine Peninsula Salvos Student Ambassador initiative, which mentors students in local schools through a 10-week leadership course.
Nova is an Indigenous Australian athlete and former politician. She was part of the victorious Australian Hockeyroos team at the 1996 Olympic Games, becoming the first Aboriginal Australian to win an Olympic gold medal. She switched to sprinting and won gold medals at the 1998 Commonwealth Games and competed at the 2000 Sydney Olympics.
"It's good that you've got the ability now to learn about Aboriginal culture and our history ... because here in this country there is a new history that started 200 years ago, and there's our history, which started 50,000 years ago," Nova said in a presentation to students.
"Our knowledge will become your knowledge when we have mutual respect for each other ... we share common things – the colour of our blood, the same earth, the same air. So we should be treating people equally and not being racist towards people."
Nova has wide community experience addressing Indigenous disadvantage, particularly in the Northern Territory. She has assisted in delivering more than 100 health and education checks across communities Australia-wide and has worked to establish the Nova Peris Girls Academy (NGPA) over the past three years, which focuses on keeping Aboriginal girls engaged with education. 
Bellarine Corps Officers Captain Diane and Peter Hobbs met Nova earlier this year and felt a connection between her work and their mission, particularly in relation to The Ranch, a place that Bellarine Salvos has set up to "create a safe and creative retreat for people to find themselves and explore their destiny and purpose", according to Peter.
"We want kids learning about their culture and using The Ranch as a safe place for Indigenous people. God is doing the hard work – we are just keeping up with him," added Peter.
"The connections we are making and the attachments are amazing. Even though we have only known Nova for a short time, there is a strong spiritual connection – you can sense God is in it."
Nova, who became the first Indigenous Australian to be elected to the Commonwealth Parliament in the Julia Gillard government in 2013, is teaming with local Salvo Uncle Vince Ross, who founded Narana Cultural Centre, in helping the Clifton Springs students complete their 10-week program.
Long term, the program will culminate in the transformation of The Ranch into a welcoming and inclusive Indigenous learning centre, where locals can engage in truth-telling, reconciliation and history.