You are here:
Home › News › 2020 › 03 › 26 › True Salvos Heart Being Unmasked During Covid 19 Crisis
True Salvos heart being unmasked during COVID-19 crisis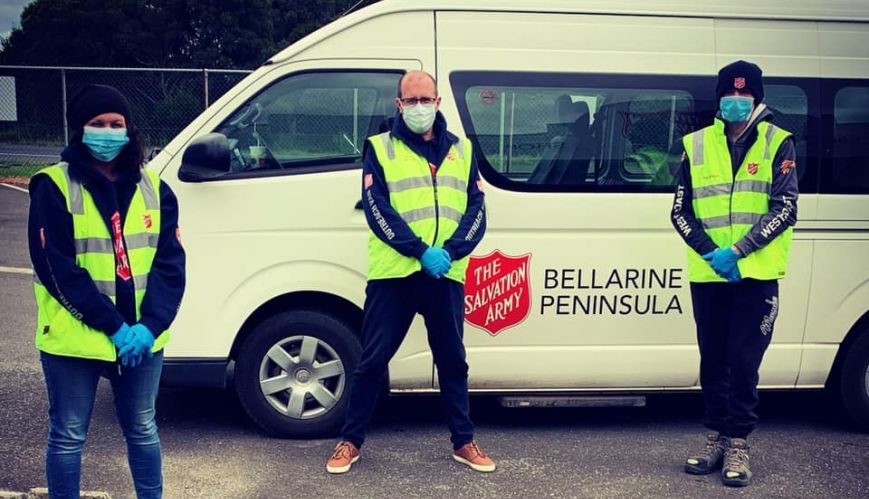 True Salvos heart being unmasked during COVID-19 crisis
26 March 2020
CJ Tuma (left) Captain Peter Hobbs and Bailey James are part of the team delivering essential supplies to vulnerable older people.
By Jessica Morris, Lauren Martin and Simone Worthing 
As the coronavirus continues to spread around the country, The Salvation Army is ramping up its efforts to respond to the growing and changing needs of the most vulnerable in local communities.
Corps and centres are changing the way they operate emergency relief, others are moving a range of programs online, and others are carefully out in the community, delivering hampers, food parcels and other reminders of their availability to help.
The Salvation Army has developed strict procedures on how to do this safely for both those already involved in this outreach and those being trained to participate.
Below is a snapshot of what just a few corps and centres are doing to let vulnerable people around them know that the Salvos are open for business and ready to assist. 
Victoria
Remaining relevant in Bellarine
On Victoria's Bellarine Peninsula, Corps Officer Captain Peter Hobbs and his mission team members are delivering essential supplies to vulnerable older people that they connected with while helping at their local supermarket during the special shopping hour for pensioners and concession cardholders.
"Although we have really minimised our community connections during this time, we have a list of people who are really struggling, and we are dropping off essential items to them and keeping in touch from a distance," Peter said.
"We are focusing on letting people know they are not alone and helping to take away some of their anxiety of not having access to essential services."
He says The Salvation Army is needed more than ever during this pandemic, but it needs to be innovative in its approaches to be able to provide what's needed in safe ways that abide by health regulations. "We have to be flexible and we have to adapt if we are to remain relevant to our communities."
Colac bag social connection
Social connection remains a priority for Colac Salvos in Victoria's South West. They knew that if people couldn't come to church, they would bring church to them – in a bag.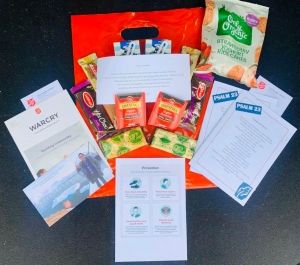 Lieutenants Aaron and Keryn Coombes made sure every 'Church in a bag' included the essentials: Scripture, devotions and a cup of tea.
"Live streaming is not an option for our congregation. But knowing we are a small town where [nearly] everyone is local, we thought we'd we just make up church for them at home," said Lieutenant Keryn Coombes, Corps Officer at Colac.
Each bag includes some Scripture and prayers, so the congregation can pause and reflect at the same time as their traditional Sunday service. And they even took into account one of the most sacred church activities of all – morning tea.
"Morning tea is the highlight so we make sure they set aside morning tea time [with snacks] and put in a few other documents about taking care of health and tithing to put them at ease."
Social distancing means no one could open the door when they dropped off church in a bag, but the heartfelt responses through windows showed just how much the connection as needed.
"We said to people, 'Don't come out, we are thinking of you. Call us if you need to' and the majority responded with beaming faces or tears," said Keryn. "We want them to know that we're still there."
New South Wales
Salvos still in Shellharbour
Shellharbour Corps in the Illawarra (NSW) has put together 'Coronavirus showbags' containing a roll of toilet paper, can of coke, an individually wrapped Tim Tam, a copy of Others magazine and a contact card.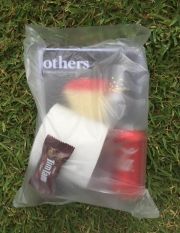 'Coronavirus showbags' are connecting the Shellharbour Corps with needs in the community.
"We wanted to let people know we are still here for them, as well as giving away the things we had collected for morning teas at church," said Lieutenant Paul Farthing, Shellharbour Corps Officer. "I have been putting them on people's doorsteps in the Shellharbour and Kiama area, knocking on the doors and running back to my car. The 'coronavirus showbag' was a silly throwaway line that has stuck, and people are taking these seriously.
"One lady we delivered to said she worked in a service for the disabled where they'd run out of toilet paper, so she gave them the roll we delivered and we were able to provide some extra rolls for them too. Another lady told us she gave the bag to her elderly parents who were running low on toilet paper and they were very grateful.
"Members of the community have now started donating extra toilet paper and donations are growing. Volunteers from the corps are also helping to deliver the bags as it's becoming a much bigger production.
Northern Territory
Creative thinking
"We live in a different world here and are in the early stages of our creative thinking in the face of COVID-19," said Captain Erica Jones, Northern Territory Area Officer.
In Alice Springs, Darwin, Katherine and Palmerston, The Salvation Army works with a large Indigenous population, most of whom don't speak English and don't use technology.
"This has heavily impacted our worshipping community as, to around 70 per cent of them, online worship or live streaming is simply a myth.
"The Northern Territory Department of Health has asked us to keep our showers open for our community members, which we are doing. They come in, have a shower, and then we clean and bleach the showers and leave them for 10 minutes until the next people can come in.
"It's an essential service for community hygiene and cleanliness. So it's a slow roll-through. People can also still come in for food but we are limited in what we can give them as most of them live in the long grass and salt bushes with no cooking facilities."
The Waterhole in Alice Springs and the Katherine Doorways Hub are still open, but with limited services. At the Waterhole, community members can get takeaway packs of essential items, and have kept up their requests for prayer.
"We have moved Doorways to phone appointments and limited face-to-face appointments at social distancing requirements.
"We are also looking at doing 'church in a bag'. This is a massive opportunity to get out of doing and thinking what we've always done and looking at the needs of our people and how we are best-placed to meet them. It's an exciting time as well."
Queensland
Spreading love in Townsville
The Townsville Riverway Recovery Mission is letting people know they are not alone during this time.
The Townsville Riverway Recovery Mission is using the hashtag 'spread love not germs' to "let people know that even, and especially, in the midst of crisis, we are still the Salvos and we are still here for people", said Team Leader Captain Helen Whittle.
"We are sending out a templated letter for people to print at home and distribute in their own street, saying that we are here for them if they need it and giving contact names and numbers," said Helen. "We also drop off the soaps to Salvos to distribute in their own neighbourhoods with the letter.
"We want people to know they are not alone at this time."