Virtual band unites brass players around the world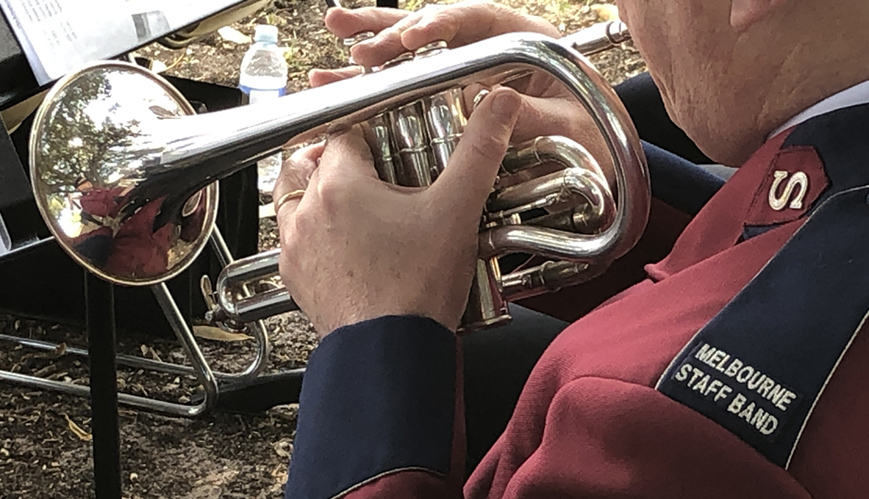 Virtual band unites brass players around the world
27 March 2020
Brass players all over Australia are encouraged to record their part of 'Star Lake' and be part of the international 'Virtual Brass Band'. Photo of Melbourne Staff Band by Mark Foyle.
By Jessica Morris
While brass players across the world are missing weekly band practices, Salvationists in the United Kingdom have come up with a novel idea to keep the music playing – a virtual band.
The Salvation Army Music Index has asked brass-band aficionados around the world to contribute to a mass music movement, where each participant independently records their part. Submissions will be cut together to create a masterpiece.
"Although nobody has told us (yet) not to practise on our own whilst in self-isolation, it just isn't quite the same playing without others," a post on The Salvation Army Music Index's Facebook site stated.
"Therefore, we are on a mission to create a virtual band, and we need you to take part!"
The first piece created by the 'Virtual Brass Band' will be the iconic march 'Star Lake', but the point of the exercise isn't really about music. "It's all about community," said Australia's Aux-Lieutenant John Collinson, founder of Just Brass.
"One of the great things about banding is that it's a musical social club. That's what it has been for kids in Just Brass and adults. You don't go along to play music for music itself, it's because you're doing it with other people.
"If there is some way to feel that online, it's great! There's something great about corps [and people] around the world playing the same music from the same song book in the same key."
Brass players can contribute to the Virtual Brass Band by following The Salvation Army Music Index's steps below. Submissions close on 6 April.
JOIN THE VIRTUAL BRASS BAND
Grab your part of 'Star Lake' from your filing cabinet or from the SA Music Index. All parts of this piece are available for just £1 each (approx. $2 AUD) this week on SA Music Index using voucher code VIRTUALBAND.


Get your metronome, or download a metronome app, set it to 126bpm and plug in your earphones so you can keep time.


Record yourself playing your part (video and audio) and send it to The Salvation Army Music Index on Facebook here by 6 April.