Salvos editorial magazines ramp up digital presence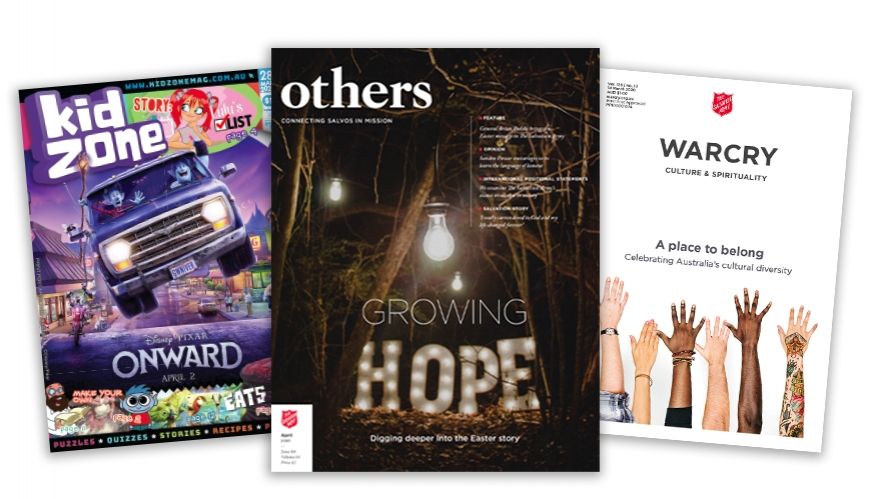 Salvos editorial magazines ramp up digital presence
28 March 2020
By Lieut-Colonel Laurie Robertson
Innovative effective Christian mission support is essential especially at this time of the COVID-19 crisis. It is in this spirit of innovation that it has been decided to increase the digital presence of The Salvation Army Australia Territory's Others and Kidzone magazines.

For the next six months there will be no print versions of Warcry, Kidzone and Others. The latest print editions are April for the monthly issue of Others and 4 April for the weekly issues of Warcry and Kidzone.

This decision acknowledges that physical relational giving of magazines is currently extremely difficult. We are also aware of the financial impact as corps are unable to take magazines into public places.
The Others website will have additional outreach-focused content that would usually appear in Warcry. We will be more deliberate in helping readers to identify which content we believe is appropriate for sharing with their friends, colleagues and othe people in their community.  
A digital version of the monthly issue of Others will also continue to be available to read at others.org.au/read-magazine. To be notified when the latest issue of Others has been uploaded, go to the link above and scroll down to where it says 'Subscribe to Others'. Enter your email address and click 'Subscribe'.
Kidzone will be increasing website resources aiming to enhance families worshipping together. Content will be more focused on activities children can do at home. The weekly issue of Kidzone will be posted at kidzonemag.com.au. A link to a free, easy to follow guide on how to use the magazine as a ministry teaching tool is also available to download at kidzonemag.com.au/kz-club