Drive-through generosity at South Barwon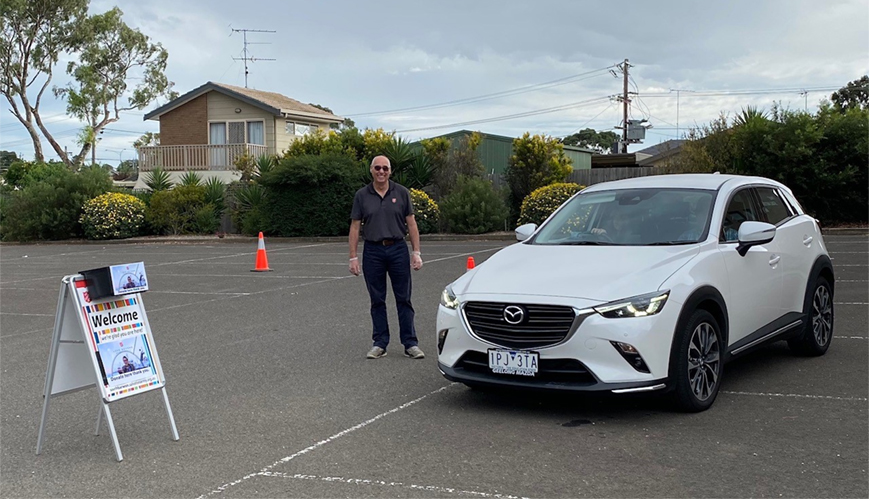 Drive-through generosity at South Barwon
1 April 2020
Major Clint Castley oversees the South Barwon Salvos drive-through altar service in the car park on Sunday 29 March.
By Jessica Morris 
You've heard of a drive-through takeaway service, but what about a drive-through altar service?
The Castleys set up signs to remind everyone how much a small donation can change a life – like that of Malakias from Greenland.
South Barwon Salvos in Victoria took an innovative approach to Self Denial Appeal Altar Sunday, inviting church members to drop off their financial gift 'on the go'.
"We have a few people who are not comfortable with online financial giving, so we encouraged them to drive through," said Corps Officer Major Clint Castley. "It was older members of the congregation who took hold of the idea. It was all about connection."
Traditionally, Salvos are asked to bring their Self Denial gift to the altar during a Sunday service. Due to social-isolation requirements, the drive-through was an ideal compromise for people unsure how to participate in online giving.
"It was an opportunity to get out and make social connection. We chatted and prayed. The handing over of their gift really was secondary," said Clint.
Clint said about 20 people participated in the drive-through, allowing he and his wife (Major Karen Castley) to catch up with some of their congregation, albeit through an open car window.
Showing that the spirit of generosity is still alive and well in these trying times, more than $5000 was gifted towards the Self Denial Appeal via the drive-through. This will go directly to The Salvation Army's missional and community development work across the world.
The Self Denial Appeal is accepting funds online until 30 June. Donate now at selfdenial.info.