You are here:
Home › News › 2020 › 04 › 02 › Are You A Salvo And Struggling Financially Call Moneycare
Are you a Salvo and struggling financially? Call Moneycare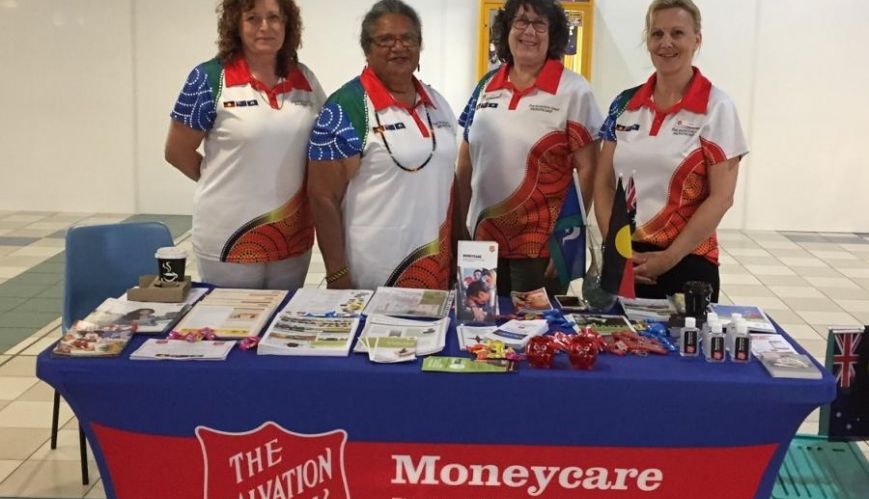 Are you a Salvo and struggling financially? Call Moneycare
2 April 2020
The Salvation Army in Cairns held a Moneycare Day in 2017 to educate the public about the Army's free financial assistance services.
By Lauren Martin
Salvos who are experiencing financial difficulty as a result of the COVID-19 pandemic are being urged to use The Salvation Army services available to them, including Moneycare, the free and confidential financial counselling service.
Moneycare financial counsellor Kristen Hartnett said the service (which has moved to be completely telephone/video-based) had already received calls from people who had lost income or livelihoods and didn't know where to start in terms of navigating government services and re-adjusting their finances.
"The thing we want to say to people is, 'You're not alone'," Kristen said, "And, 'it's ok to ask for help.'"
She said many Australians felt that others were 'worse-off' than them, and it stopped them from seeking assistance. She's also worried that Salvationists, volunteers and staff members felt like Salvation Army services like Moneycare were for community members only.
"The Salvation Army Moneycare Financial Counselling is for anyone in financial distress. Give us a call and have a chat; it's a confidential service and there are no 'silly' questions!"
She said many of the questions financial counsellors had been fielding during the coronavirus pandemic had been around how people could access government financial support, how to speak with landlords and negotiate with banks. "Sometimes just a call to a Moneycare financial counsellor can validate people and give them the confidence that they're doing the right thing, or pointing them in the right direction," Kristen said.
Kristen said there were several things people should be prioritising with their finances to set themselves up to get through the COVID-19 crisis:
The number one priority for households is the payment of rent/mortgage, followed by food and then medications.
Paying utility bills on time. People having trouble can contact Moneycare to see if they can access assistance (there are different forms of assistance in different Australian states.)
Owing money to someone can be stressful, so contact that person and discuss a realistic payment plan.
Make sure you know the details about how much your income has dropped. (Moneycare financial counsellors can assist to gather that information.)
Kristen said it was healthy at this time for people to be speaking about their finances with each other. "Check in on each other financially. Ask people, 'How are you going financially?' It's a tough question, but we need to be talking about it," she said.
And for those in the community with a little extra money in their budgets, Kristen said it would be a good time to consider setting up a 'rainy day fund', "because that extra money probably won't last forever and there will be a long way to go before Australia recovers financially from COVID-19."
People experiencing financial hardship are being urged to seek free and confidential financial guidance:
Salvos Moneycare Financial Counselling is still open. All Salvation Army staff, volunteers and officers are welcome to call! Watch this video to learn how Moneycare can help in these troubling times and search for your nearest centre here.
Individuals, call 1800 007 007 (national debt hotline, a government-funded service).
Small businesses, call 1800 413 828.
Find out if you're eligible for government financial support here.
Reach out to Lifeline if you're needing emotional support on 13 11 14.