Salvation Army announces Easter live-stream details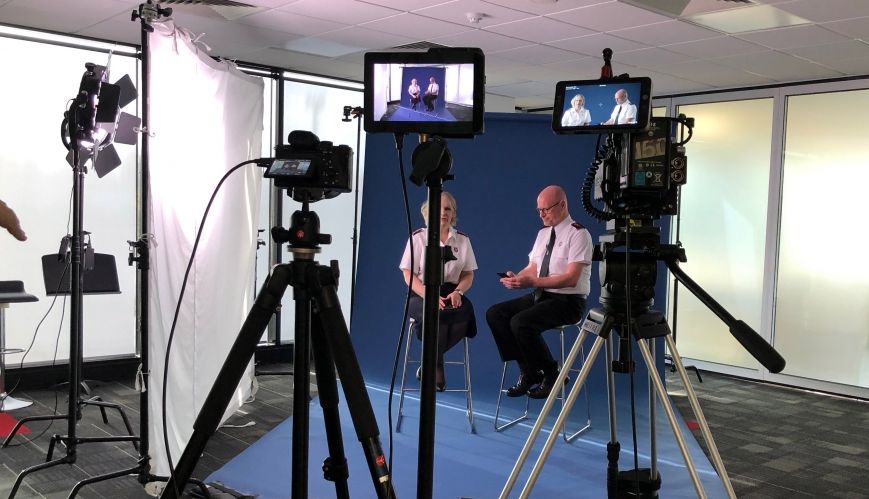 Salvation Army announces Easter live-stream details
3 April 2020
Territorial leaders Commissioners Janine and Robert Donaldson prepare for The Salvation Army's nationally live-streamed Easter services
By Darryl Whitecross
The Salvation Army's national leaders are encouraging Salvationists to gather together 'virtually' this Easter.
Territorial leaders Commissioners Janine and Robert Donaldson will lead a live-streamed traditional-style Good Friday service, which will be followed almost immediately by a contemporary service also led by the Donaldsons.
On Easter Sunday, there also will be traditional and contemporary services, this time led by Chief Secretary, Colonel Winsome Merrett, and Assistant Chief Secretary, Colonel Kelvin Merrett.
The services will be at 9.30am (traditional) and 11am (contemporary) on both days, and will be live-streamed on the Others_au Facebook page: www.facebook.com/OthersAU
Vocalist Julia Roper recording for the Easter services.
The Army's Worship Arts Team manager Ken Waterworth, who co-ordinated the project, said Territorial Headquarters at Blackburn, Melbourne will host the traditional services, and Ingle Farm Corps in Adelaide will host the contemporary services. He said the services have been pre-recorded by Salvo Studios, the Army's video production team.
Salvationist vocalist Julia Roper and pianist Captain Gareth MacDonald will feature in the traditional services, while the Ingle Farm worship team will be the focus music group for the contemporary services.
Ken, who has been involved in organising major concerts and worship events for The Salvation Army for many years, said it was a significant undertaking to co-ordinate the various components of the services to ensure they would be of a high standard at such a "special time on the Christian calendar".
He said it was "quite a process from beginning to end" to ensure the services adhered to COVID-19 restrictions, were copyright compliant and met live-streaming licensing requirements.