Deliveries of hope to doorsteps around the country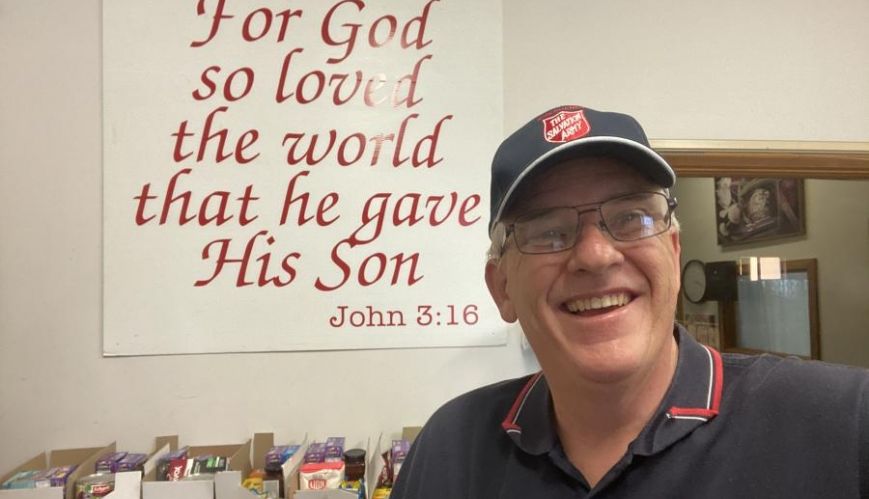 Deliveries of hope to doorsteps around the country
7 April 2020
Port Lincoln Corps Officer Captain Darryn Lloyd with hamper packs to be delivered to community members in need of support during the COVID-19 pandemic.
By Holly Reed and Lauren Martin
Household doorsteps across Australia are being bombarded with deliveries of hope from The Salvation Army as the coronavirus pauses face-to-face mission and ministry.
SAES support
After an exhausting extended season coordinating responses to the 2019-20 bushfires, The Salvation Army Strategic Emergency and Disaster Management (SEDM) team is now fully engaged in supporting the delivery of essentials packs to those who are self-isolating and do not have support to obtain daily necessities.
The essential supply packs are coordinated by state governments and are being delivered by Salvos personnel in many parts of the country. The packs contain one or two weeks' worth of essentials and are given to people unable to access food retail outlets due to COVID-19.
Corps support
Local Salvation Army corps are also putting together 'We Care' packs to express support for their community in these testing times. The packs may vary from location to location, but the sentiment is the same – to assure people who are doing it tough that they are not alone, and the Salvos are there for them.
Western Australia
Salvos at Morley Corps in Perth have been connecting with their community in a variety of ways during the COVID-19 pandemic. Its emergency relief has continued with assistance managed mainly through phone interviews, with advocacy and advice being posted to households in need. The corps reception is open and operating under social distancing regulations and is a place where community members who need assistance can pick up donated bread and other food items.
Sandra Hall and Elaine Perris from Morley Corps in Western Australia continue emergency relief work during the coronavirus pandemic.
Corps Officer Major Warren Elliott said Morley emergency relief worker Sandra Hall had been contacting older and vulnerable emergency relief clients to touch base with them. He said the corps was making up and distributing care packages for them, with toiletries, food, books, DVDs and things like that.
"For us, the main thing is to maintain a connection with older and vulnerable people in our corps community and the wider community who don't have computers or internet access, so maintaining our connections with them is important," he said. "They are really missing connecting with us through our normal weekly groups."
The Kids Ministry Team at the corps delivered care packs, via local school chaplains, to the teachers of three primary schools The Salvation Army has been working in, to say thank-you for their sacrificial commitment working on the front line during the pandemic. They are now working on distributing Easter packs to more than 70 families who are connected with the corps through its children and family ministry groups.
"On Sunday night, we did our young adults service via a Zoom video meeting and we had about 50 people checking in on that live, which is slightly more than we had been averaging lately," said Warren. "Even our former young adults leader 'zoomed' in from the UK – it was really fun!"
Jodie Basel and Mary Anderson, from The Salvation Army's 'The Well' at St Kilda Chapel, deliver care packs to community members in need.
Victoria
Major Narelle Jacobsen, from 'The Well' at St Kilda Chapel in Melbourne, was keen to help out those who are struggling during the COVID-19 pandemic. "I put a call-out to my Area Leadership Team for supplies, as 'The Well' doesn't have access to low-cost food services and we were blessed with a great response. Then my team members – Tina, Mary and Jodie – came forward to help put the care packages together."
The packs included handwritten notes of hope and encouragement, recipes, prayers, food and other household supplies, tips on self-care during self-isolation, as well as a living succulents to represent 'caring for something so that it may flourish'.
Twenty-five packs were made and delivered and it's hoped this will continue in the weeks ahead as well as the team working with the nearby Salvation Army Youth Accommodation and Outreach Services. 
"It was a heart-warming experience to brighten up someone's day and to see joy and surprise on their faces," Narelle said. "We found it hard to keep our distance at times as some are faced with real challenges and were emotional when they saw the care package. Everyone was so grateful."
She said it was a wonderful collaboration with the Army with help from volunteers. 'The Well' at St Kilda Chapel is looking forward to hosting a barbecue celebration of togetherness when the isolation period is over.
South Australia
The Salvation Army is engaging with all of its community partners at Noarlunga Corps, south of Adelaide, as it serves those in the community who require assistance or are unable to leave their homes.
"Through our community support service, we are delivering food hampers to isolated people if they are shut-in," said Noarlunga Corps Officer Captain Robert Casburn. "I belong to the local Rotary Club and it's great to partner with them – and other people in our church in the community are helping as well."
He said he expected the need would increase as the period of isolation due to the COVID-19 pandemic increased. He said that he and the corps were "doing what we can each day to stay connected" with people within their corps and mission communities.
Seaford Rotary Club volunteers help Noarlunga Corps members deliver care packs to people in need.
At Port Lincoln, The Salvation Army has started a drive-through welfare service. Corps Officer Captain Darryn Lloyd said it's working well: "We ask people when they come to see us on a Monday or Wednesday morning to stay in their car and I go out and have a chat to them and provide assistance in that way.
"We're still keeping the doors open in this new way, we're still serving people like we've always done, we're just innovating the serving in new ways."
The corps is also delivering hampers of food staples for those who phone through for assistance.
New South Wales
Auxiliary-Lieutenant Tracy Iles is in her first year of a new appointment to Westlakes Corps in Lake Macquarie. She said the COVID-19 situation had left her reflecting on her first appointment to Raymond Terrace, several years ago.
"When I first started at Raymond Terrace they had major floods and all the corps-social mission work started with that disaster. I feel like it's happening again here at Westlakes, but just in a different way."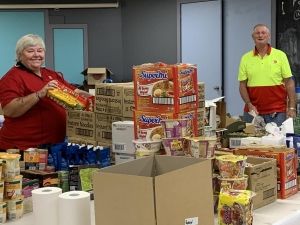 Kaz O'Hara and Mal Monk pack care packs at Westlakes Salvation Army in NSW.
The corps has adapted its mission and ministry work and partnered with local agencies to care for the community during this time of isolation and uncertainty. The corps connected with its nine local primary schools and asked if Salvos could care for any families in need of support. "The schools were so excited and we now a list of 16 families who have been referred from schools or other services," she said.  
"Once a week we contact each family and access their needs. We have delivered kids packs, spiritual packs and food hampers. The response has been wonderful with families being so grateful and wanting to stay connected."
Tracy and the corps are already praying into the future, envisaging long-term connections with families through programs like Kids in the Kitchen, The Salvation Army Red Caps anger management course and other groups.
"We have had opportunities to pray with people on the phone – one man rings us daily to have a chat and he got emotional when we first got in contact with him and said, 'I just wanted to hear someone's voice'. People are lonely and they were probably lonely before this but we have found a new way to engage with them."
She said so many corps members had stepped up into near ministry positions within the pastoral care team and they were active in delivering hampers every day and calling about 150 households a week.
"We're not on our own with what we're doing here at this time; a lot of The Salvation Army is doing this kind of stuff at the moment," said Tracy. "At the end of this difficult time, I pray that there will be some really concrete relationships built – both in the community and through our people stepping up into leadership to care for our community in this time.
"We're not excited about COVID-19, but we are excited about what God's doing."
Northern Territory
The Salvation Army works with and serves a large Indigenous population in the Top End. The state government has asked this group to "return to country", which most of them have.
"This means our people have returned to their homelands, which is good for right now," said Captain Erica Jones, Northern Territory Area Officer. "It also means we are now looking at who are our 'new people' for our four areas – Alice Springs, Darwin, Katherine and Palmerston – and what the new Salvation Army will look like here.
"We are right at the beginning of this process and developing a new way of serving and responding."