Prayer 'pandemic' bringing Salvos to their knees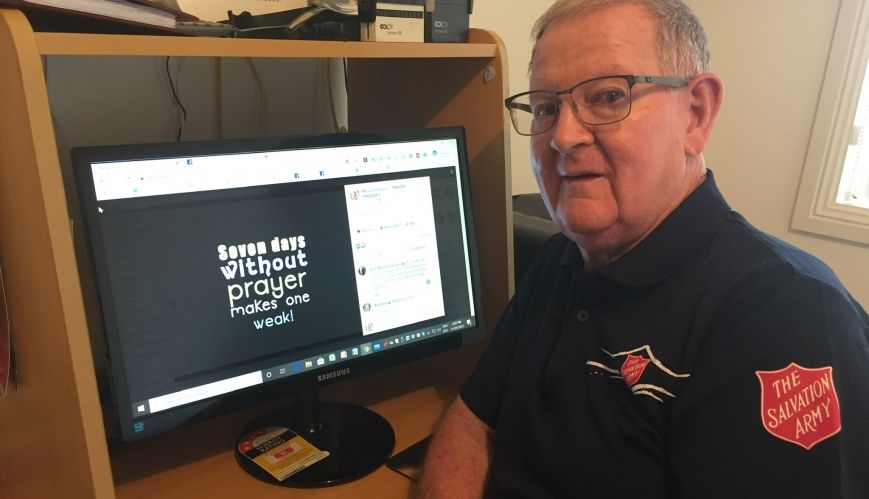 Prayer 'pandemic' bringing Salvos to their knees
15 April 2020
Major Merv Holland works on his newly created Facebook page 'Prayer Pandemic'.
By Dean Simpson
When God told the Old Testament prophet Joel to write that "old men will dream dreams", he may have had retired Salvation Army officer Major Merv Holland in mind.
"I had a dream last week that the Lord wanted a different form of antidote to the coronavirus and within hours I'd set up a Facebook page – a first for me!" Merv mused.
He has called his page 'Prayer Pandemic' and in the first few days it has already attracted about 450 followers and more than 1300 views.
"People from around the world are posting prayers of faith, hope, encouragement, intercession, petition and praise to our amazing Heavenly Father who is in full control," Merv explained.
The description on the Prayer Pandemic page states:
Let prayer spread like a virus. Pray for family, friends and neighbours …
People in your fellowship, organisation or club, health care workers and allied essential services.
All those they care for, the lonely, shut-ins or homeless.
In fact, anyone the Holy Spirit prompts you to contact.
Connect with at least one person per day to let them know you are upholding them before the Throne of Grace.
Use this forum to encourage one another in these challenging times.
"My 'Prayer Pandemic' is not a new strain of COVID-19 that is maiming and taking lives, but a virus that is doing just the opposite. So, I'd like to encourage Salvos to join the victory team and pray without ceasing," Merv said.
"It's the difference between being in the contest and cheering from the grandstand!"
To join the Prayer Pandemic page, click here