Pandemic relief efforts in operation all over world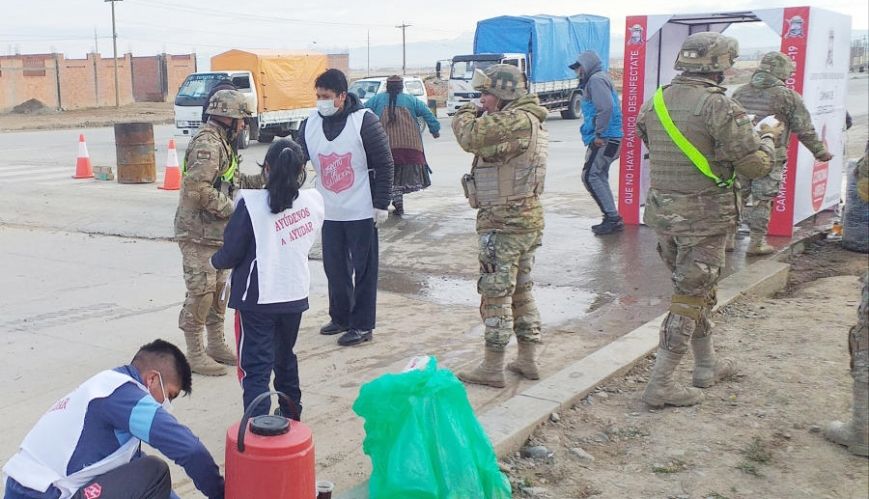 Pandemic relief efforts in operation all over world
23 April 2020
The Salvation Army around the world continues to respond to the needs of the world's most vulnerable. In South America (pictured above), providing hand sanitiser and teaching people how to use it effectively is a large part of the response.
IHQ Communications
In almost all of the 131 countries where The Salvation Army operates, emergency responses to the COVID-19 pandemic are underway to provide relief and respite.
The Salvation Army International Emergency Services team at International Headquarters – as well as the International Health and Mission Support teams – have been working determinedly to support hundreds of relief projects in communities right around the world.
Africa
In Conakry, the capital city of Guinea*, The Salvation Army is working closely with the Ministry of Health and Sanitation, the World Health Organisation (WHO) and other stakeholders. A public health awareness campaign – incorporating leaflets and large banners – is underscoring the importance of handwashing.
The Salvation Army is also concerned about 10 specific communities in Conakry where the government curfew is affecting people's access to food. Around 1500 people will therefore receive emergency food packages in order to mitigate the risk of starvation. Handwashing materials will also be supplied.
Over the border in neighbouring Sierra Leone, The Salvation Army ­– again in collaboration with the WHO – is assisting communities in Freetown, Bo and Kenema. Here, the focus is on the provision of soap, sanitiser and cleaning materials, as well as personal protective equipment (PPE) such as gloves, masks and face shields. Food security in these locations is also considered to be problematic, and distributions of rice, oil and tinned fish are planned. Approximately 2800 individuals will be helped through this initiative.
Food security is also a significant issue in Zambia, where many people are struggling to access supplies reliably and are unable to earn sufficient income to meet their daily needs. In 16 locations, in consultation with village elders, The Salvation Army is planning to provide more than 10,000 individuals with maize meal. Health advice will also be shared, to raise awareness of COVID-19 countermeasures.
Americas and Caribbean
Three locations in Bolivia have been identified as requiring Salvation Army assistance. In Viacha ­– a city of 10,000 inhabitants with 45 per cent living in poverty and 25 per cent living in extreme poverty – the COVID-19 crisis means that people reliant on the gig economy now have no income at all because they are unable to leave their homes. A two-week feeding program seeks to address this, with The Salvation Army working in collaboration with the local government who will provide sanitiser and cleaning materials. Meanwhile, hot meals will be provided five days a week to 100 of the most vulnerable people in Villa Cosmos, for an initial period of one month. In La Paz, a similar scheme will operate for three days a week.
In San José, Costa Rica, The Salvation Army is concerned about the welfare of more than 3000 people living on the capital's streets, who are not receiving assistance from anywhere else. A daily feeding program is being established through the organisation's Refugio de Esperanza and an emergency canteen.
In Ecuador and Peru, The Salvation Army is working with the United Nations refugee agency (UNHCR), the International Organisation for Migration (IOM) and the UN Office for the Coordination of Humanitarian Affairs (OCHA), to ensure that needs are met in a holistic way.
The mountain community of El Rancho, Ecuador, has been deemed very susceptible to the spread of disease. The Salvation Army is mounting a COVID-19 awareness campaign as well as distributing hygiene supplies to some of the most vulnerable people in the locality.
Venezuelans who – due to the situation in their own country – have arrived in Peru in the hope of building a better life for themselves, are finding the situation complicated. Ninety per cent of migrants work in the informal sector without contracts. Because of the national quarantine, they are currently unable to leave their homes and, in many cases, have not eaten for several days. Around 560 families in San Martín, Ica, Tacna and Trujillo have been identified as being in particular need, and are now being supplied with monthly emergency food parcels.
EUROPE
Following liaison with local government and health officials, The Salvation Army in Thessaloniki, Greece, is putting together 300 medical supplies packages in order to better resource the local healthcare system. Care packages are also being distributed to vulnerable families, containing essential supplies such as rice, cereals, long-life milk and hand sanitiser.
The Salvation Army in Italy continues to provide food to around 700 people each week, with enhanced protective measures to safeguard both staff and service users. In the capital, Rome, The Salvation Army corps has become a mask distribution site for the local government. Meanwhile, in Brienza, the movement has partnered with the Civil Protection Agency in order to assist with the delivery of essential grocery and pharmaceutical items. A further 1100 people connected with The Salvation Army's social services in the country are expected to benefit from an additional food distribution program.
In Xabregas, near Lisbon, Portugal, a night shelter has been expanded to become a 24-hour operation, in order to protect the service users by enabling better social distancing. In Porto, the existing feeding program has been provided "at home", despite having fewer team members available. Staffing issues have also affected The Salvation Army's nursing home "Las Marinal", though provision has been maintained and residents have been enjoying a varied program of activities.
Distances are huge in Russia, where nearly 9500 kilometres separate St Petersburg in the west from Vladivostok in the east. The Salvation Army is rising to the logistical challenge of supporting 1400 families – equating to more than 5600 individuals – known to be in particular need. In the following three months, food parcels consisting of bread, sugar, porridge, buckwheat, milk and cooking oil will be distributed from 12 locations across the country. Recipients will be verified by local authorities. A further 1400 parcels will ensure the most vulnerable people have access to hygiene materials such as soap, sanitiser and toilet paper.
SOUTH ASIA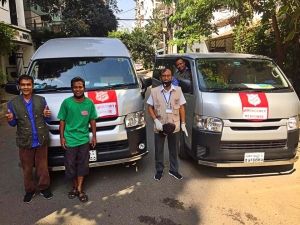 The Salvation Army in Bangladesh is responding to needs around the country.
More than 10,000 vulnerable beneficiaries will receive emergency food supplies from The Salvation Army in Bangladesh. Part of the international non-governmental organisations hub in the country, The Salvation Army has already been meeting needs in several locations – particularly in the capital, Dhaka. Salvation Army leadership teams have now additionally received a direct request from local authorities to 'help and protect' women working in the sex trade in Jashore.
Additional supplies of PPE are also being sought for Salvation Army clinic staff in the country. As well as this, food will be provided for tuberculosis and leprosy patients receiving treatment at The Salvation Army's Mirpur Clinic and to other vulnerable people attending the clinic in Andulia.
In India, from Kerala in the southwest to Kolkata in the northeast, The Salvation Army is responding to the COVID-19 crisis in numerous practical ways. Much of the response is being undertaken on a local, community level – for instance, in each of the 15 divisions and districts of The Salvation Army's India Central Territory, 150 vulnerable people a day are being supported with the provision of food, snacks and drinks.
From The Salvation Army Catherine Booth Hospital in Nagercoil, in the south of the country, suffering is being alleviated by a strategic distribution of sanitary supplies and medicines to patients suffering from health issues such as diabetes and hypertension. The project also seeks to stave off hunger for around 35,000 individuals in the catchment area through the managed distribution of emergency food rations.
In the west, 700 families – especially those living in Mumbai's slums – are being provided with food and hygiene supplies. Individuals in Ahmednagar, Pune, Sangli, Shevgaon and Pathardi are also being supported during this time when employment is an unrealistic proposition for many.
Meanwhile, in Pakistan, The Salvation Army is now working in collaboration with the government and local authorities to support approximately 6000 people in Sahiwal, Khanewal, Karachi and Hyderabad who are considered to be at particular risk because of the effects of coronavirus. Food and hygiene items, such as soap and sanitiser, are being distributed.
SOUTH PACIFIC and EAST ASIA
Provision of PPE and hygiene supplies have been a priority for The Salvation Army in Korea as it undertakes emergency relief activities. Vulnerable groups in Gyeongbuk and Daegu received early shipments of masks and sanitiser. In Namdaemun and Donui-dong, 800 lunch boxes are being distributed to residents who are finding it hard to source even one meal a day.
In New Zealand, people facing financial hardship at this time of uncertainty and economic disruption can contact The Salvation Army's community finance team via phone or Skype. "The Salvation Army is there for those who have no one to turn to," says Assistant Territorial Secretary for Mission, Captain Gerry Walker.
* The Salvation Army's Liberia and Sierra Leone Command has recently begun exploratory work in Guinea.
The latest information on The Salvation Army's worldwide response to COVID-19, including a regularly updated map and video messages from General Brian Peddle, are available here.