You are here:
Home › News › 2020 › 04 › 28 › Morning Nuggets Of Truth To Hit The Airwaves With Major Bryce Davies
'Morning nuggets of truth' with Major Bryce Davies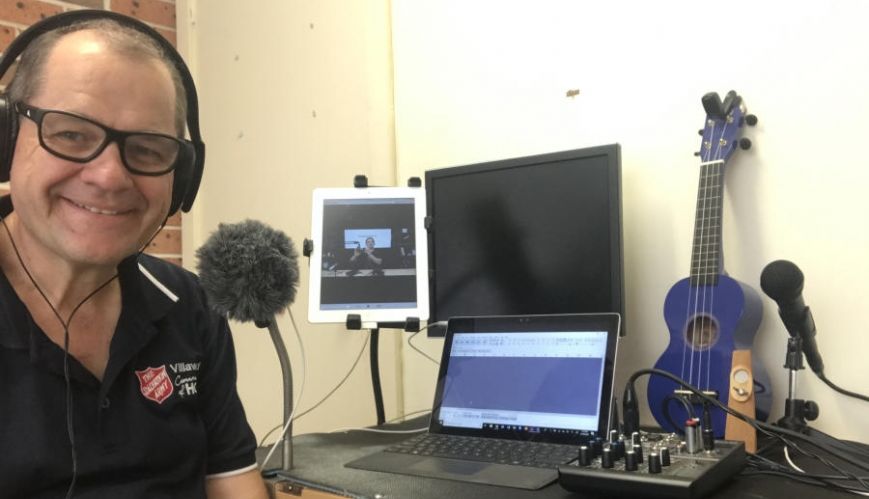 'Morning nuggets of truth' with Major Bryce Davies
28 April 2020
Major Bryce Davies in his "podcast cave".
By Lauren Martin
He's an ex-plumber who plays the ukulele and kazoo (none too well according to his wife!) – but now Salvation Army officer Major Bryce Davies is hitting the airwaves to share "stories of hope" and encourage people about life and faith.
"So, I'm thinking of doing this podcast," Bryce says enthusiastically over the phone. "Well, it's only really going to be two or three, or even four or five minutes long, so I guess it's not really a podcast; more like little 'podettes', if you can call them that."
And off he rattles with ideas, questions, thoughts and musings. With that, Bryce's 'Stories of Hope' podcast is born. In his first episode, featuring a screwdriver banging on a desk and a kazoo jingle to start, Bryce shares his podcast journey with friends and family, saying: "If you're listening to this then you're probably a friend of mine or a Salvo connection from somewhere and you know me, or are supportive ... or it's just mum. G'day Mum!"
Sharing short "morning nuggets of truth", stories about life transformation, as well as some longer-form interviews, the podcast, which was launched on 15 April, aims to encourage and inspire. It's also an insight into the kind of relational ministry that has shaped Bryce's faith for more than 20 years now.
"It's called 'Stories of Hope' because I'm a storyteller more than an educator," he says. "It's not like, 'Here's the 10-point-program on how to find hope' or 'How to build a church'.
"Sometimes there'll be stories of people I'm in relationship with and how life and transformation has happened for them, and other times it will be little thoughts and bits of truth. I think all of them point people to [the fact that] it doesn't need to be complicated; church doesn't need to be a massive building with thousands of people, church is pretty good when it's just two or three or four people getting to know each other. Sometimes, it's the relationships that are really transformational ... and that story is the evidence of the kingdom of God coming to earth."
Bryce says he does have a "day job" – he's the NSW/ACT Communities of Hope Coordinator and the Panania Salvation Army Team Leader in south-west Sydney, which takes in a relatively new expression of the Army in the area – Villawood Community of Hope. He works by coming alongside vulnerable people, inviting them into community and journeying with them, exploring life and faith along the way. The Villawood Community of Hope is centred around activities including the community garden and communal meals.
With the advent of COVID-19 and social distancing restrictions, Bryce has had more time at home to start investing in the 'Stories of Hope' podcast, but it's been a project in the pipeline for quite some time. Last year, when he took on an additional appointment as a consultant to the national Faith Communities Development team in the Territorial Mission Support Department, he was encouraged to get his dream of a podcast off the ground.
Major Sandra McLean is the Faith Communities Development Secretary for the mission department. She was the person who encouraged Bryce to turn the podcast vision into a reality and was able to release some grant funding for the project. "My role is about assisting with the health and the future of faith communities within The Salvation Army [in Australia]," she said.
"I see very clearly that Bryce is uniquely gifted in how he comes alongside people, how he enters into their story, how he allows them to participate and feel valued and the transformation that occurs in their life as a result ... and he does it in such an organic natural way that seems effortless."
Sandra says the goal of the podcast is for Salvos across the nation (and the world – there are already listeners in Germany and the United Kingdom) to get to know Bryce and his relational style of mission. "I think many faith community leaders, week-in, week-out ... they do work really hard doing their best, and they wonder, 'Does the church work anymore? Are we making a difference?' And I think we can hear in his stories that we are making a difference."
But she says that difference is made 'one life at a time with the love of Jesus' and she hopes Bryce's podcast will reinforce the power of relationship, rather than religion, or religious programs. She hopes that people would hear the podcast and reach out and connect with Bryce for mentoring or coaching support.
"I would like to see a peer-support network for people who are trying to work in communities like Bryce's. They can encourage and inspire each other and work through the challenges."
Bryce's 'Stories of Hope' podcast can be listened to here:
https://podcasts.apple.com/au/podcast/stories-of-hope/id1508949583
https://anchor.fm/bryce-davies1/episodes/Dinner-with-the-Emmaus-walkers-ecvmub