Swan View Corps has community needs sewn up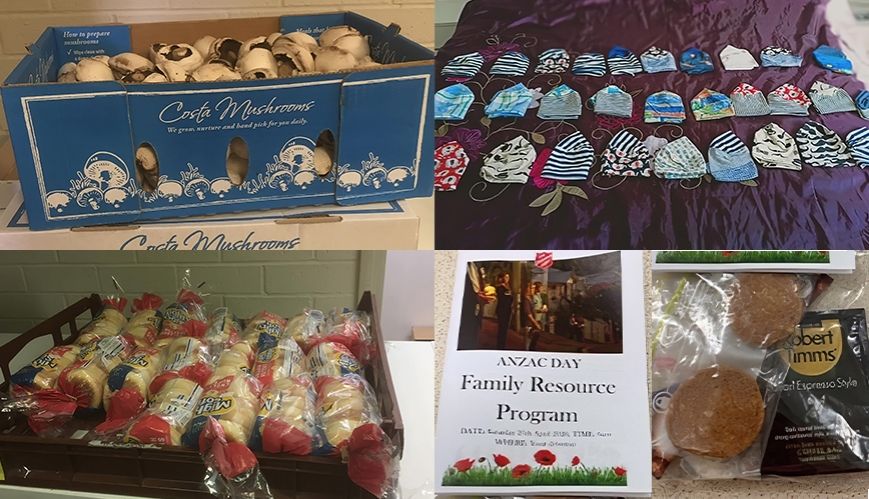 Swan View Corps has community needs sewn up
28 April 2020
From making caps for nurses (top right) to distributing Anzac packs, bread and other grocery items, the Swan View Corps is connecting with its local community in challenging times.
By Simone Worthing
Making clothing bags and scrub caps for staff at the Royal Perth Hospital is just one of the ways that Swan View Corps is responding to community needs in the coronavirus world.
Captain Carol O'Leary, Corps Officer, is part of a local community Facebook group and "keeps an eye out" for posts from people who are asking for help that the Salvos could respond to. "I message them if we can assist, they reply, and we go from there," she said. "This page really is a great way to keep connected to the community."
Volunteers Rene (left) and Marcia sorting toiletries for care packs.
One local resident, Annmarie, posted a request for flat sheets. Carol, knowing there were some in their Salvos Store, messaged Annmarie for more information. Annmarie's neighbour, an intensive care nurse, had spoken to another neighbour, May, about the need for simple clothing bags for staff at Royal Perth Hospital to put shift clothes into so they could be put straight into the washing machine without further contamination.
So May got out her sewing machine and started work making the bags, as well as scrub caps. Annmarie heard about it when they were having their "driveway morning tea". While she couldn't sew, she decided to put the call out for flat sheets and material.
"We were able to get some sheets from our Jumble Shop and put the word out to other people around as well," explained Carol. "I had asked Annmarie if they needed any help with the sewing as I knew someone and she was happy for me to ask. So, I spoke to Marcia, from our corps, who sews toiletries bags for us that we fill and give to people in need. Marcia said that she'd love to help make the clothing bags. She then made contact with May who sent her the pattern and they moved forward from here."
The grateful recipients are staff from the hospital's Intensive Care Unit, COVID-19 Clinic and the Emergency Department.
"If the nurses and doctors are risking their lives for us for eight hours plus a day, the least I can do is sew for the same amount of time for them," May said.
Community Outreach
Carol shared that, with COVID-19 restrictions in place, the corps is still working to meet the needs of the local community, which have only increased.
"We aren't doing face-to-face emergency relief but are providing gift cards and delivering 'We Care' packs, including donated food, to vulnerable people and those who can't get out," she said.
The Swan View team also started doing outdoor takeaways in their free cafe but had to stop due to the challenge around customers maintaining social-distancing measures.
"Now, we have taped x's on the floor so people know where to stand, and they can 'line up' with appropriate distance between them, to get a coffee, bread, fresh fruit and vegetables, a sandwich or hot pie, and then leave," Carol said. "People are happy with this for now.
"Our locals are really missing the cafe though, which provides social connection, friendships and a day out for many people. It is also where a couple of homeless people get their 'dinner'. We're getting lots of messages about how people miss us and are looking forward to the cafe eventually opening again."
Over the school holidays, the corps is also giving donated bread that they used to give to local primary schools, to an after-school care centre, where most of the children from the schools usually go.
"The families are taking some bread home for themselves but also giving it out to other needy families, so wider needs are being met," said Carol.
"God is blessing us with resources from different places, which are being given back into the community to give back; in response to meeting needs."