'Put your heart out' for the Red Shield Appeal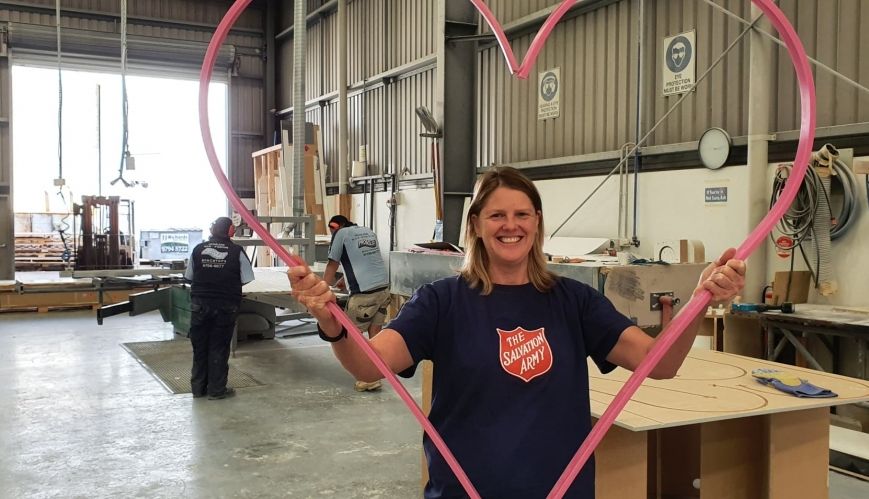 'Put your heart out' for the Red Shield Appeal
5 May 2020
Major Narelle Jacobsen with one of the hearts manufactured by ProSolid to encourage the community and raise money for The Salvation Army Red Shield Appeal.
By Lauren Martin
When a Victorian business owner created a giant heart to hang on the balcony of his home overlooking the water, it became a beacon of love and prompted others to ask for their own hearts.
The result has been a huge outpouring of love and generosity, as hearts are made to raise money for The Salvation Army Red Shield Appeal.
Darran Elliott, of ProSolid, a solid-surface manufacturer in Dandenong, said he got the idea for the heart from his neighbour: "He was unable to pull down his Christmas decorations so decided to light them up again, as a sign to cheer people up as they passed during this time of social isolation."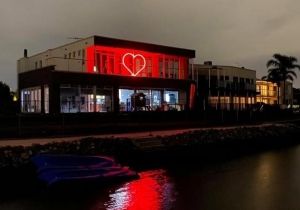 ProSolid hearts displayed on homes in Patterson Lakes, Victoria.
Darran was inspired by the idea and created a huge heart, which he lit up and hung from his balcony to shine over the waters of Patterson Lakes in Melbourne's south-east, "to send a message that we are sending out love to you all even though we can't connect in person."
Before he knew it, he was making them for friends and family and the idea gained momentum. Requests for the hearts poured in.
Darren was keen to share the positive #PUTYOURHEARTOUT message with as many people as possible, while also helping to raise money for a worthy cause, especially during these times of financial hardship and uncertainty.
So, he contacted Major Narelle Jacobsen, the Community Development Officer at The Salvation Army at 'The Well' at St Kilda Chapel.
Narelle said, "I loved the idea of these massive hearts 'sharing the love' at this time when people really need to feel a sense of hope and connection." She and Salvation Army volunteer Jodie Basel worked at ProSolid, under Darran's supervision, to put the hearts together for the community.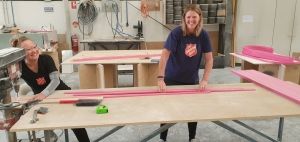 Major Narelle Jacobsen and Salvation Army volunteer Jodie Basel help to create the hearts at the ProSolid factory.
Through the generosity of ProSolid, and materials donated by Staton, the team made dozens of hearts to fill orders for people in the community.
"The hearts represent a feeling that although we are apart, we are all connected," Narelle said. "It's great to see them on homes and buildings, all lit up at night!"
Funds raised will go towards The Well's Red Shield Appeal project to renovate the community kitchen, which will provide valuable cooking and learning skills for those who need it in the St Kilda community.
"This will work in conjunction with our on-site veggie garden where produce will be used to make nutritious meals while connecting and building a healthy community at the same time," said Narelle. "We are so excited about this partnership and the great idea Darran had to encourage and support people at this unprecedented time."
The Salvation Army Red Shield Appeal is completely digital in 2020, as a result of the coronavirus pandemic. 
Sign up and volunteer to fundraise: digitaldoorknock.salvationarmy.org.au
To leave no one in need, please donate at salvationarmy.org.au or call 13 SALVOS (137258)
Major Narelle Jacobsen collaborated with Others writer Lauren Martin for this article.