Homeless moved together into isolation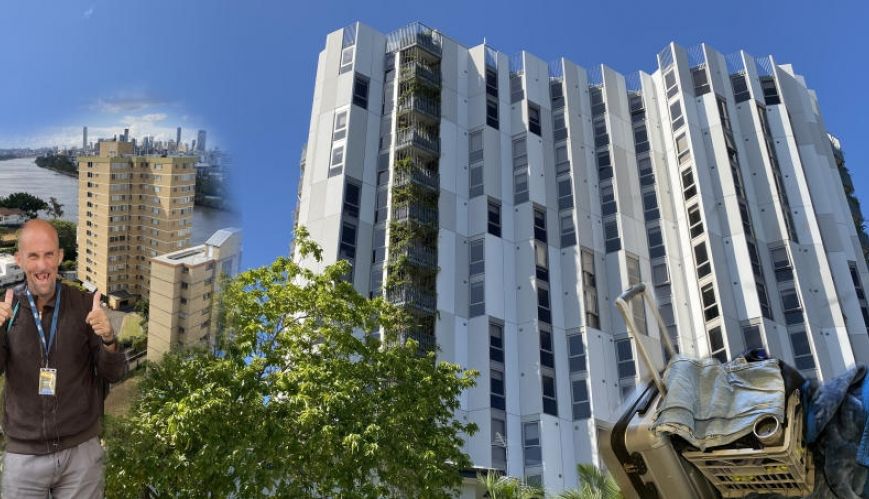 Homeless moved together into isolation
12 May 2020
Banner collage: Pindari resident Wayne Scotton gives Atira the thumbs up; a view of the Brisbane River from room 1415 in Atira; the 14-storey Atira; a resident's luggage waiting to be moved into a new home. Artwork by Darryl Whitecross
By Darryl Whitecross
The smiles on the faces of residents of The Salvation Army Pindari homeless person's hostel in Brisbane tell the story of their relocation to new temporary crisis accommodation not far away as part of the Queensland Government's efforts to combat COVID-19.
Despite the emotional farewell to the old building, it is only temporary, but many were nervously excited about the move.
All Pindari residents – about 100 – were moved in a two-day operation from Spring Hill to Toowong about 6km away as part of the government initiative to house some of the city's most vulnerable people in one place.
It is believed this is the first time Pindari has been empty since the complex was built in the late 1970s. Only a skeleton staff – including kitchen staff – remain onsite, particularly the intake and assessment team. This staff will be on duty during the day, but the building will be locked at night.
The Army's homelessness state manager, Aaron Pimlott, said the government feared the "congregational sharing model" used by accommodation support services such as Pindari had the potential to spread the virus, from which people could die.
While saying they were nervous about what awaited them, many from Pindari said they were happy and excited to be moving to the new building – the Atira student apartments on Glen Road, in inner-city Toowong.
Pindari's program manager Anne Wilson said it was a major logistical exercise to move the residents – some by taxi, some by public transport and some in private vehicles while others found their own way to the new building.
Along with their possessions, residents were required to take the pillow and towel given to them in a pack on their original arrival at Pindari. Linen is provided and changed weekly in the new building. Queensland Health has coordinated and overseen the transition.
Wayne Scotton, who is originally from Moranbah in western Queensland, said before leaving Pindari that he was nervous about what awaited him. When he eventually saw his new room, all he could do was smile and give the double thumbs up. "It's definitely paradise," said Wayne, who has lived at Pindari for seven months. "I'm speechless."
Dean Reynolds settles into his self-contained room at Atira, Toowong.
Dean Reynolds, who has been a Pindari resident for about six weeks this time, said he appreciated the individual air-conditioning unit in his new room.
Dean, a 20-year veteran with Australia's armed forces, having served in Cambodia and East Timor, said he had lived at Pindari for a short time about 10 years ago. 
Aaron Pimlott said the relocation was a whirlwind process. He said that when the Queensland Government first revealed its plans for a central hybrid crisis accommodation model to when residents were moved was about five weeks.
He added that the government had not secured the building when it announced to the four services involved its intentions. It was virtually as residents were packing up their belongings that the contract was sealed with Scape, the owner of Atira, to be turned into a COVID-19 isolation facility for those considered most at risk.
The two-year-old Atira building, which is close to a major shopping centre, public transport and other services, was constructed as student accommodation and housed mostly international students until a month ago when they were invited to take up a new contract with Scape in a similar building nearby.
New routines
Scape runs several student-accommodation sites around Australia. The Atira design – specifically its singular entry/exit point – made it a strong candidate for the program.
All rooms in Atira have a small kitchen with a microwave oven, cooktop, fridge/freezer crockery and cutlery. It comes with a bed, television, small desk and a chair. The bed linen is to be changed weekly. 
Each of the social services is to have an administration presence on the specific floors for which it is responsible. The Salvation Army cohort is housed on floors 9-14.
The main reception desk in the foyer is to be manned 24 hours a day and the complex will have a strong security presence. Atira's first floor has been turned into a medical level with doctors and nurses and medical facilities available.
Ann Wilson said the residents at Pindari had been used to being served two meals each day (breakfast and dinner) by its chef and kitchen staff in a common area.
With the move to Atira, the Army is to provide three meals per day and deliver individual meals to each room. The meals are to be prepared in the Pindari kitchen and transported to Atira, which has meant the Army needed to hire a food transport vehicle.
Aaron said 100 breakfast packs, 100 lunch packs and 100 dinner packs are prepared at Pindari and loaded into the transport vehicle, which then picks up more meals prepared by Mission Australia and St Vincent de Paul and taken to Atira for distribution by the relevant service.
Aaron said the plan was to gradually reduce the numbers of meals delivered as the COVID-19 curve flattened further and, through various programs, teach the residents to be more independent so they can buy and prepare meals in their rooms.
Redevelopment on hold
Before the COVID-19 outbreak, The Salvation Army was planning a redevelopment of the 40-year-old Pindari complex. Aaron said COVID-19 had brought about new thinking around how that work would now manifest itself.
"COVID-19 has been the catalyst to revise the outdated model on how we respond to 'rough sleepers' and the homeless," Aaron said.
Depending on what social isolation and distancing restrictions remain in place, The Salvation Army and the three other accommodation support organisations have use of the Atira until January 2021. 
The costs involved in the relocation and ongoing operation are to be met by the individual support services under their current budget structures, but discussions can be held with the government on any extra financial burdens that arise.