Making sure nobody is forgotten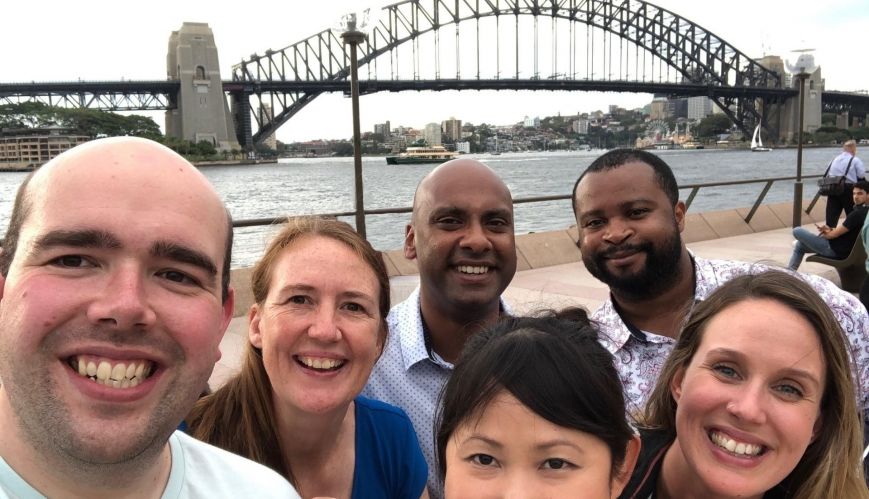 Making sure nobody is forgotten
18 May 2020
The Disability and Inclusion Team, photographed in Sydney prior to COVID-19. (From left) Dave Bruford, Katharine Brown (Dale), Adrian Kistan, Cynthia Gunawan, Alphonse Mulumba and Nina Conquest.
By Simone Worthing
"Together, we can make sure nobody is forgotten" is the focus of The Salvation Army Diversity and Inclusion team as it works to build awareness and assist local Salvos to support and include Australia's diverse communities.
To assist in this ministry, the team, in consultation with several of these communities, has released the #dontforgetaboutme resource booklet with information, suggestions and resources to equip Salvos as they respond to the needs of the most vulnerable in our communities, especially during the COVID-19 pandemic.
These vulnerable communities include people living with a disability, asylum seekers and refugees, people from culturally and linguistically diverse (CALD) backgrounds and international students, survivor victims of family and domestic violence, and men struggling with mental health issues.
Disability inclusion
Recognising the abilities of everyone as a part of humanity and deepening relationships beyond welcome and into inclusion are just some of the goals and aspirations of the team as it focuses on raising awareness around inclusion and its application in front-line mission expressions.
Over the past two weeks, the team has held an online workshop, kicking off the conversation around disability inclusion for The Salvation Army.
The new resource from the Diversity and Inclusion Team is now available.
"Our group included a cross-section of representatives from different states including corps officers, parents of children with disabilities, and those living with both hearing and visual impairments," explained Katharine Dale, Inclusion Engagement Coordinator for the NSW/ACT Division.
"We see this group as our 'consultants' – people with lived experience of disability – as we explore the strengths, opportunities, aspirations and potential results of inclusion and what that might look like across all aspects of The Salvation Army.
"'Say nothing about us without us' is our focus – making sure we hear their voices and get some ideas and strategies to help The Salvation Army raise awareness of, work and plan for, and improve our active inclusion of people with disabilities."
The group shared that they would like to see people with disabilities, or any marginalised group, viewed in the way God sees them – created in his image with gifts to share and contributions to make. "It's all in the attitude of how we approach people," said Katharine.
"It's about aspiring to recognise people's gifts, empowering them to contribute and valuing their contribution. It's not tokenism. It's about showing empathy and not sympathy while considering their needs. It's about not asking 'What can I do to help you?' but 'What can I do to listen to you, or to help you contribute?'"
The group also explored the goal of deepening relationships beyond being welcoming and friendly – as important as that is.
"It's about treating people with a disability as you would any other person, and recognising that we all have disabilities and weaknesses and fall short of God's glory," said Katharine. "It's about not comparing ourselves with each other but looking at how God can use our gifts equally. It's about allowing the Holy Spirit to change our hearts."
The group also discussed the importance of ensuring corps and centres are physically accessible and use "Accessible Communication" for all, such as using captions or Auslan (Australian Sign Language) within videos produced by The Salvation Army.
The team is working on developing some online training resources for people to access, similar to the cultural competency training course already available through The Salvation Army portal here. 
To download the resource book and access other links, click here.
For further inquiries email diversity.inclusion@salvationarmy.org.au