Yarning circles underpin direction for national RAP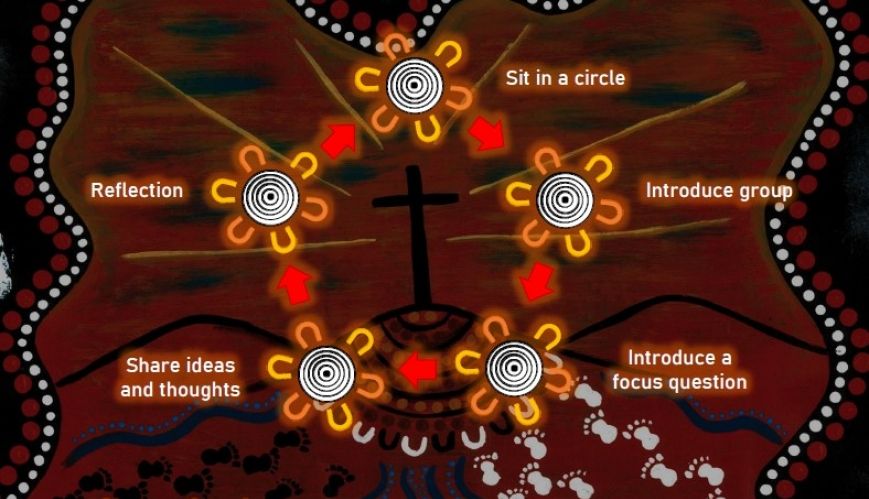 Yarning circles underpin direction for national RAP
28 May 2020
Yarning circles, open to all, are giving mission expressions around the country the opportunity to contribute to the Australia Territory's first Reconciliation Action Plan (RAP).
By Simone Worthing
"The yarning circle is a sacred space, used by Aboriginal and Torres Strait Islander peoples for generations. This is a place where all voices are equally respected and heard. There is no authority in the circle. Everyone takes turns; it's an open place to share. This is the magic behind the yarning circle."
These are the words of Lucy Davis, Reconciliation Action Plan (RAP) Project Development Coordinator for The Salvation Army, who is leading the formulation of the Army's first national RAP.
Commissioners Janine and Robert Donaldson, Territorial Leaders, launched the RAP via video, which can be seen here. 
Through a series of virtual yarning circles around Australia from 15 May until the end of July, Lucy will connect with mission expressions to hear the diverse voices of First Nation peoples, leaders, corps and others connected with The Salvation Army, to help provide a framework for supporting national reconciliation.
"This includes plans for how we'll continue to develop respectful relationships, create meaningful opportunities, and make our spaces culturally safe for Aboriginal and Torres Strait Islander peoples," she said.
"We're in this together and we want to hear everyone's contribution to this yarn and the journey of reconciliation. Through this, our collective voice really will be the foundation for our national Reconciliation Action Plan."
Lucy Davis is the national RAP coordinator.
To register for the RAP yarning circle(s), click here.
Ideas for moving the reconciliation process forward, shared during the first yarning circle, included connecting personally with Aboriginal and Torres Strait Islander peoples to further understand their pain and frustration, valuing everyone equally, celebrating important occasions and inviting people to share and cook traditional meals, connecting Scripture with First Nation peoples, and increasing cultural competency training.
"The RAP document is a framework for us as an Army to use to be intentional about reconciliation," said Shirli Congoo, General Manager, Aboriginal and Torres Strait Islander Ministry.
"The journey to developing the RAP document is the most important ingredient, as this is where we come together as one to listen, to share and to hear the diverse voice of the Army to sow the seeds of being in this together."
Lucy added: "We expect the RAP to put forward a number of different goals for making The Salvation Army, not just a safe place culturally, but a place where Aboriginal and Torres Strait Islander peoples feel comfortable, accepted, engaged and able to access services."
Lucy emphasised that reconciliation is all about truth-telling and understanding shared history, as was seen in the themes of Reconciliation and NAIDOC Weeks last year.
"God is committed to shining light on the truth about our shared history and bringing it out into the open," said Janine. "This is essential in any healing process for individuals, families and nations."
In the video, Robert also spoke about reconciliation reflecting the heart of God for all people and it being at the very heart of God's mission in the world. "Please join us in offering support for this project as we commit ourselves in prayer and practice to this land of Australia and its people," he said.
To register for the yarning circles, click here.
To view the Donaldsons' video, click here.
For inquiries, email rapcircles@salvationarmy.org.au