Aged care nurses recognised for outstanding work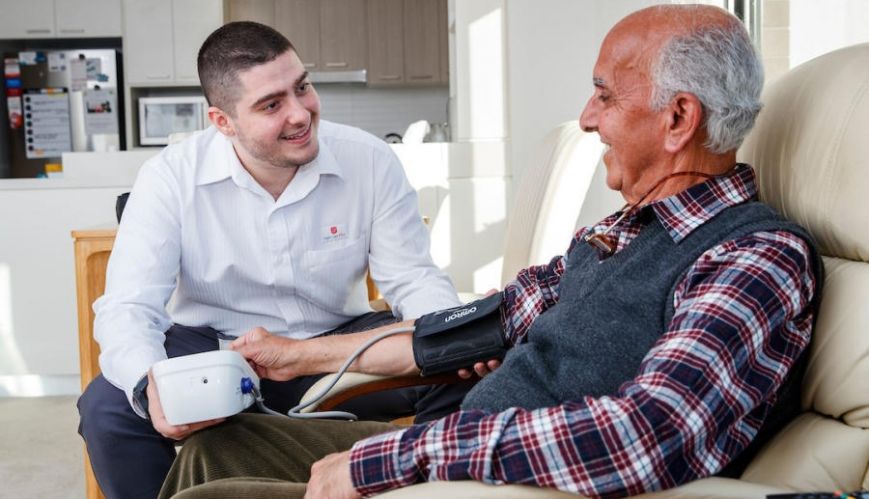 Aged care nurses recognised for outstanding work
3 June 2020
Oma Al-Safadi, a community care nurse at The Salvation Army's clinical Weeroona Aged Care Centre with one of his clients.
By Darryl Whitecross
To celebrate International Nurses Day on 12 May, The Salvation Army Aged Care (TSAAC) acknowledged two of its staff with an award for service – a first for the sector.
Omar Al-Safadi and Srijana Paudel were presented with service awards as part of TSAAC's Year of the Nurse Award. The striking of the award came as the World Health Organisation commemorates its Year of the Nurse and Midwife in 2020.
Vicki Aguilar, TSAAC's Clinical Learning and Development Manager, said the call for nominations went out in January this year. She said it soon became clear that many high-calibre nurses were being nominated from within the TSAAC's services across the country and that one award was not going to be enough, so it was decided to award two: one to a residential care nurse and the other for a community care nurse.
"They (the nominees) were all so amazing that we even decided that, after selecting the winners, we would give a certificate to some of the other nominees," Vicki said.
Four nurses were presented with a Certificate of Recognition.
Fiona Sanders, TSAAC Community Care General Manager, and Samantha Feddema, Residential Services General Manager, were responsible for sifting through the final 12 on the shortlist. Samantha said it took about a week to settle on the two winners.
She said the candidates needed to have actively shown a desire to be leaders in their field within TSAAC's structure, demonstrate "real compassion" for nursing and for the people they worked with and have a sense of mission, enveloping the values and direction of the aged care matrix.
The awards were presented on 12 May, which would have been the 200th birthday of Florence Nightingale, who not only is the world's most famous nurse but is considered the mother of modern nursing. Special morning and afternoon teas and lunches were served in centres and services around the county to mark the day.
To complement the special day, Vicki said a number of activities would be run during the rest of the year to recognise the contribution nurses make to the work of The Salvation Army in Australia and to promote learning and education and to encourage growth in its nursing staff.
While coincidental, Fiona said it was significant that the World Health Organisation had scheduled 2020 to recognise nurses across the world in the same year that the COVID-19 outbreak occurred.
"This year, more than any, we recognise the selfless way our nurses are putting themselves in the line of the fire, I guess, and none more so than now with the pandemic and the fact that so many healthcare workers have lost their lives in treating people with COVID-19 across the world," Fiona said.
"The Year of the Nurse and Midwife recognises the contribution nurses make from birth right through the whole of a person's life where they're at the beginning of life and very often at the end of life and everything in between.
"It recognises that unique contribution across the lifespan of people and it also draws attention to the changing face of nursing, that it is much more complex than it was in Florence's day. (Nurses) are called upon to make decisions and determinations about people's health more than we ever were. The role has changed also in so far as there is so much required of nurses now around compliance, accreditation, quality, rules, regulations, legislation and the changing expectations of people."
Community care winner
Omar works one day a week as a clinical coordinator at the Weeroona Aged Care Centre, Bass Hill, in south-western Sydney, and the rest of the week in community care as a clinical coordinator at Macquarie Lodge, Arncliffe.
Omar said he had been a nurse for about four years, having worked for The Salvation Army for 18 months and previously having worked in general practice. Before that, he was a student and had dabbled in information technology. "They are my two passions: nursing and IT," Omar said.
Omar said he was "really, really amazed" to have been nominated for the award. He said nursing was something he did from the heart: "It's my passion for this work that drives me and receiving this award just makes me want to excel more," Omar said.
Residential services winner
Srijana, who is from Nepal, is a registered nurse at Gill Waminda Aged Care Centre at Goulburn, in the NSW Southern Tablelands, south-west of Sydney.
She has a strong background in dementia care and has been the acting care manager at the centre.
Having studied in India, Srijana, who has worked in Australia as a registered nurse since 2017, said the award would encourage her to continue to do good work and have a positive impact on the people she worked for, with and alongside.
She said that, since school, she had always dreamt of a career in the medical field, and her passion had become her career and it was more special: "I am pleased and blessed." She added that it was significant to have been presented the award on such an important day in the life of a nurse.
"This profession is a novel profession. Being a part (of) other people's happiness or being in someone's life (from the) beginning of life – childbirth – or at the end of life, gives a different experience, which you can feel only in this field," Srijana said.
"The blessing that you will receive with your selfless care is very prestigious for me and that's what it always (inspires in) me. I am very thankful to everyone and will try my best to continue the good work."
Certificates of recognition were presented to registered nurses Andrea Sy (Woodport Aged Care Centre, Gosford, and Pacific Lodge Aged Care Centre, Collaroy), Sunita Shah (Elizabeth Jenkins Place Aged Care Centre, Collaroy), Matt Arasteh (Weeroona Aged Care Centre, Bass Hill) and Deborah Stone (Barrington Lodge Aged Care Centre, New Town, Hobart).