You are here:
Home › News › 2020 › 06 › 03 › New Masic Leaders To Help Guide Thinking Salvation Army
New MASIC leaders to help guide 'thinking' Salvation Army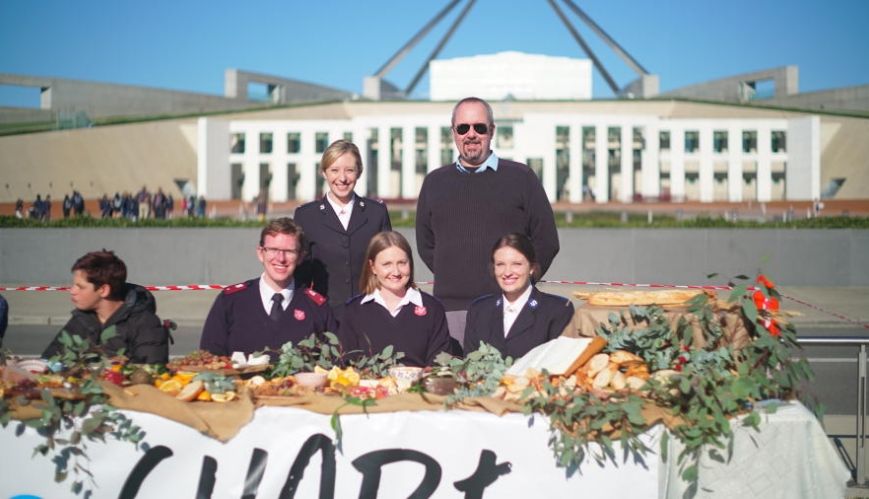 New MASIC leaders to help guide 'thinking' Salvation Army
3 June 2020
Amanda Merrett (front row, middle) and Casey O'Brien Machado (back row, left) have taken up new positions for MASIC on 1 June. They are pictured here in Canberra, advocating for marginalised global citizens with organisation MICAH Australia.
By Simone Worthing
The Salvation Army Australia's Moral and Social Issues Council (MASIC) welcomed a new leadership team on 1 June.
Amanda Merrett, who formerly served as MASIC's Deputy Chair, is now the Chair.
Casey O'Brien Machado, Policy and Social Justice Advisor for The Salvation Army Policy, Research and Social Justice Department, is Deputy Chair.
Amanda replaces Lieut-Colonel Donna Evans, who has been appointed to serve in the Netherlands, Czech Republic and Slovakia Territory.
MASIC is responsible for providing guidance on complex moral, social and ethical issues within The Salvation Army and offering a Christian perspective on those issues.
"As part of my role as Chair, I lead our meetings, set work plans and MASIC's annual agenda," explained Amanda. "I am privileged to lead an exceptional group of Salvationists in this role."
MASIC is currently working on the roll-out of Faith-Based Facilitation across the Australia Territory, with training on hold due to COVID-19. The council is also finalising products on Creation Care and the Future of Work.
"These can be used by individuals or groups to increase their understanding of how Salvationists can respond to issues like climate change or the fast-changing work environment of Australia," said Amanda. 
"MASIC would also like to continue to gain insight into the moral and social issues Salvationists are considering in their day-to-day lives.
"What are some of the hard questions that individuals and communities are asking in the context of their faith? MASIC would like to create specific products and advice on those topics. We're looking at the best way to engage with Salvationists across Australia, so watch this space." 
Amanda explained that keeping God at the centre of all their deliberations was paramount.
Casey, who is also a member of IMASIC (International Moral and Social Issues Council), explained that "MASIC existed to assist Salvationists to engage thoughtfully and practically with moral and social issues.
"It provides this support by identifying, studying and responding to issues on which the Army has a responsibility to express an opinion, take a principled stand, offer guidance or factor into decision-making. MASIC gathers officers and soldiers together to prayerfully and strategically form these responses. In this way, all of MASIC's work exists to help corps, centres and Salvationists to respond to issues around them."
Casey is looking forward to seeing what God has in store for the Australia Territory through MASIC. "I believe that he wants his Salvation Army to be a thinking Army that thoughtfully and prayerfully 'serves the present age', and MASIC has a large role to play in equipping us to be that Army."