Defence Force serves up hope in Tasmania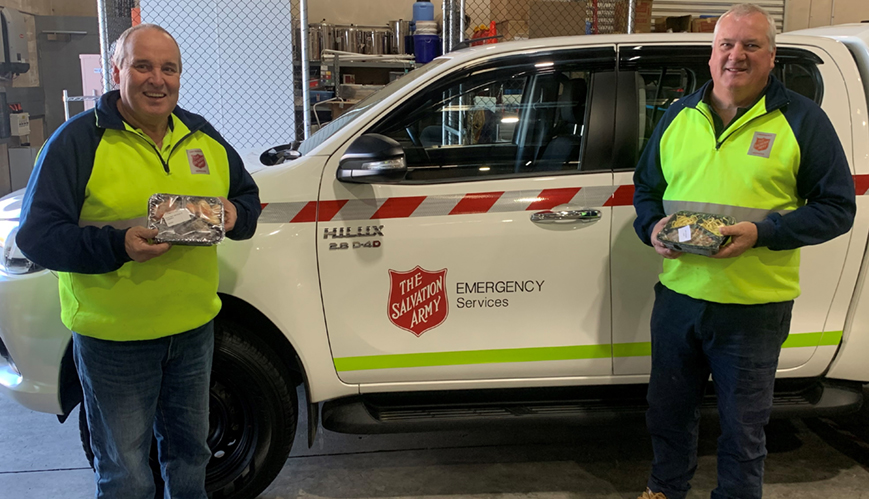 Defence Force serves up hope in Tasmania
4 June 2020
Gary Armstrong (right), Coordinator of The Salvation Army Strategic Emergency and Disaster Management in Tasmania, and Assistant Coordinator Mike West gratefully accepted the donation of 250 meals from the Australian Defence Force Angelsea Barracks.
By Jessica Morris
From left: Mike helps Phil Spher, Defence Facilities Manager for Tasmania, and Lieut-Colonel Darryl Bridgeman, Senior ADF Officer Tasmania, to unload the donation of meals from Anglesea Barracks.
The Australian Defence Force (ADF) is always on the front foot defending the country. So come COVID-19, it was only natural it partner with an organisation defending the most vulnerable – The Salvation Army.
Earlier this year, following a coronavirus outbreak in Tasmania's north-west, staff at the Anglesea Barracks in Hobart prepared a slew of frozen meals for medical staff. As the coronavirus curve flattened, so did the need for a warm meal among personnel. With a stash of 250 chef-prepared meals leftover, the ADF put them in the hands of their friends at the Salvos – and they couldn't have gone to better use.
"Broadly, The Salvation Army has partnered with the ADF since World War One, but we have great relationships with Anglesea Barracks through my work there as an Army chaplain, and our emergency services worker Mike West has a long career in the food industry and knows people there," said Major Brad Watson, Public Relations Secretary for Tasmania.
"The ADF didn't want to put the meals to waste, so they rang Mike up and made sure we were able to use them. It was just what we needed, and we are using the meals as part of the hampers that are distributed to those in COVID quarantine and also through our Doorways centres."
The meals are more than your run-of-the-mill Sunday night cook. Mess staff handed over boxes of Thai fish curry, chilli con carne and roast chicken. This ensures that a personal touch is added to the hampers the Salvos distribute during this difficult season.
"When people get a meal that they don't have to prepare for themselves, it shows someone has cared about them. It's a special touch. It's something intangible that we are really conscious of," said Brad.
With more Tasmanians reaching out to The Salvation Army for help while the economy is struggling, the partnership between the ADF and the Salvos might just be the plate of hope they need to keep going.