You are here:
Home › News › 2020 › 06 › 04 › Salvation Army Details The Why Behind Its Bushfire Response
Salvation Army details the 'why' behind its bushfire response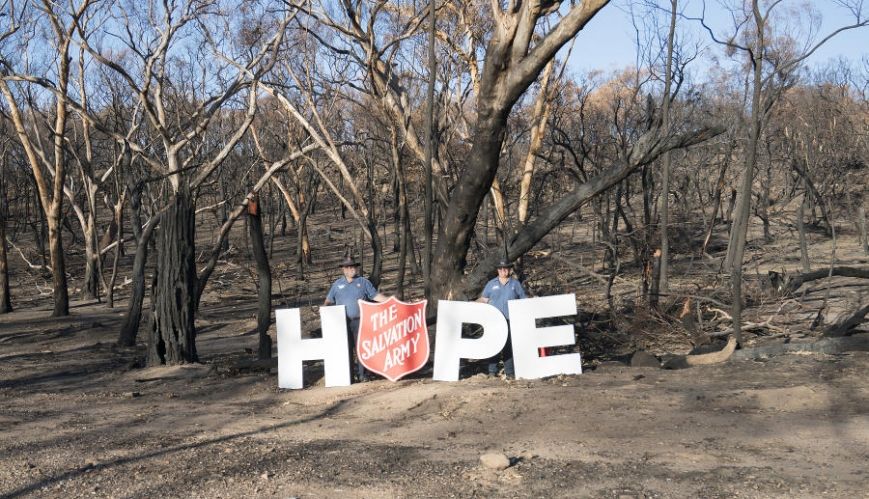 Salvation Army details the 'why' behind its bushfire response
4 June 2020
Hope on the horizon of a blackened landscape ... thousands of people turn to The Salvation Army during times of crisis.
The Salvation Army Office of the Secretary for Communications has released the following statement in relation to the release of funds raised from the Bushfire Disaster Appeal
In recent times we've seen and heard public commentary around the 'Black Summer' bushfires, particularly around donations distributed and support provided by charitable organisations like The Salvation Army.
The Salvation Army would like to assure all Salvationists, staff, partners, donors and the public that almost 12,000 Australians impacted by the bushfires have been assisted with direct financial assistance, with ongoing assistance continuing every day.
In response to the fires that devastated many communities around the country, The Salvation Army launched its Disaster Appeal on 9 November 2019. To date, the appeal has received $41 million in donated funds – a generous response from the Australian public, corporations and donors.
As of 25 May, more than $21.4 million had been distributed to those 12,000 Australians, with $18 million in grants being dispersed now and over the next three years. In addition, $5 million in value of meals, refreshments, material aid and care packs has been provided, extending the level of assistance provided in both the response and recovery stages."
One of the common themes in the public is around why all funds aren't immediately distributed to people.
The Salvation Army in Australia has been responding to disasters and other crisis situations since 1887. Every event is unique, but there is always a trail of destruction that often means years of working together with communities to bring restoration and healing.
"What we know from responding to disasters over many years is that people's needs change over time. Immediate needs might be for accommodation, food or fuel," said Lieut-Colonel Lyn Edge, The Salvation Army Secretary for Mission.
"As time progresses and people are looking to the next stage of recovery, the costs are often more substantial. This phase of longer-term recovery and rebuilding is the most expensive and it is important we are there to help people during this period. 
"We were talking to someone last week who said that just after the fires hit they weren't sure what they wanted to do and so had not asked for help earlier in the year. However recently they have decided to re-start their small business and we were able to help with that.
"There is another group of people who are only now asking for help for the first time as they take stock of what they've lost and what it's going to take to fully rebuild. This is why we have funds committed towards longer term recovery."
On average, The Salvation Army assesses 150-200 requests for financial support every week, with the $18 million in grants ready for people to access now and through recovery.
"Our role is to help people cover living expenses as they get back on their feet. Some people will rebuild their life in six months, but often it takes much longer, about three to five years," Lyn added.
Research conducted by the University of Melbourne following the Black Saturday fires of 2009 revealed secondary effects of disasters that not only make the recovery process challenging but takes place over years.
What makes disasters unique is not only the scale of the tragic loss of life and injury but these secondary effects. This includes loss of one's home, income, job opportunities, local services, social networks and opportunities for social gatherings in places now destroyed by fires. Compounded with the impact of COVID-19, this has made the recovery process complex.
The study underlined the importance of using donated funds in the immediate crisis as well as for longer-term recovery.
Salvation Army teams are still working hard in bushfire-affected communities while adhering to COVID-19 restrictions, to distribute money and provide essential services. 
A dedicated Bushfire Recovery Team was established after the fires, with caseworkers working closely with other Salvo teams such as Moneycare and Doorways, to provide holistic financial, emotional and spiritual support.
Salvos Moneycare financial counsellors have been active since November 2019, as they helped people navigate the complexities of insurance and debt as a result of the fires, while Doorways caseworkers and assessment workers have worked closely with the Bushfire Recovery Team to not only deliver financial assistance but also referrals to other Salvos and external support services.
"[Our teams] are listening to local residents, businesses and local leaders about how they think the money can best be used to help their particular communities rebuild," said Lyn. "Ensuring local communities have a voice into how the money is spent is one of the critical elements in making a full recovery."
The Salvation Army will be standing alongside Black Summer bushfire-impacted communities for at least the next three years.
All donated funds have and only will be used to support people affected by the Black Summer bushfires of 2019-20. The Salvation Army does not draw any administration fees or put aside funds donated for other events. No more than two per cent (most often less than this amount) of donated funds is used to cover the cost of accounting, an independent audit and reporting to the community (including donors and government). At least 98 per cent of donated funds will provide relief and recovery for those impacted by the Black Summer fires. This includes any interest that may be earnt during this period.