Takeaway menu keeps Ipswich community connected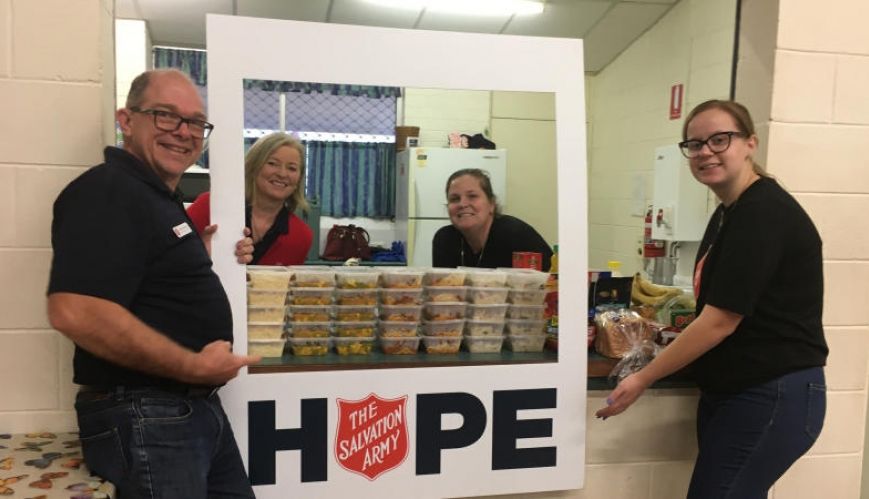 Takeaway menu keeps Ipswich community connected
9 June 2020
Ipswich Corps Officers Lieutenants Ashley and Rita Biermann (left) with volunteers Melody Ravenswood and Emily Bressington bringing hope through food and practical assistance.
By Darryl Whitecross
Spaghetti bolognese, potato bake, cauliflower and cheese bake, curried sausages, chicken schnitzels and vegetables have all been on the menu as volunteers at Ipswich Corps work to feed a community in need each Wednesday during COVID-19.
Ipswich Corps Officer Lieutenant Rita Biermann said the menu was complemented, when possible, by fresh fruit and vegetables, bread, biscuits and drinks, which were donated by nearby businesses. Donated toilet paper, a scarce item during the COVID-19 outbreak, had also been handed out.
The corps, west of Brisbane, had been running sit-down dinners for the homeless and disenfranchised within the community each Wednesday from 5pm, but that changed to takeaway meals only when restrictions to combat COVID-19 were introduced.
Lieutenant Ashley Biermann said that before the COVID-19 measures were put in place up to 50 people would enjoy a sit-down meal each week but once social-isolation and social-distancing rules were introduced, that number quickly dropped to less than 15.
Ash said numbers had slowly begun to increase again and "some of the regulars" had returned.
Melody Ravenswood and Lieutenant Rita Biermann put out the menu board for takeaway dinner at Ipswich Corps.
Rita said that despite a couple of setbacks the Wednesday night program continued to be "a really, really positive experience".
"The people gather in the car park until the meals are ready and then file past our trestle tables to get their food," Rita said.
Along with giving immediate assistance to the people who came each Wednesday, Rita said some of that community who had been coming "long-term" had become volunteers within the program.
"It's actually been a really encouraging thing," Rita said. "It's been great to start seeing people changing their mindset from being 'all about me' to actually living generously. It is probably one of the highlights that we have in our week. We had one person ask when church was starting back up again.
"It's a privilege of walking with people in these really hard times. They're all finding it really hard but it's harder when you're doing it by yourself and you have no permanent accommodation or family life is volatile or not so great.
"(This) is a wonderful, wonderful space and a wonderful privilege to keep providing that for our community."
Ash said many similar meal programs in the area had closed their doors soon after the pandemic measures were put in place. He added that the needy could find at least one meal a week through those emergency relief organisations – meaning they could at least have one solid meal each day of the week – but that had dwindled to one meal two days a week at the moment.
Rita said continuing the meals had enabled the corps to retain the valuable long-term relationships. She said now was a particularly important time to remain connected as many of the homeless, vulnerable, disenfranchised and the unemployed were becoming increasingly anxious and stressed about the immediate future.
"Psychologically, there are people who are suffering from anxiety and that sort of stress with the whole world changing and what we can and can't do. I think it's been very difficult for a lot of people," she said.
General Booth's vision
The production line on Wednesday's dinner night at Ipswich corps during COVID-19 restrictions.
One of the volunteers on meals night, Melody Ravenswood, said that being able to help rekindled General William Booth's vision of meeting the basic needs of the people they served and showing God's love.
Melody said General Booth, the founder of The Salvation Army, had realised that no one wanted to hear him preach when they were cold and hungry and so he fed them and made them warm and showed God's love practically.
"They're not actually interested in what we have to say unless their basic needs are met and, through that, people will see God's love," Melody said.
Melody and fellow volunteer Emily Bressington said they also were encouraged by the joy they saw on the faces of people who came. Emily said she loved helping others and giving back to the community but enjoyed hearing their stories. 
Ash said he and Rita were at Officers' Fellowship when the first wave of COVID-19 measures were put in place.
"When we got back, we had a week to get our head around what we were going to do (on Wednesday nights) so we just decided to do takeaway.
The sit-down dinners (and now the takeaway service) is run out of the corps' Birramyani Gharee House, which is an old Queenslander house that has been converted into a facility from where the Doorways and emergency relief services are run. It has a large kitchen area where the meals are prepared.
Rita said the menu was evolving: "We try to stick to things that everybody appreciates – good hearty food; quality food.
"We're here to love them and to support them and to ask how they're going; is there any other support that we can fix them up with. It's that point where we can actually connect with the real stuff that's happening in their lives and walk with them no matter where that goes – no strings attached".