Winnebago gets bushfire recovery on the road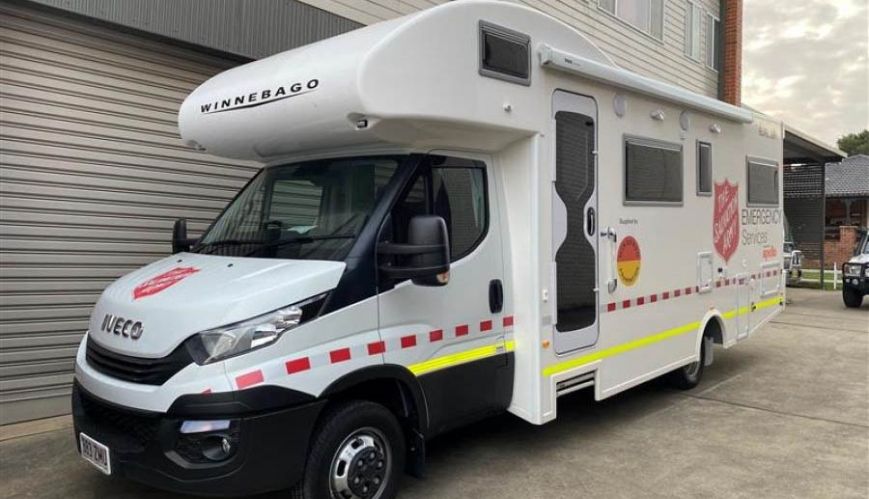 Winnebago gets bushfire recovery on the road
10 June 2020
The new Winnebago support vehicle that is helping The Salvation Army with its ongoing bushfire recovery efforts.
By Lauren Martin
A Salvation Army-branded Winnebago is making its way through bushfire-affected areas of NSW, offering holistic support to people still suffering from the 'Black Summer' disaster.
The vehicle is a result of a private donation to The Salvation Army disaster relief services and a partnership with the Minderoo Foundation.
It has been fitted internally with office space and allows two outreach workers to safely follow social-isolation restrictions while working from the vehicle.
Salvation Army personnel from Moneycare and Doorways services also attend outreach visitations, with tables and chairs set up outside the parked Winnebago to connect with people in the community.
Martin Boyle, who heads up The Salvation Army Bushfire Recovery Workers team, which has been on the ground working in local communities remotely since February, said this service highlights The Salvation Army's presence in rural communities.
"We organise with the local council to park somewhere and set up signage," he said. "There are still people who have never had to access services before, and there are a lot of proud people out there who really don't want to ask for help."
Martin added that he hoped the relaxed nature of a Winnebago with Salvation Army branding parked in a town would encourage people to stop by for a chat.
"[We want them to know that] it's not a handout," he said. "We are here to help and support people, we want to work with them, to empower them on their recovery journey."
When The Salvation Army's bushfire response finally winds down, the Winnebago will be kept within The Salvation Army Emergency Services (SAES) fleet for use in future disaster recovery work.