You are here:
Home › News › 2020 › 06 › 17 › Patrick Taking Each Day As It Comes After Bushfire Loss
Patrick 'taking each day as it comes' after bushfire loss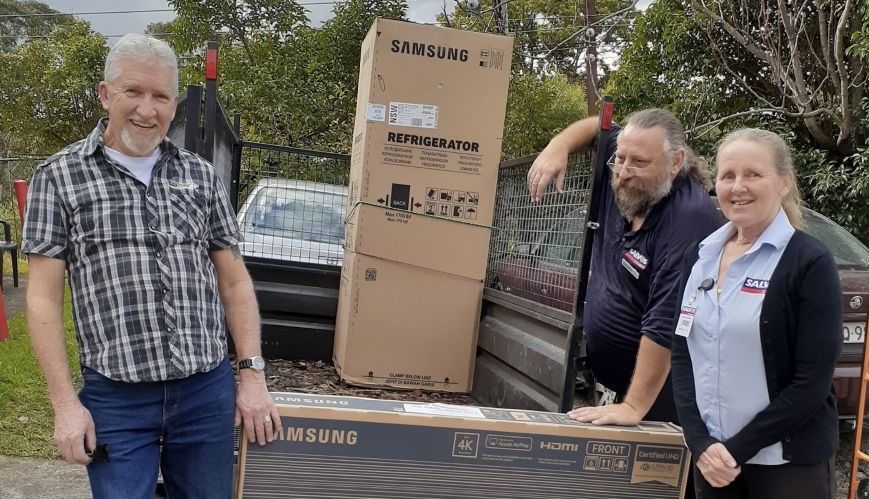 Patrick 'taking each day as it comes' after bushfire loss
17 June 2020
Patrick (left) receives white goods from The Salvation Army's Peter Adams and Shelly Brown after his Blue Mountains home west of Sydney burnt down in the 'Black Summer' bushfires.
By Nikita Thomas
When the 'Black Summer' bushfires tore through the Blue Mountains west of Sydney, Patrick was fighting to save a friend's property when his own house burnt down. An avid musician, Patrick not only lost invaluable instruments that were in the rented house, but his caravan was also damaged.
"A friend of mine lived a couple of blocks away, so I was helping save her place when mine – the only place on the street – burnt down," Patrick recalled.
The 62-year-old was on the Newstart Allowance at the time and didn't have any insurance. After applying for public housing, Patrick set up a temporary home in his caravan. "I've been put down [for public housing] as a priority, but I'm yet to hear from anyone," he said.
When Salvation Army workers met Patrick, his only possessions were his dog and the damaged caravan. All his tools and personal goods were lost to the fires.
The Salvation Army was able to provide Patrick with two financial grants, which helped him secure short-term rental accommodation, cover the cost of the rental bond, purchase personal items, as well acquire a second-hand trailer so he could gain some income mowing lawns. He also received donated white goods from the Army.
Patrick said all this has helped him get back on his feet as he explores what the future holds and begins the journey of finding a more permanent place to call home.
"The Sallies [Salvation Army] have been absolutely helpful and I appreciate everything they've done," he said. "I'm still in shock because you never think it's going to happen to you until it happens – they just called and came by with a fridge, washing machine and TV."
Memories of the disaster have also taken a toll on Patrick's mental health and he acknowledged that he might need help moving forward. "Nothing like this has ever happened to me, so I'm trying to take it as it comes," he said.
Physical, emotional and spiritual support
Moneycare and Doorways – two Salvation Army programs funded by the Australian Government Department of Social Services – also provide vital support to individuals like Patrick and families impacted by the bushfires.
Caseworkers from these programs work with the Salvos' Bushfire Recovery Team to provide holistic case management, including referrals to internal and external support services.
To date, The Salvation Army has assisted more than 11,500 Australians impacted by the 2019-20 'Black Summer' bushfires with direct financial assistance, in addition to emotional and spiritual support.
For many going through the traumatic and harrowing experience during disasters, there is an increase of mental health risks. The Salvation Army recognises the importance of providing emotional and spiritual support early and throughout disaster recovery. Teams have and continue to provide counselling, hold spiritual discussions with community members and carry out their requests for prayer.