You are here:
Home › News › 2020 › 06 › 18 › New Name For Warcry Magazine When Print Version Returns
New name for Warcry magazine when print version returns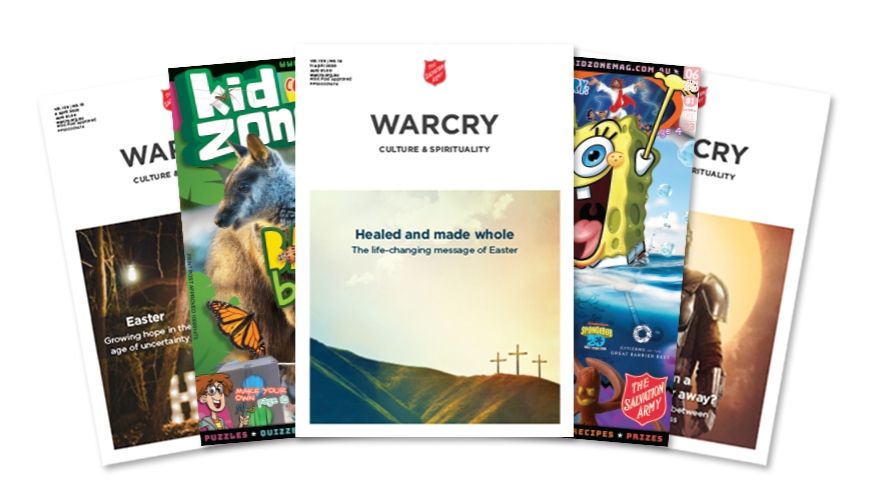 New name for Warcry magazine when print version returns
18 June 2020
Warcry (under a new name) and Kidzone will be available again in print form at the end of July.
By Simone Worthing
The Salvation Army's Warcry magazine – under a new name – will resume printing at the end of July. The magazine will be supported by a new and interactive website designed to direct people to Salvation Army services and faith-based articles, as well as provide information and support.
The much-loved Kidzone magazine will also begin printing in July, while also continuing to support the printed publication with online resources. 
The magazines have not been available in hard copy format since early April due to the impact of COVID-19.
Since then, however, Warcry content has been shared via the Others website through the "Stories to share" collection. Kidzone magazine, with additional resources and features, has continued to be available on its website.
If the resumption of printing and distribution is not disrupted due to further COVID-19 delays, corps and centres should receive the publications by 25 July.
Warcry name relevance
The War Cry was founded in 1879 by General William Booth, the founder of The Salvation Army. He wrote the first article on the first page of the first issue of The War Cry, published on 27 December 1879 in London, England.
In Australia, The Salvation Army Warcry magazine turned 137 years old on 16 June. For many years it was Australia's most popular weekly magazine on issues relating to faith and culture. Throughout its history, Salvationists have distributed the magazine in pubs, prisons, social centres, Salvos Stores and through a wide range of local ministries.
For several years, though, it has grown increasingly apparent that the name Warcry is no longer relevant to new generations of Australians and the diverse, multicultural society in which we live. The number of older Australians who recognise the name, and identify with it, is also largely limited to those who already have some connection with, and knowledge of, The Salvation Army.
While The Salvation Army endeavours to produce a magazine that its members and friends enjoy reading and sharing, Warcry is not aimed primarily at a Salvation Army or Christian audience. Rather, it is a tool for Salvationists to use to help challenge, inform and encourage non-Christian or interested readers to consider the claims of Jesus and the Christian Church and develop a relationship with our Saviour. 
The magazine is also a source of news about The Salvation Army and its work in our local communities, and how people in need can access the services and assistance it offers. These include national services such as homelessness, domestic and family violence and alcohol and other drug services, as well as local corps programs.
Change research
In preparation for a possible name change, The Salvation Army commissioned McCrindle, an Australian-based social research, demographics and data analytics agency, to develop a comprehensive review of the magazine's content and readership.
The research, which took place in 2015-16, aimed to provide an overarching picture of the strengths and challenges affecting Warcry magazine, as well as key opportunities for change to broaden the publication's readership in print and digital formats.
McCrindle's research methods include national surveys, population modelling and qualitative research as well as in-depth interviews and discussion groups.
Key research questions explored throughout this study included:
Identification of core target markets to gain maximum readership
Effectiveness and relevance of the content and current format of Warcry
Effectiveness of the name Warcry and possible alternate names for readership attraction
Engagement of readers across printed and digital formats
New opportunities for distribution.
The outcomes of that research have led to ongoing changes in format and content of the magazine, developments across a range of digital platforms, distribution of the magazines through Salvos Stores, and a stronger identification of our target market to include adults, from a range of backgrounds, open to Christian content and making changes in their lives.
Title change
The research showed that there was some support from both internal and external readers regarding the name Warcry, with its history and association with The Salvation Army. There was also an acknowledgment that changing the name would be challenging on a range of fronts.
However, as McCrindle reported: "The overall sentiment towards the name Warcry was that it is no longer an appropriate name for a magazine, especially if it hopes to reach people outside The Salvation Army."
The reasons behind this include:
There is no clear link between the name of the publication and its content.
The name can come across as too militaristic, aggressive or violent. This has many connotations for the various people who now share and call Australia home, as well as those born here.
The name is outdated in our diverse and multicultural society.
The name is only effective for older people who have seen and connected with The Salvation Army for many years.
It's irrelevant for a new generation.
It's a 'strange' name for a family magazine.
Salvos Magazine
Interestingly, McCrindle reported that 80 per cent of people who read the magazine do so because it's published by The Salvation Army. "This indicates that, with the content of the magazine, the information about The Salvation Army and details about their services are important as their association is a key reason why it is being read."
People know, and trust, The Salvation Army – the Salvos, as the movement is affectionately and respectfully called by the broader community, and the Red Shield is a widely recognised and trusted symbol across the country.
Based on the McCrindle report, as well as ongoing informal research, Warcry magazine will, beginning in July, be changing its name to Salvos Magazine. The word 'Salvos' will be prominent on the front cover, with 'Magazine' appearing underneath.
"Having 'Salvos' in the masthead, along with the Red Shield, instantly tells all stakeholders who the publisher is, what content to expect, and keeps the trust factor," said Lieutenant-Colonel Laurie Robertson, Editor-in-Chief.
It is a decision that has not been made lightly, or quickly. Rather, the change has been made based on prayer, research and broad discussions over many years, with the goal of reaching more people with the good news of the Gospel.
"The content, with its focus on news, inspiring personal stories of transformation, thought-provoking articles on faith, and the work and services of The Salvation Army will continue," Laurie said. "Our goal is to make our content even more relevant in our communities as we continue to offer stories of practical help, hope and encouragement in a time of uncertainty and anxiety around our nation.
"The Gospel of Jesus and its message of transformation and hope forms the basis of all we do. We pray that Salvationists will join us in helping to get this message out to the people of Australia."