Still time to donate to Self Denial Appeal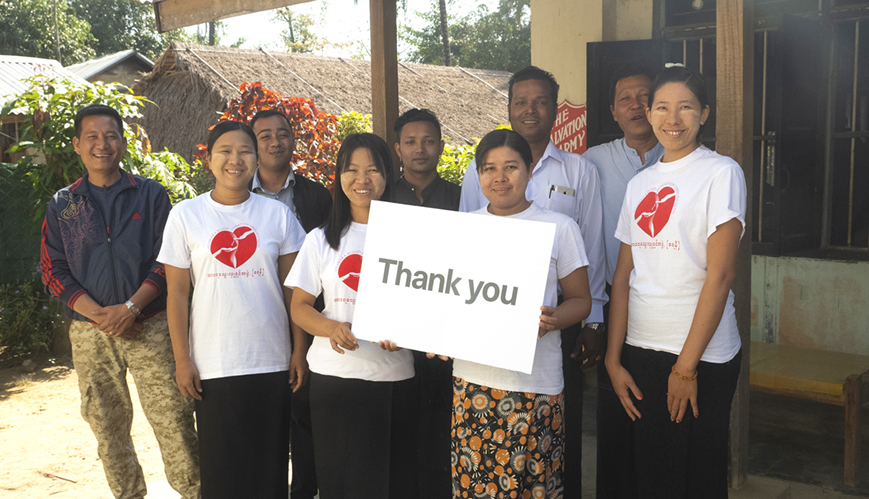 Still time to donate to Self Denial Appeal
18 June 2020
Village leader Zaw Moe (back right), and the team at the Htwaya blood donor group near the Myanmar capital of Naypyidaw, thank Australian Salvationists for their sacrificial gifts during this year's Self Denial Appeal.
By Jessica Morris
Donations are still being accepted for the 2020 Self Denial Appeal to support the mission and community development work of The Salvation Army around the world.
The appeal this year was forced to go online due to the COVID-19 pandemic, with the traditional Self Denial Altar Service on Sunday 29 March replaced by a 'digital altar service'.
Salvationists and supporters once again showed a spirit of generosity and sacrificial giving towards international development, with more than $2.2 million so far being donated to the 2020 Self Denial Appeal. Close to $1.4 million of this total has been donated online.
You can still give to the 2020 Self Denial Appeal until 30 June by going online at selfdenial.info
"So many people have given their gifts online for the first time and we're so grateful for that," said Leigh O'Donoghue, International Fundraising Manager for The Salvation Army. "Corps officers have worked hard (and creatively) to help their congregations give to the appeal outside the usual altar service."
Leigh said online donations for the 2019 appeal came to $250,000 [in the overall total of $3.3 million] so she was pleased with the online response this year.  
"It's a great response for an Army that had to quickly adapt. And when you consider about 1900 individual donations were through the official Self Denial Appeal website to achieve this total, it's a great effort," she said.
"Unfortunately, the overall total is down on last year by about $900,000 but there is still time to donate to the 2020 appeal, so I encourage anyone who still wants to donate to go online and place your gift." 
The 2020 Self Denial Appeal video series, which was shown in corps throughout Australia before COVID-19 restrictions were implemented, highlighted the Army's work in countries including eSwatini, Myanmar, Papua New Guinea and Greenland.
The Australia Territory supports initiatives like The Salvation Army WASH (Water, Sanitation and Health) program in Malawi and Kenya. These programs support handwashing stations, toilets and clean water in schools.
"If we, through Self Denial and other funding, are able to put clean water into schools and communities, and educate children and adults about handwashing, then we are contributing in a small way to help their fight against the coronavirus," said Leigh.
If you would like to plan your Self Denial Appeal gift in advance, there is a monthly giving option available, ensuring the mission and community development work of The Salvation Army continues in developing countries, despite COVID-19.
You can still give to the 2020 Self Denial Appeal by going online at selfdenial.info until 30 June 2020 or contact your corps officer. Alternatively, contact Leigh O'Donoghue on 0448 368 449 or email her at leigh.odonoghue@salvationarmy.org.au