Nothing is going to stop Lesley now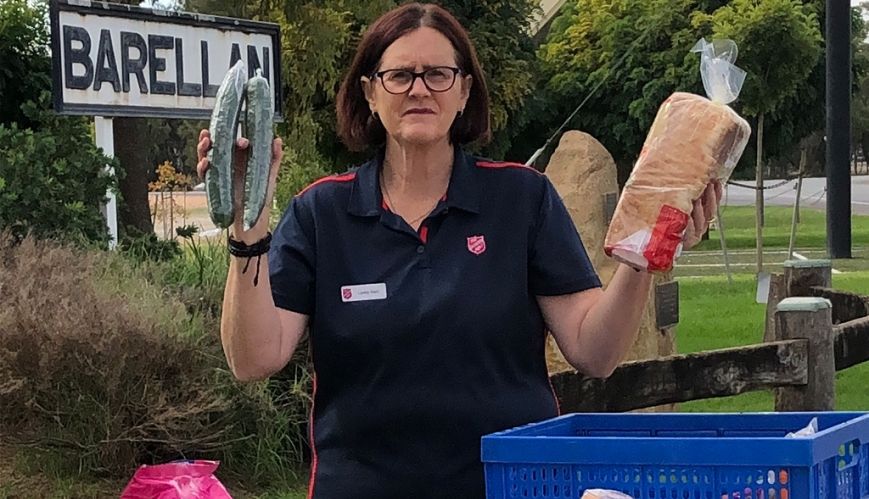 Nothing is going to stop Lesley now
24 June 2020
Leeton Corps Leader Lesley Ward running a community stall at nearby Barellan earlier this year.
By Jessica Morris
Lesley Ward is always on the go. If the passionate Salvo isn't coordinating the Leeton Corps food bank or making plans for the drop-in centre, she is recording an online sermon. And all the while she is raising two foster kids plus her own daughter, as a single mum.
While COVID-19 may have caused the world to come to a grinding halt, it has only given Lesley the fuel she needs to go full steam ahead – all the way to Officer Training College.
"Basically, we haven't stopped – we are open 24/7 at Leeton [in the NSW Riverina region]," she says. "I wake up and I say, 'I've got something new today and we are gonna do it!' And we'll get it done – we have that time now to plod along."
With her heart for the community so enmeshed in her ministry, it's hard to believe that Lesley has only been at Leeton Salvos for four months. Between coordinating social-distancing sermons for the elderly, pastoral visits and shopping for basic supplies, she is living out the dream she had as a young girl – a call to officership.
"All my life I've been trying to get to college. I was a junior soldier at Dubbo Corps at the age of 11, a senior soldier at 16, even part of the timbrel brigade at age seven!" she laughs. "I did all my cadet course things. But I was with my former husband at 16, and becoming an officer wasn't an option."
As life drew Lesley away from the Salvos, her heart for mission remained. She graduated with a nursing degree, worked in childcare and, over time, fostered 46 children. However, things were not easy for her at home.
"I think God has laid a foundation for me with everything I have been through in my life – and now I have been able to help others," she says. "I've been abused by others, raised a lot of kids and dealt with lots of kids with problems. I'm able to work with all age groups, which has given me the foundation to help others."
Two years ago, Lesley left her troubled marriage – coincidentally, at the same time she returned to the Salvos at nearby Griffith Corps. She walked past the church building every day and after thinking she had been snubbed by a church member, approached them to ask why.
The miscommunication was resolved, and Lesley found herself back 'home' again after decades away from the Salvos. A year later, her calling to officership firmly in mind, she was appointed as the Corps Leader at Leeton – the very place her daughter and grandchildren already live.
Lesley is now on a powerful, life-giving path; the one she was always created for. "If people need me, I'm there. I'm here for Leeton," she says. "Nothing is stopping me now."