Millions of meals a major milestone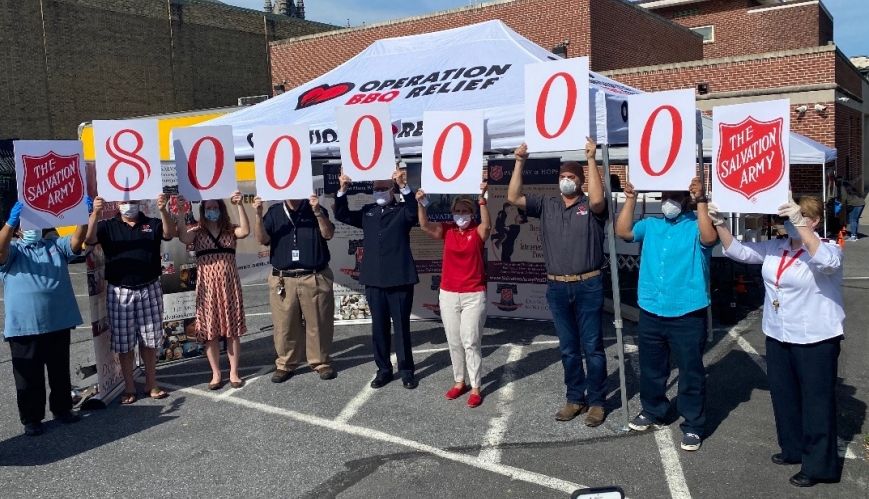 Millions of meals a major milestone
25 June 2020
Reading Citadel Corps Officer Major Darren Mudge, Rev. Bonnie Cammarda, the Director of Partnership for The Salvation Army Eastern Pennsylvania and Delaware Division (both centre picture) are joined by volunteers from Operation BBQ Relief to mark the eight millionth Community Food Box the Army has handed out to the needy across Pensylvannia since March. 
By Darryl Whitecross, Jim Vasil and the Reading Eagle *
Fifteen million meals is a lot of food in anyone's language, but when they're handed out free to the victims of disaster and pandemic in one country, that figure becomes more significant.
The Salvation Army in the American city of Reading in Pennsylvania, about 210km south of New York, was recognised by Operation BBQ Relief as having a major part to play in that not-for-profit organisation reaching the provision of seven million meals across disaster-torn America since 2011. The Army has been working alongside Operation BBQ Relief in the project, having distributed about one-third of those meals.
In a joint announcement, the Army then revealed a milestone of its own – reaching the eight millionth Community Food Box handed out to people affected by the COVID-19 pandemic since March 2020.
Operation BBQ Relief celebrates the giving out of its seven millionth meal. (Photo: WFTM-TV 69 News)
For the Operation BBQ Relief milestone, it was a moment seven million acts of kindness in the making as a Reading woman held in her hands the seven millionth meal.
Miriam Jimenez, a single mother of two teenagers, said the meal was a major boost for her family. "They have helped me with self-esteem, knowing that someone is out here at this time; that they care; they care for the community," she said. "Just for me coming home with these groceries and these foods, they feel wanted; they feel loved; they feel helped," she said.
The Salvation Army made it possible during its Wednesday morning food distribution on 17 June.
Operation BBQ Relief was started in 2011 in the wake of a devastating tornado, which ripped through Joplin, Missouri. It was considered the deadliest storm to hit the US since 1947, having lasted less than 40 minutes, claiming 158 lives and injuring about 1000.
Operation BBQ Relief volunteer Doug Bomberger presented the meal.
The operation's head of sponsorships and co-ventures, David Marks, said it was "no mistake" that the milestone happened in Reading: "This is a great community and it has a lot of support here and The Salvation Army is a long-standing partner in this community."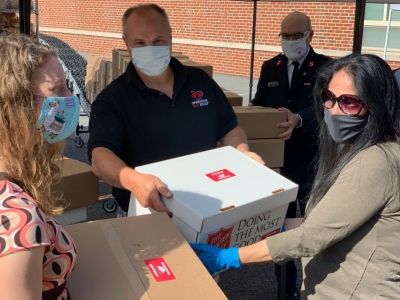 Miriam Jimenez (right) receives Operation BBQ Relief's seven millionth meal from volunteer Doug Bomberger. (Photo: Reading News and 69 News)
The milestone comes amid a pandemic, where around the world, record numbers of people are more in need.
Major Darren Mudge, Reading Citadel Corps Officer, said his corps was chosen to announce the milestone because it was one of the first in Pennsylvania to begin providing food boxes to the community and was one of the largest operations in the state.
"During the current COVID-19 crisis, The Salvation Army contracted with Operation BBQ Relief to provide two million meals for distribution in Pennsylvania. The costs for this were generously covered by the State of Pennsylvania," Darren said.
The Operation BBQ Relief website states that it had taken about 390 days to reach the seven million-meal mark across 26 US states and 66 communities with its meals. The website also states that Operation BBQ Relief believes in "the healing power of a hot meal".
Operation BBQ Relief was set up to provide hot, barbecued meals to first responders and those affected by a disaster.
"Meals are not about bringing energy and sustenance, they're about bringing comfort to a community facing its darkest time, turning moments of need into moments of hope," the website says.
Major Darren Mudge, Reading Citadel Corps Officer, and Bonnie Cammarda, Director of Partnership for The Salvation Army Eastern Pennsylvania and Delaware Division, announce the eight millionth food box handed out. (Photo: Chad Blimline, 69 News)
At the same time as Operation BBQ Relief and the Army were announcing its seven millionth meal, Darren said the Army in Pennsylvania was marking its own milestone – topping eight million meals served since the COVID-19 crisis began in mid-March, 2020, through its food boxes program.
Darren said the program was one of the largest such operations in the state. "We began service on March 13 and have continued to distribute food since that time," Darren said. "Over the 14 weeks, Reading Citadel has distributed food to over 23,000 individuals in more than 6000 families. It has been a privilege to be able to serve our community and to meet the most basic needs of our neighbours.
"One of the most touching stories I could share is one of a woman who approached our distribution table in tears. She was desperate to find food for her family and was overjoyed to discover our distribution. She was so very thankful that God had provided for her through The Salvation Army.
"There wasn't a dry eye among those who were able to serve her family in this way. We have many stories similar to this."
* Darryl Whitecross is an Others staff writer. Jim Vasil is a reporter with WFTM-TV's 69 News. The Reading Eagle newspaper covers Berks County and the surrounding areas.