Beacon of hope lights up Pakenham community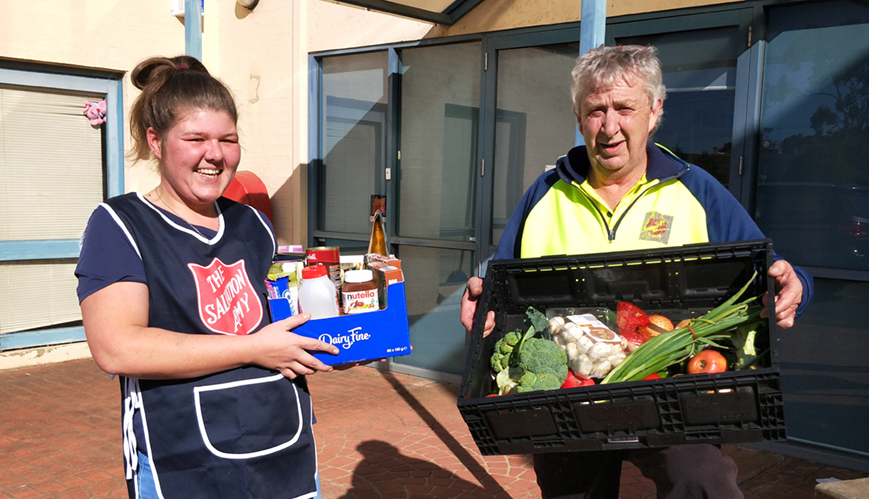 Beacon of hope lights up Pakenham community
1 July 2020
Pakenham Doorways emergency relief worker Amanda Fleming and co-worker John Cooper with food and fresh produce donated by Beaconhills College.
By Jessica Morris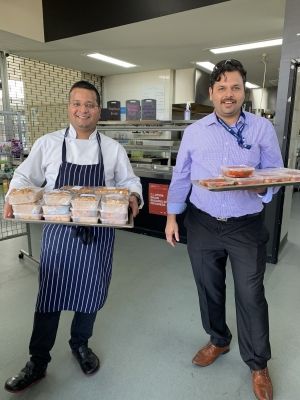 Staff at Beaconhills College, including a team of chefs, have been preparing 50 meals a week for the Salvos to distribute across the Pakenham area. Picture provided by Clare Tuohy.
When The Salvation Army Doorways* relief and counselling service opened in Pakenham late last year, the team was tasked with supporting some of south-east Melbourne's most vulnerable people.
It's been an eventful nine months for the team, opening just before the Christmas 'rush' and now stepping up to assist hundreds of people through the coronavirus pandemic.
But they couldn't have done it without support from sections of the community, in particular, the nearby Beaconhills College.
When Pakenham Doorways opened, the Christmas season was looming and, left to fill the shoes of a previous council-driven church initiative, a fact was clear: if the Doorways team couldn't source enough food and gifts by 25 December, many needy people in the area would be left without Christmas cheer.
It's fair to say the team members needed more than a Christmas miracle – they needed a 'beacon of hope'. The answer to their prayers came in the form of Clare Tuohy, a teacher at Beaconhills College, who offered assistance through the college's Citizenship and Service program, known as 'Beacon of Hope'.
"Clare called and said her school was running a food and toy drive. They encouraged everyone to go out and purchase food items and toys," said Doorways emergency relief worker Amanda Fleming.
After more than 1000 donations of toys and food from Beacon of Hope, Doorways was fully stocked for Christmas. Hand-delivered by Clare and the Beacon of Hope team to Amanda and her team, a partnership emerged that has since blossomed during the COVID-19 crisis.
"From there we kept in touch. Clare had fantastic ideas – like they had a community garden that quite often is filled with extra produce – and we said we'd love that. She was blown away we could get it to clients the same day!"
But it didn't stop there. With students forced to stay home due to COVID-19 restrictions, Clare and her team of volunteers took advantage of the college's commercial kitchen and began organising chef-made meals. Soon, 50 meals a week were being sent out to the community – the college even offering to loan the truck to The Salvation Army in Pakenham to transport the meals.
"It is mind-blowing for me," said Amanda "All these little things working with each other. It's an ever-growing process. Having this partnership will be a big protective factor for some of the vulnerable families in this community."
While the Salvos – and wider community – have benefited from Beaconhills College's innovation, the gains go both ways. Plans are underway to enable students to volunteer their time at the Doorways centre as part of the college curriculum.
"Being a college that is based on the values of compassion, respect and integrity, this is about what we can do for others. And being head of our Citizenship and Service program gives me the ability to create these opportunities," said Clare. "We don't always know who the people are who have the most need in our community, but the Salvos do. One of the great ways to support our community is to help the Salvos."
* Doorways is an innovative, best-practice model to run and manage Salvation Army emergency relief and financial counselling (Moneycare) services.