Brendan's prayer and fasting vigil for Melbourne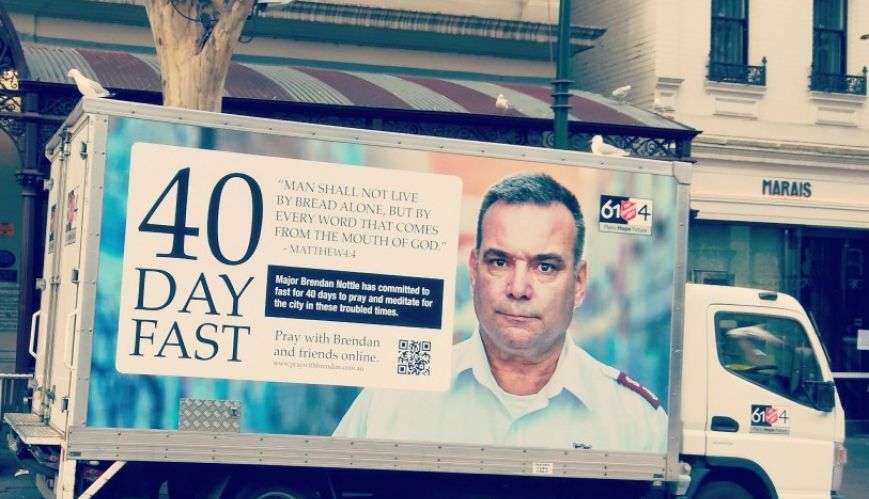 Brendan's prayer and fasting vigil for Melbourne
7 July 2020
Major Brendan Nottle says he's been prompted by God to "come before him in prayer... to help bring God's light back to the city" of Melbourne.
By Barry Gittins
Salvation Army Melbourne Project 614 Corps Officer, Major Brendan Nottle, has used Founders' Day (2 July) to begin a personal 40 days of prayer and partial fasting.
Brendan will practise the Christian spiritual discipline to seek the guidance of God for the city of Melbourne. On the advice of his doctor, he will eat one meal a day after sunset.

"Our territorial leader, Commissioner Robert Donaldson, has been emphasising the need for us to 'pray it forward', which planted a seed," Brendan explained. "The more I speak to people in Melbourne the more I realise how devastating COVID-19 has been. The city is like a ghost town."
As Brendan has shared people's pain and stories he has been prompted by God "to come before him in prayer and hear what God wants me to do, to help bring God's light back into the city".
The fast and prayer vigil has given Brendan the opportunity to connect with people from both The Salvation Army and other denominations in Melbourne, who are joining him in prayer to seek God's will for their service and ministry.
"Of course, God doesn't just talk to me or to my fellow Christians; he is reaching out to all people, but I am looking forward to speaking with him and all sorts of people about what God wants us to do to help each other," he said.
Brendan's decision to fast was a conviction God put on his heart.
"Fasting to this degree is a first for me; desperate times call for desperate measures and my fast is the least I can do when I compare it to what other people are going through," he said.
"This is my way to obey God's call on my life and to show solidarity with everyone before the Lord, praying for everyone who is doing it tough at present. I want to be a light for God.
"My prayer is that the fast will generate more prayer, as well as discussion, debate and meaningful action that will help to bring God's light to bear on our city."
Follow Brendan's progress and read about the fast online at praywithbrendan.com.au