Greg cops a clip as Lynda untangles COVID-19 protocols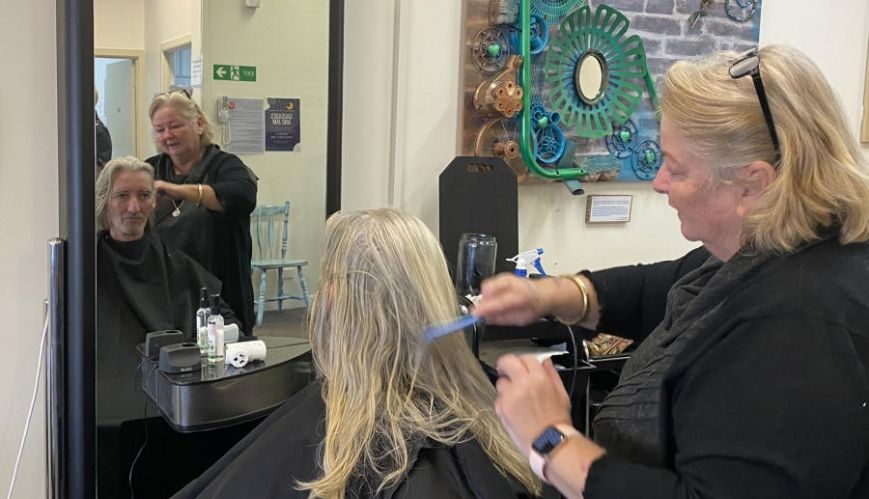 Greg cops a clip as Lynda untangles COVID-19 protocols
7 July 2020
Volunteer hairdresser Lynda McCormack gives Logan Community Mission Centre regular Greg's treasured long-flowing locks a professional tidy-up.
By Darryl Whitecross
The Salvation Army's Logan community in Queensland was thrown a curly one when programs had to be clipped because of the COVID-19 pandemic, but there is a fringe benefit from the easing of social-isolation and distancing regulations – free haircut Thursdays are back.
The corps officers there – Captains Ash and Bronwyn Barkmeyer – aren't ones to barber a grudge so, as soon as they could, they brought the program back – with all its gels and whistles.
The puns end there!
The free haircuts are professionally provided by Lynda McCormack, who has been a hairdresser since she was 16. No appointments are required, but clients are expected to have washed their hair before they arrive.
Greg, who has been using the service for some time, was one of the first clients into the chair once the program returned. He said he does not usually like people touching his hair and was reticent to let Lynda do anything to it but eventually opted for a 'tidy-up'.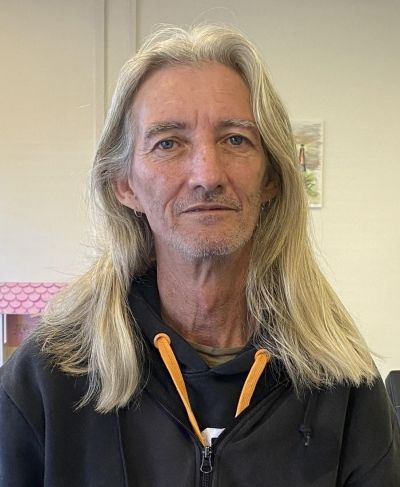 Logan Community Mission Centre regular Greg does not usually like people touching his hair but consented to a 'tidy-up'.
Bronwyn said Greg had been a regular since the corps' Community Mission Centre opened on Station Road, Logan Central, south of Brisbane, two years ago. "We love it when Greg drops in. He is such a good man," Bronwyn said. "He has been one of our regulars, encouragers and helpers from our beginnings." Lynda said it was such an honour to do Greg's hair as he was so protective of his flowing locks.
Brad, a three-day-a-week regular, said he was a little more adventurous, having his split ends removed on one occasion and having his hair braided on another.
Lynda, who is from New Zealand, has been a volunteer with the Logan corps' outreach program for a few years now having worked in the nearby Meadowbrook family store before it closed recently. She then joined the LCMC team and jumped at the chance to use her skills when the opportunity opened up to provide haircuts to the community.
Ash said the centre began its hairdressing ministry from an old-fashioned barber's chair which he spotted "on the side of the road" and reconditioned. "Little did we know how crazy popular it would become," Ash said.
On occasion, Ash has had to flip a coin to decide which brother would "go first" to get their haircut. "It's the only way that works," Ash said. "Sometimes we use 'rocks, scissors paper'."
The original chair didn't last long and so, with the help of "an awesome volunteers grant", the centre was able to buy a new chair and hairdresser station which Lynda said proudly that she got to shop for. "I didn't have a mirror before or a unit in front of me. Now, the customer gets to see what I'm doing and I don't have to lean forward to see what I've done," Lynda said.
Ash said that many of the people who visited the centre had "trust issues" and allowing people to get close to them was difficult for them so having someone cut their hair was a major step. He said that, on one occasion, a woman who had her hair cut, looked at herself in the mirror burst into tears with joy at the result.
"She hadn't had a haircut in a long time and didn't really didn't trust anyone. She was very reserved and shy but she eventually got the courage to get a haircut done. We said: 'Now, look in the mirror (we didn't have a mirror in front of the chair then) and she got up and looked at it and tears just flowed ... and everyone starts crying," Ash said. "It was such a beautiful moment."
The original old barber's chair the Logan Community Mission Centre used before grant funds provided a complete haircut station.
Having their haircut meant far more to the clients than the haircut itself. "We just find it that, when people get haircuts here, it's that 20 minutes or so of Lynda giving them all her attention. To them, it's just a gift and they feel important. They feel special and it's there to give people dignity," Ash said.
For some, haircare was not often a priority. Ash said for some of their clients, their hair was a bit "Yahoo Serious" (a reference to Greg Gomez who later changed his name to Yahoo Series, and wrote, directed, produced, composed the scores and starred in his movies Young Einstein, Reckless Kelly and Mr Accident).
He said that, for many, they don't want their haircut so, often, Lynda would offer a head massage or just to brush their hair.
"People can really appreciate it because a lady's haircut can cost 50, 60, 70 bucks easy and they come in here and get that same quality for free," Ash said. "It's a huge thing. From that, it can springboard to other things we do as a team and what help is available to them; it's an opportunity to share and talk; it might develop into emergency relief or counselling – whether it be financial or casework counselling. Some of the kids we've been able to feed into our 'kids in kitchen' cooking classes in the holidays." 
Lynda is gentle in her approach to each client, asking them exactly how they want their hair done, any dos and don'ts and explaining what she would do for them to ensure they would be happy with the result. "I don't cut more than they want off. If they say only a little bit, it's a little bit," she said. "I love my job ... if you get it right, you get lots and lots of hugs, which is fantastic."
Ash said the haircut program was "all Lynda's idea". "She said she'd like to volunteer some of the services out here and we thought: "Let's give it a go because we do try to do different ministry here. We just try to offer a listening ear; somewhere safe to have a cuppa and catch their breath. In this situation, it happens to be a haircut. It's a great, organic way of doing ministry. It's an awesome opportunity and so so (editor's note so so) simple to do. If it continues to be as popular, we may have to put another hairdresser on."
State of the Nation
A quick comb of the country shows that other corps centres and missions around the country run similar free haircut programs for the homeless, many of which have been affected by the restrictions in place due to the COVID-19 outbreak.
In Nambour, on Queensland's Sunshine Coast, Corps Officer Major Karen Saunders said a Connect site restructure, the pandemic and other setbacks had put the future of the corps' Tuesday hairdressing program in doubt, at least until the end of this year.
In Surrey Hills, Sydney, Streetlevel has had its gathering spaces closed for some time, which has meant its free monthly haircuts, done for several years by professional hairdresser Wanda, have not operated. Mission leader Mitchell Evans (a self-confessed non-professional hairdresser) said COVID-19 had not prevented him doing his famous buzz cuts – which he has been executing for almost 10 years. "If we're totally honest, it's not about the haircut – although I'm pretty pedantic about ensuring it looks good," Mitchell said. "It's about the time together; the conversation but, most of all, the safe physical touch of another person. 
Major Nikki Curtis, from Merriwa Corps in the northern suburbs of Perth, said the corps ran free haircuts through the Doorways* program. They started up again on Friday 4 July after a pause during the pandemic restrictions. "We have two volunteer hairdressers – both come to our church having come through Doorways," Nikki said. "Trish has been doing haircuts for three years and Rebecca started last year." 
Also in Western Australia, the officers at Balga Corps are missing their haircut program. "Over the past few years (the corps) have gone through many changes due to many different reasons. Our hairdresser retired in 2018 and we miss her dearly. Hopefully, one day, God will send along a person to cut hair again as he had done once before," Corps Officer Captain Darren Aitken said.
In Ballarat, Central Victoria, Corps Officer Major Rhonda Elkington said although free haircuts had been offered at some of the Army's mission centres across that city over the past 12 months, they are not being offered at present.
Kari Sampson, from City Salvos Adelaide, said the corps' fortnightly free haircut service with hairdresser Pauline was on hold while COVID-19 restrictions were in place but anticipated a return in August. It usually coincides with the corps' weekly Do Unto Others express meal program.
In Hobart, a number of circumstances have seen cutbacks in free haircuts to Doorways and other community clients. Corps Officer, Captain Nicole Snead said she hoped that when the corps re-opened after pandemic protocols were lifted, a haircut program would restart.
* Doorways is an innovative, best-practice model to run and manage Salvation Army emergency relief and financial counselling (Moneycare) services.