Melbourne Salvos refuse to be 'locked out' of mission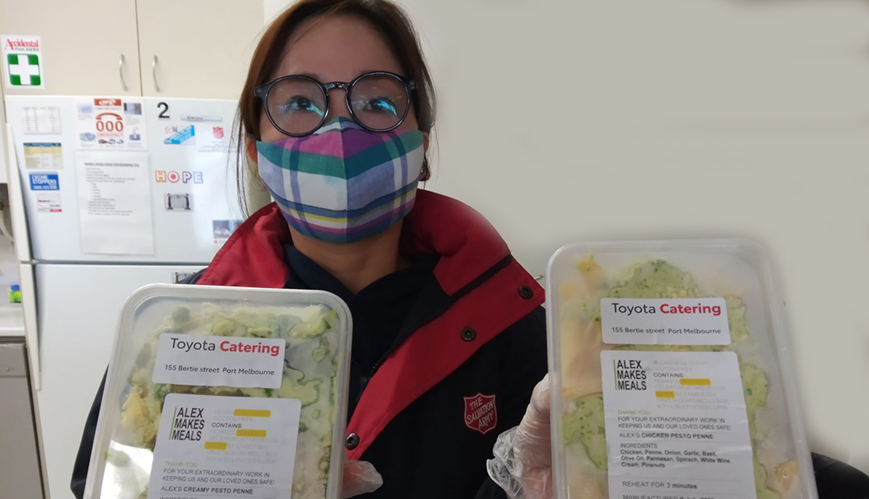 Melbourne Salvos refuse to be 'locked out' of mission
21 July 2020
Captain Phuong Reynolds and the team at Sunshine Salvos in Melbourne's west have been working with local cafes and restaurants to feed the community. She's pictured here with fresh meals from local restaurant Alex Makes Meals.
By Jessica Morris
Metropolitan Melbourne never expected to re-enter life in lockdown due to COVID-19, but that hasn't stopped Salvos across the city from being the socially-distanced hands and feet of Christ.
"Each new challenge has seen the team find creative solutions to continue serving the community," said Victoria Divisional Commander Lieutenant-Colonel Bruce Stevens. "We seem to be at our best when responding to a crisis and we love showing the full extent of God's love. 
"The recent response of all our streams to focus on supporting those in city towers [North Melbourne housing estate] shows how far we have come in cementing our new Local Mission Delivery model."
Meeting the city's needs
Lieutenant Paul Trotter cooks up a storm for locals at Brunswick Salvation Army.
The Melbourne 614 team – which has now finished serving at the city towers precinct (when it was locked down due to coronavirus outbreaks) – is now working around the clock to ensure every rough sleeper in the city has access to a face mask. Provided by the City of Melbourne and Crown, it is a vital step in ensuring the health and safety of locals, as masks are mandatory across the metropolitan area and Mitchell Shire from 11.59pm on Wednesday.
Just down the road, Brunswick Salvos are also supporting some of the community's most vulnerable residents.
For five days a week, Envoy Margaret Coombridge and the Brunswick team open their doors to hand out takeaway food. A necessity not just due to unemployment rates, but also due to isolation that many locals currently experience.
"Rather than completely slow down [due to lockdown] we went straight to takeaway at the front door," said Margaret. "We see 30-40 people a day. And on Monday, Wednesday and Friday people can use the shower and laundry facilities by appointment, as a lot don't have access to these things, especially if they are homeless."
The team at Brunswick face multiple challenges – the priorities are regularly sanitising the premises, keeping people's contact details and finding finances for every meal. But their main concern is the welfare of homeless clients who are in hotel accommodation.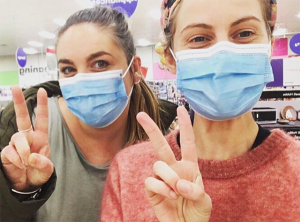 Staff from Upton Road Youth Refuge in St Kilda stock up on supplies to support clients during the lockdown.
"We are overjoyed there is motel accommodation for them, but it's week to week, so we continue to support them however we can," said Margaret. "We need people to pray for their wellbeing and safety ... that there would be a deeper look into a long-term solution."
Meanwhile, Upton Road Youth Centre in St Kilda is taking a creative approach to the lockdown, putting together 'isolation packs' to help relieve their clients' boredom. Throw in a weekly cooking class over Zoom, and they continue to work on the front lines.
Hitting the suburbs
Residents across Melbourne's west have access to meals, thanks to the Sunshine Salvos' partnership with local cafes and restaurants. Captain Colin and Phuong Reynolds have sourced delicious pasta dinners from Alex Makes Meals and freshly baked muffins from Jolly Miller Cafe & Patisserie.
In Hobson's Bay, Lieutenants Star Conliffe and Charlie Jung are working closely with their congregation to stay connected with more isolated members.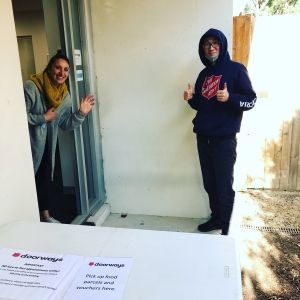 Doorways caseworker Rachel (left) and Lieutenant Charlie Jung prepare to hand out food parcels in Hobson's Bay (Photo taken before laws deemed masks essential).
"With second lockdown, we felt that everyone needs to receive a phone call to check in on their wellbeing, so we created a phone tree for the corps, and a group of 18 of us will be making pastoral calls," said Star.
Connecting with seniors or members without technology is also a priority for the Greensborough Salvos, and they have been practising socially-distanced house calls to check on their members' welfare.
Organic community
For Captains Monty and Mera Bhardwaj, who head up the intercultural community in Melbourne's west, the lockdown has highlighted the power of 'organic community'.
"We are friends – a community. It's going well, and people understand that if anyone needs anything, there is someone who can help them," said Monty.
With their social enterprise 'Salvos Catering' currently out of business, the captains are relying on the wider community to support the needs of asylum seekers and people doing it tough.
In an ever-changing landscape, it's inspiring to see so many Salvos stepping up to support their community out. COVID-19 may have Melbourne in lockdown, but it certainly hasn't locked out our mission to 'live, love and fight' alongside each other.