Bendigo program ripe to harvest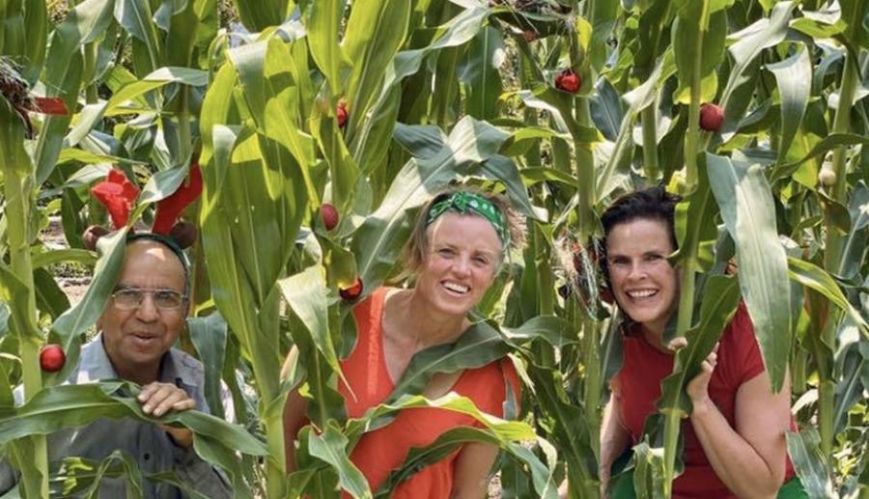 Bendigo program ripe to harvest
24 July 2020
Gravel Hill gardener Mohammed and two project workers marvel at how the community garden has grown to resource the Grow Cook Share initiative.
By Jessica Morris
From the garden to the plate, The Salvation Army's Gravel Hill Community Garden has become a fundamental part of Bendigo's Grow Cook Share initiative.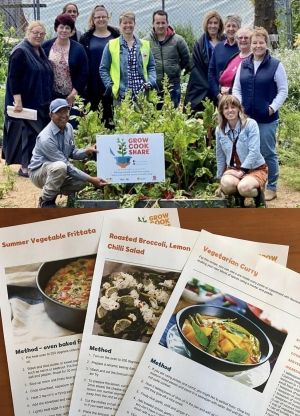 The Gravel Hill Community Garden (top) and recipes from Bendigo Salvation Army's Cook Grow Share program. (Photographs taken before the onset of COVID-19 social distancing requirements.)
And now, thanks to a collaboration between a variety of community services, schools and locals, many more people in the rural Victorian city have the skills to put something wholesome on a plate.
"We have two acres of community garden, established using permaculture principles with no chemicals," said Maree Baird, Community Services Manager at Bendigo Salvation Army.
"It really connects community to The Salvation Army, and also provides volunteering opportunities with people trying to get back into workforce."
The community garden is desperately needed in a city where one in 11 adults, and one in five children, do not have enough food on a daily basis. In addition, over 50 per cent do not eat the daily recommended intake of fruit and vegetables.
The garden resources the city's Food Share initiative between six services, and sustains a partnership with schools and the local prison. Most notably, it also provides produce for the successful pilot of the Grow Cook Share program – cooking classes that educate locals on where fresh food can be sourced, stored and how it could be prepared to create delicious meals in everyday life.
"We've got people coming into emergency relief who see the fresh produce, but say, 'We don't know what to do with that. Have you got chips?'" said Maree.
"So we set up six cooking clubs of up to 10 people, to teach them how to use the fresh produce that they receive from Food Share."
The Grow Cook Share idea was initiated last year when The Salvation Army collaborated with local services to apply for one of the Victorian Government's 'Pick My Project' grants.
With funding approved, Maree and the team hired a nutritionist to create recipes and a curriculum tailored for all ages. Each instructor went through a 'Train the Trainer' program, where they learned how to teach clients the basics in every class, and share a meal at the end. Bendigo Corps has also run The Salvation Army's 'Kid's in the Kitchen' program, to extend the training to young people in how to cook fresh and healthy food.
With some help from local companies, over 160kg of seedlings were planted and harvested by locals in 20 schools, community gardens and backyards. And inmates from the prison, students from TAFE and other volunteers worked on expanding the community garden to create and sustain produce.
"One of the real valuable outcomes of the project was the collaboration between all the different organisations. When things go back to normal [after Covid restrictions ease], the model we've got is really excellent," said Maree.