Aged care battle fought in the armour of God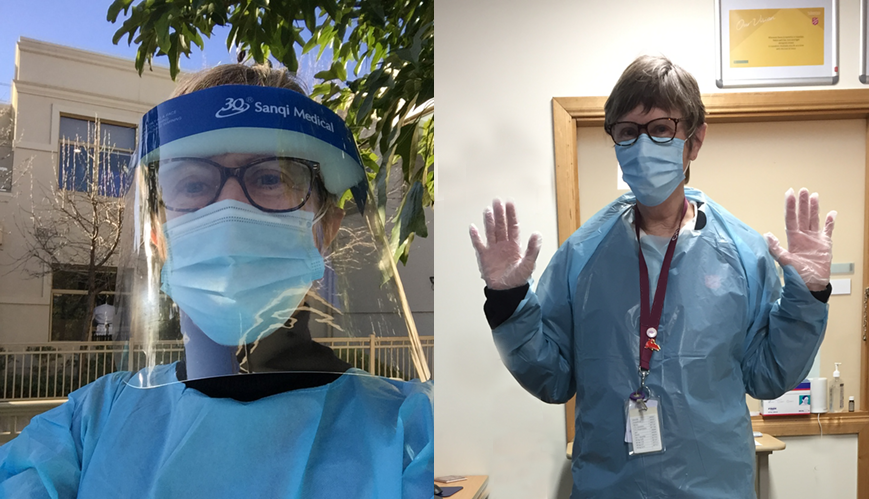 Aged care battle fought in the armour of God
7 August 2020
Major Janette Shepherd in her Personal Protective Equipment, on duty at James Barker House Aged Care Centre in Melbourne.
By Jessica Morris
Every time Salvation Army chaplain Major Janette Shepherd walks into James Barker House Aged Care Centre in Footscray, she covers herself in two things – PPE (Personal Protective Equipment) and the 'armour of God'.
COVID-19 has wreaked havoc across Melbourne's aged care sector over the past month, which has added increasing pressure to Janette's role as the full-time chaplain at James Barker House.
'We show up for the people who have no one to show up for them', says aged care chaplain Major Janette Shepherd.
"As Christians, we're called to put on the full armour of God ... now we're just adding PPE!" said Janette, who ministers to more than 100 residents and staff.
"You can get really dispirited sometimes [in aged care]. It's relentless. In these settings [COVID-19], it's even harder, so you have to laugh. We look like blue smurfs!" she said.
Positivity is essential to Janette's work, especially now as residents and staff are feeling vulnerable.
James Barker House is the only Salvation Army aged care facility in Victoria, with many residents entering after spending time at Salvation Army crisis accommodation centres like Foley House and Flagstaff services, or Community Aged Care.
Many are suffering from dementia, mental health issues or long-term side effects of substance abuse. And during a global pandemic, they need more than just reassurance, they need to be seen and heard. That's where Janette and her colleague, Major Ian Platt, step in.
"We show up for the people who have no one to show up for them. It's about supporting people who perhaps don't have a lot of visitors or family, and reassuring them," said Janette.
"It's about turning up every day. And with the staff, it's listening and checking in. It's about providing that spiritual-care space for whatever that may look like."
In 2020, providing that space for patients and staff is an ever-changing process. Earlier this year, implementing social distancing was enough to hold a weekly chapel service, a movie afternoon, or communion for those residents for whom this is important. As COVID-19 restrictions tightened, however, Janette and Ian moved to one-on-one Bible studies, where they meet residents to talk, pray and offer reassurance.
"Organic church principles have come in so handy in this situation, because it's not about structure, it's about networks," said Janette.
"So, we celebrate and remind staff about the fantastic job they do, because no one sees it. It's hidden ministry – but I'm always encouraged that Jesus sees."
The key to their ministry, in what Janette says has been the most challenging year of her officership, is seeing people through the eyes of Jesus. Some days, this means Janette talks "very rusty Russian" with a resident, or Ian holds a memorial service for a resident whose funeral was off-site. In addition, they have begun the Spiritual Care Assessment plans (part of the national aged care's iCare), enabling residents to have more holistic experience in care.
"It's about seeing people and seeing who they are. Some of them have the most incredible lives – incredible stories," said Janette.
During an unprecedented season, Janette says she stays planted in her mission to "live, love and fight", alongside each resident and staff member at James Barker House.
It's tough, Janette admits, and COVID-19 makes it even tougher – but under that PPE is a heart filled with the all-seeing compassion of Jesus … and being covered with the 'armour of God' is the big game-changer.