Crafty Salvos up to the mask task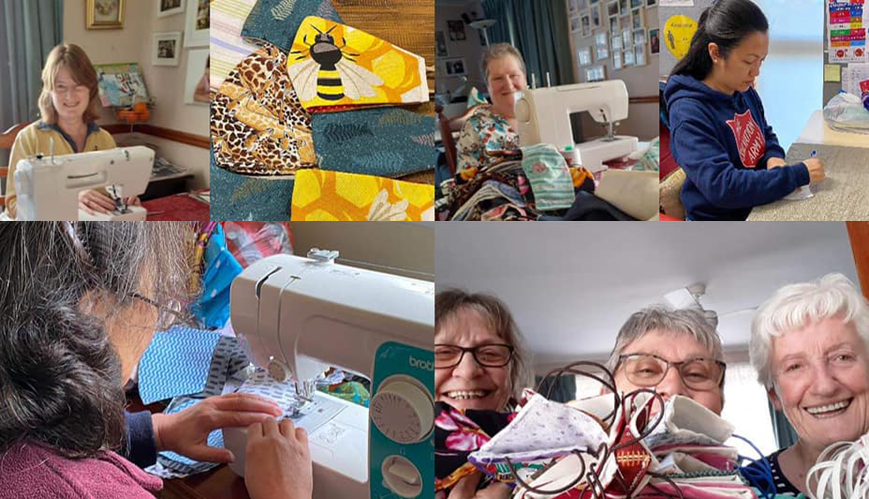 Crafty Salvos up to the mask task
12 August 2020
Staff and volunteers at Delacombe Salvos in Victoria's south-west have made and delivered more than 400 face masks to local services and vulnerable groups in the community.
By Lauren Martin and Jessica Morris
Masks, masks everywhere! Six months ago, these handy pieces of personal protective equipment were reserved for medical staff. Now they are more than a fashion statement for locals in Melbourne's lockdown – they are a necessity.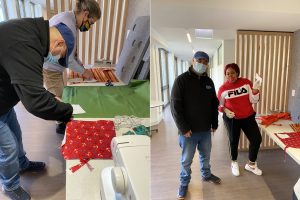 Residents and staff at The Open Door have started a craft club to create masks during lockdown.
So, where does one go to pick up a mask? To the Salvos, of course! Volunteers across the country have stepped up to help Victorians stay safe. Here's a snapshot of some of the Salvos ensuring everyone is masked up.
Getting crafty in lockdown
Residents at The Open Door homelessness accommodation centre in North Melbourne are right in the centre of Melbourne's stage four lockdown – but that hasn't stopped them from getting crafty to help their community. 
More than seven residents have sewn 20 masks for their community after their chaplain, Captain Marie Kovacs, started a sewing group as a ministry.   
"I make my own masks and the residents saw them and said, 'Can we make some?' They were talking about other things they could make for the less fortunate, even though they are homeless," said Marie.   
Residents cut and iron the material at individual tables while Marie sews. The popularity of the masks has been so great that The Open Door bought a sewing machine to speed up the process.  
Marie said despite the challenges being faced in lockdown, she saw Jesus "moving during this time". 
"I see [Jesus] even through the residents who say they don't have a belief – the things they want to do for others is like what Jesus did when he went to the less fortunate," she said.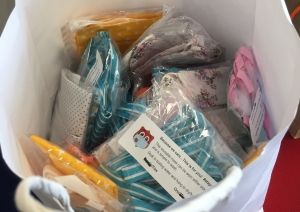 Kimberley Featherston prays over every mask she sews – more than 400 so far!
"We started a prayer group, and even though we can only have two people in the chapel at a time, we have multiple sessions. They're just wanting something to grab on to, to believe in."
Meanwhile, Victoria Division Youth and Young Adults Secretary Kimberley Featherston has made more than 400 masks at home.
"I'm in lockdown at home [in Melbourne] so this is how I can help people on the outside," she said. Each mask is bagged individually with a label saying: 'Because we care – this is for you!' "While sewing the masks I also pray for the recipients who will receive them," she added.
Community effort
Captain Ellen Farrell has pioneered the mask-making movement at Delacombe Corps [near Ballarat], while Major Craig Farrell helps deliver them to local services and nursing homes. 
With the help of corps craft leader Pauline Barry, Ellen has gathered seven volunteers to help cut and sew more than 400 masks to date – not a bad effort given Ellen only learned to sew a week ago! The movement has become a community effort, with the thrift store donating material, and local services ensuring they reach people in need.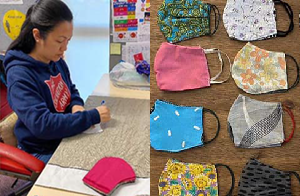 Captain Ellen Farrell only learned to sew a week ago, 400 masks later and she and the team at Delacombe Corps are seasoned pros!
"We wanted to be good neighbours to our community and we really wanted to make sure the masks went to the people who need them," said Craig.  
Masks have been handed out to UnitingCare Ballarat – the region's access point for housing and crisis support, as well as ​a supported accommodation residence for men, and nursing homes. They have also replaced disposable masks at the local community's street van, ensuring rough sleepers and families don't get fines. 
The masks have also become a connection point for the Salvos, and Ellen always brings some extras with her when she's out shopping. 
"I saw two older ladies struggling because they needed masks, but they were too expensive. So I gave them the church address and they came and picked up masks," said Ellen. "People give me a phone call and we just give them masks. It's an amazing ministry in our area. We want everyone to be safe and be kind to one another."
Soldier Gillian Madden sent 40 masks to Salvos in Melbourne, wrapped with love and a Salvo shield of course!
And in New South Wales, several corps have organised socially distanced mask-making craft days in order to send masks to Victoria, or for them to be given out to vulnerable people within their own communities.
Bonnells Bay soldier Gillian Madden made a cloth mask for herself and when she realised how simple they were to make, she cut out and sewed 40, which she posted to The Salvation Army in Melbourne.
"I feel for everyone in Victoria – they're doing it so tough," she said. "We've got it good up here [in NSW] so I thought it was something that I can do to help those that are on the streets or the disadvantaged that can't get their hands on masks."
Have you been making masks for people in lockdown? Share your stories with us in the comments!