Lovely a-Roma coming from new outback cafe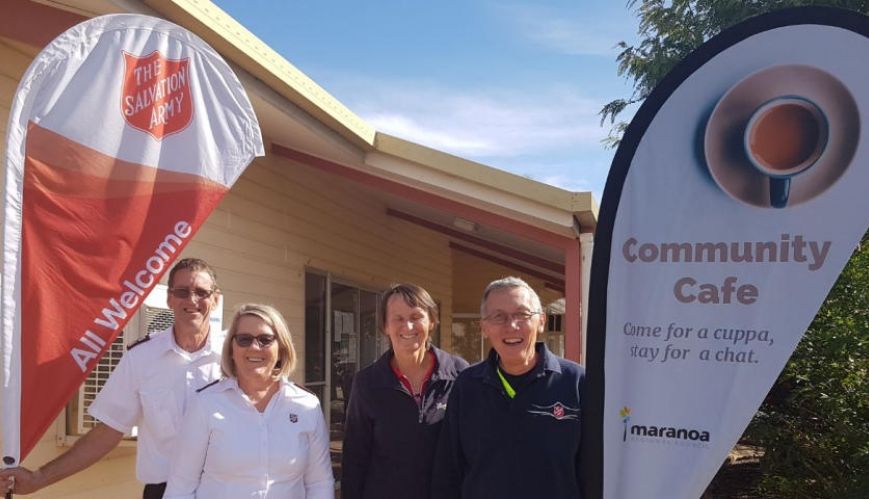 Lovely a-Roma coming from new outback cafe
13 August 2020
Majors Paul and Kaylene Morrice, Roma Corps Officers, with Majors Miriam and Peter Sutcliffe, Area Officers, on the opening day of the Hope @ Espresso cafe.
By Darryl Whitecross
A discussion over a cup of coffee has resulted in The Salvation Army opening a cafe at Roma in outback Queensland.
Roma Corps Officer, Major Kaylene Morrice, said the cafe, called Hope @ Espresso, opened in late July and the aim is to make it a community hub for conversation and care.
Kaylene said the cafe came about after she and husband Paul shared their corps vision with Maranoa Regional Council support officer Janaya Greenwood at an inter-agency meeting in February.
"Through the course of the conversation, Janaya shared that she had been trying to do something similar but, without a venue close to the town centre, she couldn't get it off the ground," Kaylene said. "So we decided to partner together."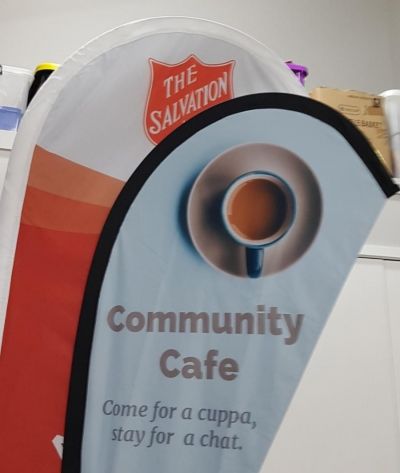 The new Hope @ Espresso cafe banners.
Kaylene said the Roma Corps complex was the ideal location for the new mission expression. "As we are also renovating the old hall back into our Family Store, it was an ideal spot to have a place for people to come for coffee and a chat ... and to shop," she said.
She said the council supplied the coffee machine, the coffee and all sundry items. With the venue and equipment arranged, Kaylene and Janaya needed to find out whether it was what the community wanted so an "inter-agency meeting" was convened to allow as many stakeholders as possible to have input into "what we were creating".
Opening day was a relatively big occasion attended by various town dignitaries, inter-agency representatives and the Area Officers, Majors Peter and Miriam Sutcliffe, who cooked up a sausage sizzle, which went along with the free coffees provided by the local coffee van and homemade cakes.
Fifteen-year-old Maddie Thomas, who appeared as a contestant on the television music talent program, The Voice, provided the entertainment.
The inter-agency meetings were held monthly, usually on a Monday, but Kaylene said it was decided to incorporate the July meeting into the opening celebrations. About 30 people regularly attended those meetings but, for the opening, about 50 people went.
The Morrices have been the corps officers in the town, which is about 480km west of Brisbane between Toowoomba and Charleville, since 2019.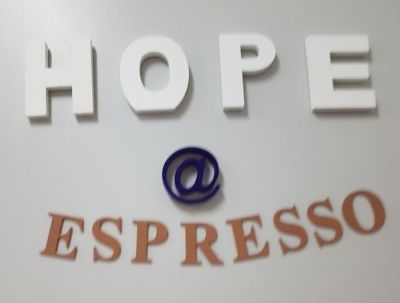 The Hope @ Espresso wall art designed and created by Major Kaylene Morrice.
Kaylene said Kamala, a young, single mother attached to the corps, has been training to be the cafe barista. The council was funding her training.
"I came up with name. It has been something that has been on my heart and mind," Kaylene said. She also designed and made the logo on the wall inside the cafe. "I tried to get Hope @ Espresso up and running at my last corps but it didn't quite eventuate. The name means that people may find hope over something as simple as sharing a coffee and conversation in our corps building – a space that they would not normally enter into."
The cafe is to open on Tuesdays from 10am–2pm. "We have made a space for anyone from the community to come and connect, have a chat and, on a weekly basis, other agencies will come in and just be around if people need to talk," Kaylene said. "In a nutshell, we wanted to create a space to have faith conversation and what better way to have that than over a coffee and homemade yummies."