You are here:
Home › News › 2020 › 08 › 17 › Salvo Food Market Another Cog In Wheel Of Services At Rockdale
Salvo food market another cog in wheel of services at Rockdale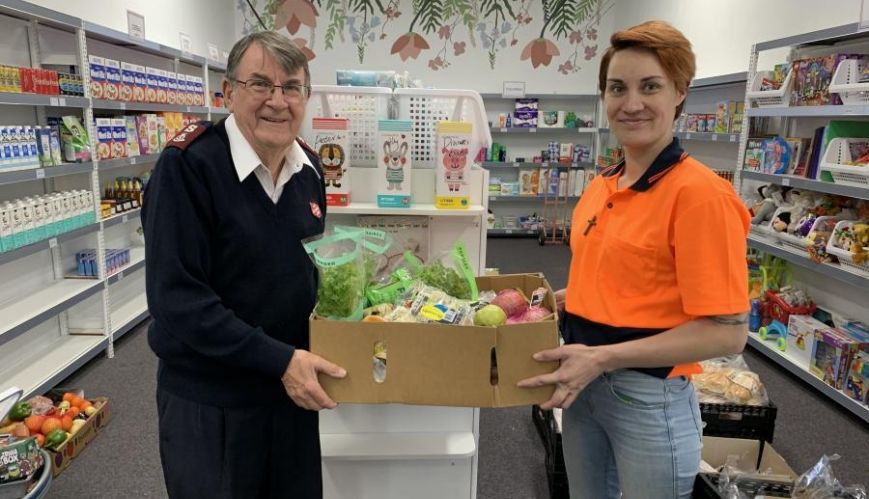 Salvo food market another cog in wheel of services at Rockdale
17 August 2020
Major Peter Lucas (left) and Vanessa Davidson at Rockdale Salvation Army's new low-cost food market.
By Lauren Martin
'Local Mission Delivery' – all expressions of The Salvation Army working together to transform Australia one life at a time – has been a key part of the new way of operating as one territory in Australia.
There have been videos made to explain it, Local Mission Delivery workshop days held to discuss it, and Area Leadership Teams regularly refer to each expression's Local Mission Delivery plan to track goals set on collaboration and shared objectives.
But at Rockdale Salvation Army in Sydney's south, Local Mission Delivery has moved beyond a concept and into reality, with several Salvation Army expressions operating out of one building and working together to best support the local community.
Rockdale Corps in south Sydney opened a low-cost food market to assist families and individuals during the COVID-19 pandemic.
In fact, it's nothing new. Rockdale Corps has long been co-located with a Salvos Store, and Doorways and Moneycare also operate out of the large, multi-purpose building located within the heart of a bustling industrial area behind Brighton le Sands, on the shores of Botany Bay.
"We've all been working together to work out how we can really partner with each other because we are all The Salvation Army and we are all here for the same purpose – to spread the love of Jesus to anyone who comes through the doors," said Hayley Grigg, Rockdale Corps Connect Team Manager.
Recently, The Salvation Army's OASIS Youth Support Network re-located its southern Sydney operations to Rockdale Corps, increasing the way the different services work together. And this week, the corps opened a low-cost food market to cater for the increase in need being experienced by people affected financially by COVID-19.
"With COVID-19 we saw the need [in this area] just jump massively," said Hayley. "And we noticed a different demographic of people needing assistance and help ... people that have lost their jobs that have never needed assistance before."
The corps leadership team had long held a vision about being able to support families and individuals struggling to make ends meet on a week-to-week basis. The coronavirus pandemic, rather than making them pull back from mission, spurred them on. In fact, as the church had to move into the home, worshipping online and connecting in small groups via the internet instead of in person, the passion corps-folk felt to connect and serve their community grew stronger.
After consulting with other local agencies, the Rockdale Corps leadership team realised that on Wednesdays, no other providers gave food assistance. That's how the idea of a low-cost food market, to complement the existing services available onsite, came to fruition.
The service is COVID-safe, with social distancing and hygiene protocols being followed. Volunteers from the corps make themselves available to chat to shoppers and the whole thing is covered in prayer. "I put it out to our corps – if you would like to be involved get back to me," said Hayley. "So many people put their hand up! And there are people praying into the space as well. It's really encouraging. We just want to make connections and form relationships with the people coming in."